What are Dense Non-Aqueous Phase Liquids (DNAPLs)?
DNAPLs are a dense non-aqueous phase liquids that are denser, or heavier, than water, sometimes also referred to as "sinkers". However, unlike light non-aqueous phase liquids (LNAPLs), or "floaters" like gasoline, they do not float on top of the water table, but migrate downward and accumulate at the bottom of the aquifer.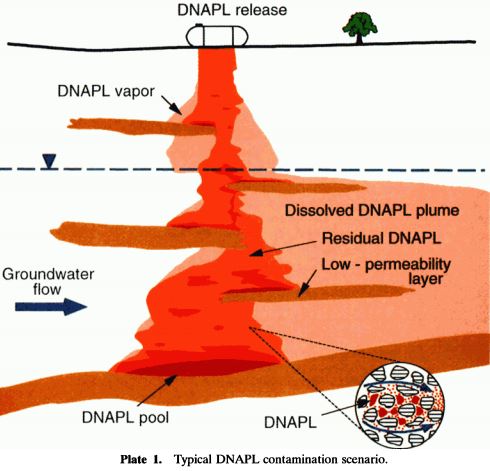 When we think of DNAPLs, we may first think of chlorinated solvents, such as tetrachloroethylene (perchloroethylene, "perc" or PCE) and trichloroethylene (TCE), but other common DNAPL contaminants include coal tar, creosote, and #6 or bunker fuel oil. Some less common types of DNAPL include oils containing PCBs, pesticides, or mercury.
Challenges with DNAPL Sites
Many states have groundwater cleanup standards for some DNAPL contaminants that are in the low parts per billion range, such as 5 ppb for PCE in groundwater. Reducing DNAPL groundwater impacts to meet these regulatory cleanup requirements has typically been very challenging and required large amounts of time and money, which has prevented many sites from achieving closure.
One of the challenges has been to properly characterize sites with DNAPL contamination. Typically, it has been assumed that DNAPL behaves like LNAPL and that the contaminant flow will be similar to groundwater flow. However, this approach does not take into account the heterogeneity of the site geology or the characteristics of the contaminants. This assumption may work for LNAPL, but it has had limited success for many DNAPL sites.
Solutions for DNAPL Sites
In order to understand how DNAPL is behaving, and adequately characterize the site, one needs to understand multiple factors influencing its behavior.
Site Geology
This is the primary factor influencing DNAPL mobility and migration, and understanding the variations of geology at the site is the key to understanding DNAPL behavior and distribution.
DNAPL Characteristics
The chemical and physical properties of the DNAPL, such as density, solubility, viscosity, volatility, and composition will also affect DNAPL mobility. For example, DNAPLs with a higher density will have a greater propensity for downward movement, while less dense DNAPLs will not be as likely to migrate downward.
DNAPL Distribution
DNAPL distribution may be affected by DNAPL that is adsorbing and/or desorbing from subsurface soils, and DNAPL that has adsorbed to soil can also act as secondary contaminant source. The adsorption/desorption process may also generate lingering dissolved impacts, even after DNAPL is no longer present.
When the mobility, behavior, and flow of DNAPL at the site is understood, one can select more effective remedies. Additionally, a better understanding can help to build confidence among stakeholders in the decisions that are made for the Site, and can also help bring regulators on board with the proposed remedy. Understanding the subsurface behavior of DNAPLs is technically challenging, but fortunately the methods for site characterization have evolved and improved.
How Can VERTEX Help?
VERTEX has a team of environmental professionals that have the expertise to investigate the cause, origin, and timing of DNAPL releases, evaluate DNAPL releases to the environment, and identify appropriate and expedient remedies.
Do you have a DNAPL claim that is not progressing to closure? VERTEX's claim management services can also assist in moving remedial projects forwards to regulatory closure in a timely and cost-effective manner.
To learn more about VERTEX's Environmental Consulting and Environmental Claims Consulting services or to speak with an Environmental Expert, call 888.298.5162 or submit an inquiry.
Author
Amy Littler
Senior Project Manager