VERTEX performed our Lender's Construction Monitoring Services. VERTEX is responsible for review of the contractor's payment applications, hard and soft cost review, construction progress, adherence to the project schedule and budget, and recommend funding by participating in monthly onsite pencil requisition meetings and site observations which allows to mitigate risk and leads to a more efficient funding process throughout the life-cycle of the project.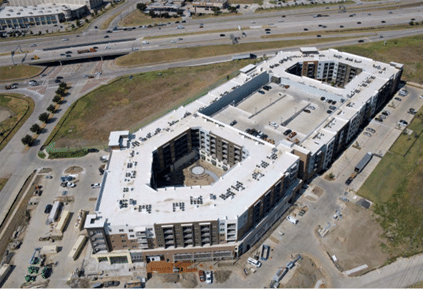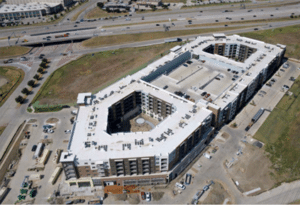 Aura at the Realm is a 421-unit mixed-use multi-family development with 35,000 SF of retail space. Units consist of one-, two-, and three-bedroom apartment homes and two-bedroom townhomes. The residence will enjoy open-concept floor plans, wood-style flooring, energy-efficient GE stainless steel appliances, and walk-in closets. Amenities include a resort-style pool, private cabanas, fire pit grills, a garden courtyard, two resident lounges, a business center, and a multi-level athletic center. The area has an extensive hike-and-bike trail and nearby dining, shopping, and entertainment venues.
Aura is partially open for new tenants but is still under construction. As progress moves forward, building section 5 drywall and paint are complete, and cabinets, countertops, and lighting are progressing. Section 7, drywall, is complete while the lights, cabinetry, and flooring make headway. Retail shells are complete. The pool and courtyard are substantially complete, and the garden courtyard is in progress.
To learn more about VERTEX's Construction services or to speak with a Construction Expert, call 888.298.5162 or submit an inquiry.
This project was originally awarded to Fulcrum which is now part of The Vertex Companies, LLC.