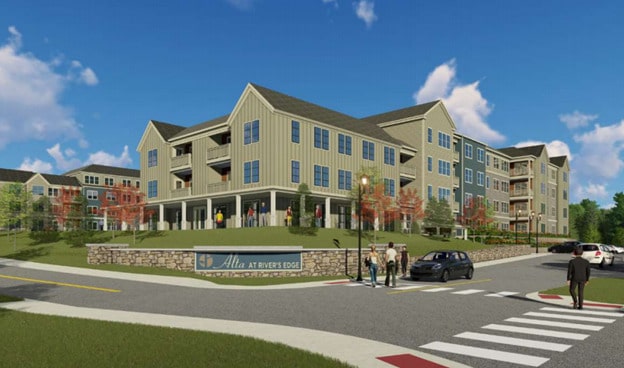 Welcome to the public repository webpage for the River's Edge Development Site in Wayland, MA. The documents pertained herein regarding the environmental assessment and remediation are governed by the Massachusetts Contingency Plan (MCP) and the Massachusetts Department of Environmental Protection (MassDEP). Under the MCP, a site may be designated as a Public Involvement Plan (PIP) site following the submittal of a petition by residents. The MassDEP received a petition to make River's Edge a PIP site in December 2020, with River's Edge officially receiving PIP site designation in January 2021.
Historical and future official environmental documents are available to be viewed and downloaded on this website and the MassDEP online database:
Print copies can be made upon request. Please reach out to Bill Gibbons PG, LSP to request a copy of any publicly available document.
Brief Site History
The River's Edge Development Site (the Site) is located at 484-490 Boston Post Road (Route 20), Wayland, MA. The Site is located directly east of the Sudbury Landfill, southeast of the Wayland Transfer Station, and approximately 1,500 feet west of the Sudbury River. The Site formerly operated as a wastewater treatment plant, municipal firing range, and DPW storage yard.
Environmental assessments completed at the Site have identified oil and/or hazardous materials (OHM) at concentrations that required the MassDEP be notified. These notifications are identified by MassDEP as Release Tracking Numbers (RTNs), which are used to keep track of the assessment and remediation activities at the Site. A brief explanation of each of the RTNs, and the associated documents pertaining to the assessment and remediation of the OHM associated with each of these RTNs are found below.
Timeline of Submitted Reports
This document provides a brief timeline of reports that have been submitted to the MassDEP for RTNs 3-34474 and 3-36013.
---