At VERTEX, we are connected by our drive to provide value and results for our clients. We foster long-term relationships not just with our clients, but within our organization. On our projects, we are diligent, industrious and experts in our fields. Outside of the office, we are triathletes, competitive skiers, classical musicians, pilots, professional poker players, car enthusiasts, proud parents, volunteers in our communities, and more! As part of our #WeAreVERTEX campaign, we will be sharing profiles of our employees, so you can get to know the people behind our success.
Surety Spotlight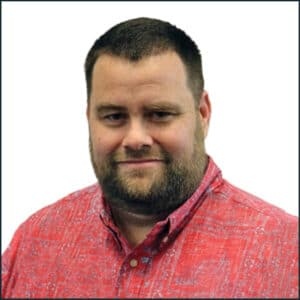 Nick Deeley
Division Manager, Surety Claims Consulting
Irvine, CA
Joined VERTEX in August 2015
Nick Deeley is a Division Manager out of VERTEX's Irvine office. Originally from Kailua, Hawaii, Nick moved to Irvine, California in 2019. He attended the University of Hawaii, where he got a Master's in Public Administration. Having grown up in Hawaii, Nick loves hanging out on the beach, so he moved from Hawaii to California to make sure he would still have plenty of sunshine and beaches.
What is your background and educational background?
I have an undergraduate degree in history, and a Master's in Public Administration. I was not very focused when I was younger and would get into trouble. After getting into a fistfight at a bar, I decided I needed a change. So, I moved from Hawaii to California and went back to school. The only subject that I enjoyed was history, so I loaded up on any courses related to history, locked myself in a room, and graduated in three years from San Francisco State. I planned to get a master's in Urban and Regional Planning but ended up getting a Master's of Public Administration thinking I would work for the government.
How long have you been in the AEC industry?
I have been in this field for about 14 years. My father-in-law managed a large A&E firm and offered me a position writing environmental assessments for large construction projects. My first project was in the Marshall Islands on a runway safety area and land reclamation project. The client liked me so much he requested I be the PM on the project, so I went from just writing a report to the PM of a $38 million international airport project. I was coached a lot, but it went well and was a great experience.
If you changed professions tomorrow, what would you be doing?
I always thought I would make a great high school guidance counselor and basketball coach. I even took a Master's course in counseling. I like people, and I like problem-solving, so that's why working with others has always been appealing to me. Eventually, I hope to own a bar: a hole in the wall, where only a handful of people show up at a time. That way, I can tell tall tales, hear good stories, and meet new people.
What was it like living in Hawaii?
The best thing about living in Hawaii is the culture. In Hawaii, it's about the person you are not the things you own. Your problems are never more important than anyone else problems. Anyone older than you is called Aunty or Uncle because that is how we view our community, like family. The beach and sun are also not bad.
Student Spotlight
Max Elliot, PMP
Senior Project Manager
Master of Engineering Candidate
Irving, TX
Joined VERTEX in July 2016
Max Elliott, PMP is a Senior Project Manager in VERTEX's Real Estate Construction Services team, based out of the Dallas/Fort Worth Metroplex. Max has a BS Degree in Construction Science from Texas A&M University with a Minor in Business and is currently pursuing a Master of Engineering in Civil Engineering (focus on Construction Engineering and Management) from the University of Colorado.
Through the Lifetime of Learning Program (LOLP), Max has acquired his Project Management Professional Certification through the Project Management Institute (PMI) and hopes to eventually obtain his Professional Engineering license to expand his reach of services to support a variety of stakeholders within the AEC industry. Max has already leveraged his coursework within the program to support VERTEX's online blog/insight topics. Check out his most recent article on the impacts of COVID-19, Construction Industry Health Assessment with Building Permit Analysis.
"The AEC industry, in particular, is one that is built on individuals that thrive on unique challenges and constantly learning to better themselves and their organization – what better vehicle to exemplify that than VERTEX's LOLP program."
– Max Elliot
Surety Spotlight
Kiet Le, PhD
Project Engineer, Surety Claims Consulting
Dallas, TX
Joined VERTEX in August 2019
Kiet is a Project Engineer out of VERTEX's Dallas office. Originally from Vietnam, Kiet came to the United States during his senior year of high school. He moved to Dallas from Oklahoma and joined VERTEX in August 2019. Growing up in Vietnam, his favorite childhood memory is playing soccer with his friends in temperatures over 100°. Kiet's favorite thing about Dallas is the variety of foods. He obtained his Bachelor of Science at Northwest Nazarene University in Nampa, Idaho, where he majored in Engineering/Physics. He obtained his Master of Science and PhD at Illinois Institute of Technology in Chicago, Illinois, where he studied Civil Engineering with a concentration in Construction Engineering and Management.
What is your favorite thing about working at VERTEX?
What I love most is the group of people I get to work with daily. I currently work with Kenneth Jones and Mark Stein in our Dallas office. Both Mark and Ken are always helpful and offer great advice on my projects whenever I run into problems. I was initially hired by Jay Cabello; Jay was a great mentor who taught me a lot about how things work and operate in surety. Jay now works for a surety provider, and I look forward to continuing to work with him and maintaining our relationship. Additionally, I was able to travel to other offices in Colorado and California, where I worked with different Division Managers and Project Managers. It was a great experience to work with others within the surety group and to learn from them.
What interested you in applying to VERTEX?
I really was attracted to the wide variety of services and projects within the surety, construction, and completion groups. It's been nice to be involved with the different aspects of each group, and I'm looking forward to learning more from all of them and having the ability to work across different project types and teams.
How does your experience at VERTEX differ from your previous job experience?
I worked in the field 80% of the time at my previous jobs. I also traveled a lot; once, I was gone for two years straight. So far, with VERTEX, I've spent 99% of my time in the office. I see that shifting soon, as I will likely be on a completion job and can expect to be in the field more often, something I am looking forward to! I think I will have a nice balance of field and office experience with Vertex.
What do you like to do for fun?
I love to play poker. If I wasn't working at VERTEX, I would love to be a professional poker player. At first, I played poker while in college. It was a great way to socialize with friends and network. From there, my interest grew and I wanted to play more to improve my skills. Eventually, I played a lot online and earned a little side money during my college years. Poker requires a lot of skills, such as math, strategy, logic, and the ability to understand human behavior. One funny note: I thought I was good at poker until I played in a game where I sat between a grandmaster in chess and a math professor at MIT – they turned out to be a lot better than me.
What is your favorite Netflix series?
"24" is my favorite. Although it's about 10 years old, it is still a great show. I like action series and "24" fits right into that category!
Student Spotlight
Lance VanDemark, PE
Vice President, Civil Engineering
PhD Candidate
Denver, CO
Joined VERTEX in February 2012
Lance is a Vice President in VERTEX's Civil Engineering Group, working from the Denver region. Lance has a BS degree in Civil and Mechanical Engineering, MS degrees in Structural Dynamics and Engineering & Technology Management, and is currently pursuing a PhD at the University of Colorado.
At the University of Colorado, Lance is working under Dr. Caroline Clevenger preparing his dissertation on dispute resolution within the construction industry. Having completed his doctoral classwork, Lance is currently working on completing his dissertation and is involved in researching common alleged engineering defects and dispute resolution with multiple publications by the American Society of Civil Engineers (ASCE).
"A lifetime of learning has afforded me the opportunity to grow and continually challenge myself both personally and professionally."
– Lance VanDemark, PE