VERTEX's mission and core values have an external and internal focus. We embrace this binary approach because we care about our clients and employees and seek to deliver rewarding value to both.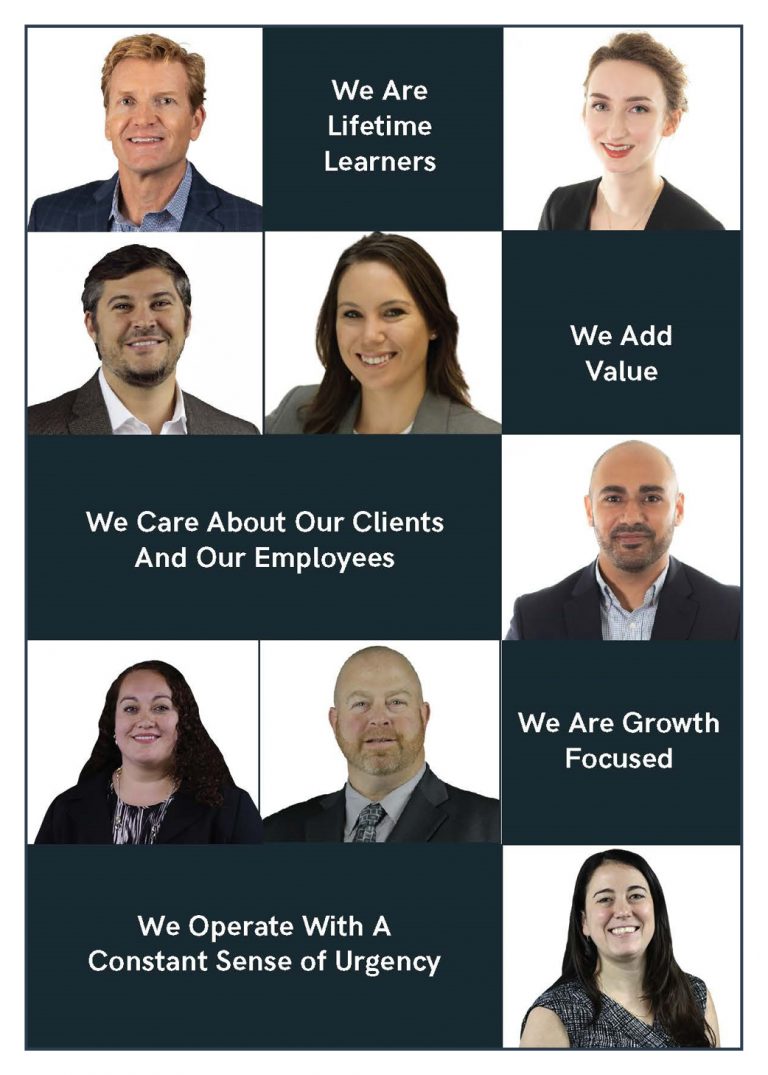 MISSION
VERTEX succeeds because we care about our clients and employees—this is the foundation of everything we do. We deliver value-added AEC services with a constant sense of urgency on complex projects throughout the globe, which leads to long-term working relationships with our client base. This strategy supports our growth-focus, which benefits our clients because we offer integrated solutions in multiple markets and it benefits our employees because it generates entrepreneurial career advancement opportunities. VERTEX sustains the highest level of quality and service through our sustained growth program by embracing a lifetime of learning philosophy, which ensures that we stay ahead of the curve in industry trends, and this rewards our employees by providing a clear path for professional development.
Core Values
VERTEX differentiates itself because of our ever-dedication to our five core values. We hire employees that embrace these values.
1. We Care
We succeed because we care about our clients and employees. This is the lifeblood of VERTEX and is the foundation of our other core values.
2. We Add Value
We look to add value on every assignment. This leads to repeat business and long-term relationships with our client base. We pass on projects where we cannot add value.
3. We Operate with a Constant Sense of Urgency
We respond to client requests quickly and deliver our projects on time because we respect their mission. We treat each assignment as if it's our most important.
4. We are Growth Focused
Service area expansion and regional growth allow us to better serve our clients around the globe. Continued growth also provides our employees with exciting opportunities for career advancement.
5. We Embrace a Lifetime of Learning
We remain ahead of the curve on industry trends and technological developments based on our continuing education strategy, which provides our employees with a clear roadmap for professional development.
VERTEX Maintains a Constant Emphasis on Health & Safety
VERTEX empowers every employee with the tools necessary to be safety leaders. We vow to provide Health & Safety education, work practices and leadership in everything we do.
Culture of Diversity, Equity, & Inclusion
VERTEX understands the importance of employees' intersecting identities, honoring differences, and rooting out the effects of systemic inequity hidden in company cultures. VERTEX supports fairness, equity, diversity, and inclusivity, and we will continue to do our part to help move the country in the right direction.
At VERTEX, we are committed to affirming our lifelong commitment to diversity, equity, and inclusion. Our culture is built upon a foundation of inclusivity and caring. We will embrace those values as we move forward with an intention to hire and advance women and people of color, both of which have been historically underrepresented in our industry.
Everyone has a voice and their uniqueness is valued. By valuing differences and creating a productive environment with respect and trust, we hope to help our employees reach their own maximum potential by drawing on their talents to achieve both their personal growth and our organizational goals. This culture is reflected in our core values and is supported throughout our organization.
VERTEX created an internal Diversity, Equity, and Inclusion team made up of employees and outside consultants to assist with ongoing efforts and full implementation of an initiative to ensure diversity, respect, and inclusion are at the core of how VERTEX operates. The team has planned four phases including Immersion; Assessment Planning; Organizational Assessment; and Strategy Development. As we move through this process, we gain a better understanding of the types of training that would benefit VERTEX personnel as well as an idea of the Employee Resource Groups (ERGs), Business Resource Groups (BRGs), and councils that would be a good fit for VERTEX.