VERTEX's mission and core values have an external and internal focus. We embrace this binary approach because we care about our clients and employees and seek to deliver rewarding value to both.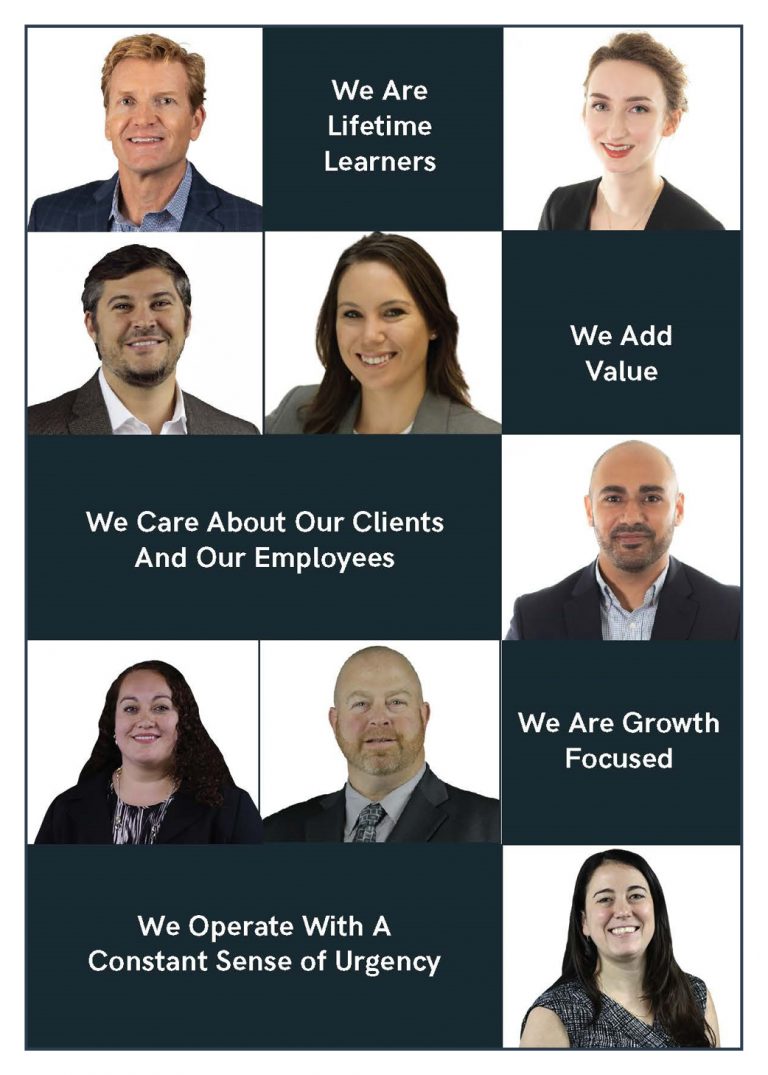 MISSION
VERTEX succeeds because we care about our clients and employees—this is the foundation of everything we do. We deliver value-added AEC services with a constant sense of urgency on complex projects throughout the globe, which leads to long-term working relationships with our client base. This strategy supports our growth focus, which benefits our clients because we offer integrated solutions in multiple markets and it benefits our employees because it generates entrepreneurial career advancement opportunities. VERTEX sustains the highest level of quality and service through our sustained growth program by embracing a lifetime of learning philosophy, which ensures that we stay ahead of the curve in industry trends, and this rewards our employees by providing a clear path for professional development.
Core Values
VERTEX differentiates itself because of our ever-dedication to our five core values. We hire employees that embrace these values.
1. We Care
We succeed because we care about our clients and employees. This is the lifeblood of VERTEX and is the foundation of our other core values.
2. We Add Value
We look to add value on every assignment. This leads to repeat business and long-term relationships with our client base. We pass on projects where we cannot add value.
3. We Operate with a Constant Sense of Urgency
We respond to client requests quickly and deliver our projects on time because we respect their mission. We treat each assignment as if it's our most important.
4. We are Growth Focused
Service area expansion and regional growth allow us to better serve our clients around the globe. Continued growth also provides our employees with exciting opportunities for career advancement.
5. We Embrace a Lifetime of Learning
We remain ahead of the curve on industry trends and technological developments based on our continuing education strategy, which provides our employees with a clear roadmap for professional development.
Culture of Diversity, Equity, & Inclusion
VERTEX understands the importance of employees' intersecting identities, honoring differences, and rooting out the effects of systemic inequity hidden in company cultures. VERTEX supports fairness, equity, diversity, and inclusivity, and we will continue to do our part to help move business in the right direction. As part of our environmental, social and governance (ESG) efforts, we created a Diversity, Equity, and Inclusion (DEI) team in 2020, made up of employees of the company, to assist with the implementation of an initiative to ensure diversity, respect, and inclusion are at the core of VERTEX business. In 2021, the DEI council was formed to further the program.
Read More about DEI and ESG at VERTEX
VERTEX Maintains a Constant Emphasis on Health & Safety
VERTEX prioritizes safety in all that we do. We go well beyond protocols and checklists to empower every employee with the tools necessary to be safety leaders. We want this for our company, for our employees, for our clients and vendors. We strive for zero incidents by providing constant education and training and enforcing these practices in the field daily. From PPE to employee programs, we vow to provide Health & Safety education, work practices, and leadership in everything we do.