Until very recently, hardly anybody in the real estate business in San Diego County talked about industrial property. It was the forgotten child. It was right up there with self-storage and vacant land in Jacumba.
But the tides have turned. Industrial is now the golden child, the one getting all the attention and a disproportionate amount of the weekly allowance and ice cream treats.
In terms of total commercial square footage, industrial space leads the pack in San Diego County with almost 200 million square feet: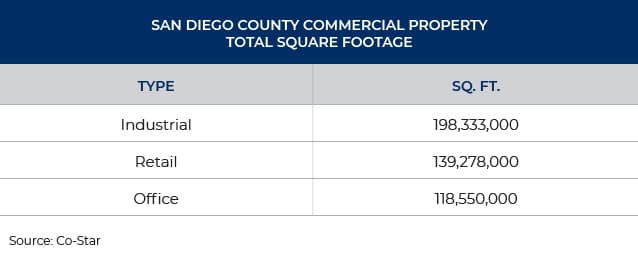 What has caused this major turnaround in the attractiveness of industrial property? There are several factors:
Alternative Uses For Industrial Property
Much of what we once called "industrial space" has been converted to more intense uses, including manufacturing, fulfillment centers, logistics, life science and other high-tech facilities. CoStar segments the industrial market into three categories: Logistics, Specialized Industrial and Flex Space.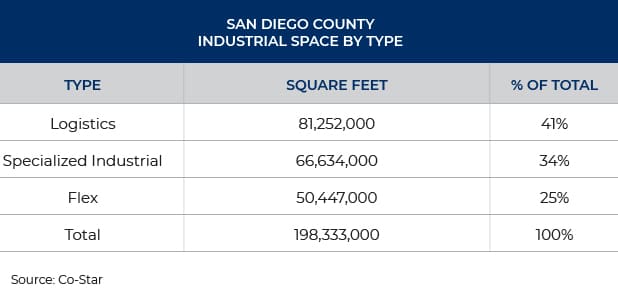 E-commerce has created a massive demand for space that can be used for distribution purposes. The giant in the sector, Amazon, is currently constructing a new four-story, three-million-square-foot fulfillment center in Otay Mesa. The company also just contracted to acquire a 530,000-square-foot facility built by Ryan Companies in Poway to be used as a "last mile delivery station."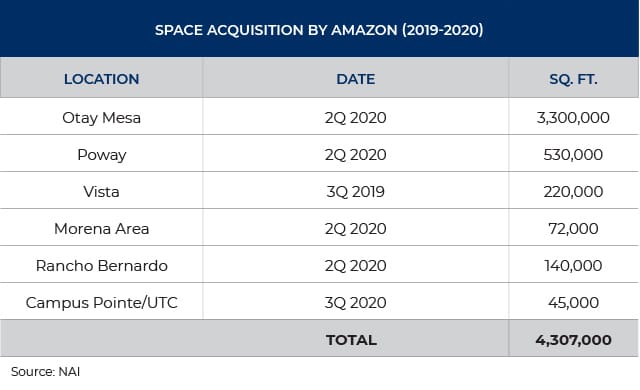 As Amazon adds its massive new distribution facilities in San Diego County, there are numerous other companies that provide goods to Amazon that want to locate nearby in order to provide Amazon's famous two-day delivery.
Industrial Real Estate Demand
In terms of industrial leases, the market has historically been dominated by mom-and-pop spaces, typically under 50,000 square feet. Now, we see a substantial number of large 100,000-square-foot leases.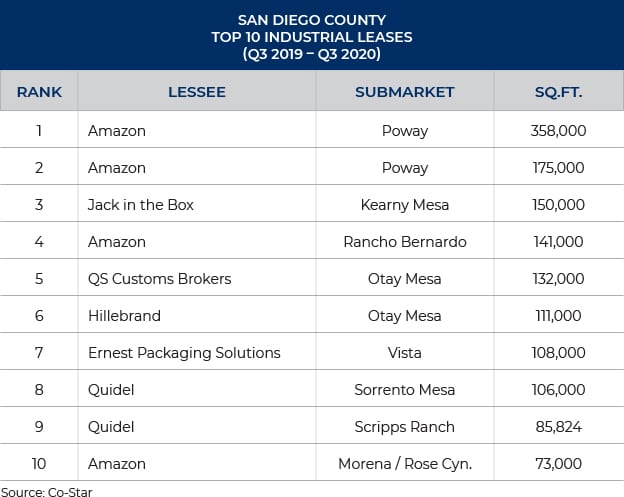 The result of this demand expansion is three-fold:
Falling Occupancy Rates
Industrial space has traditionally had occupancy rates in the 80-90% range. Now, occupancy rates have climbed to the 90%+ range.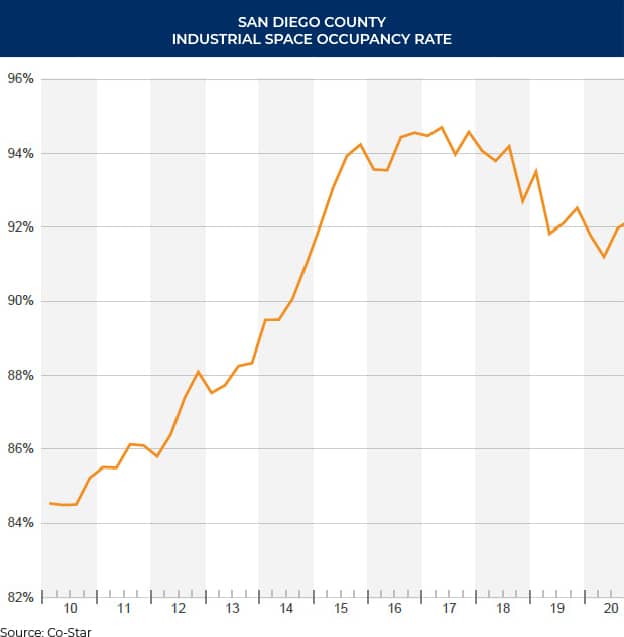 Declining Capitalization Rates
Capitalization rates on industrial properties have coincided with the vacancy rates and are also down to the 5-6% range.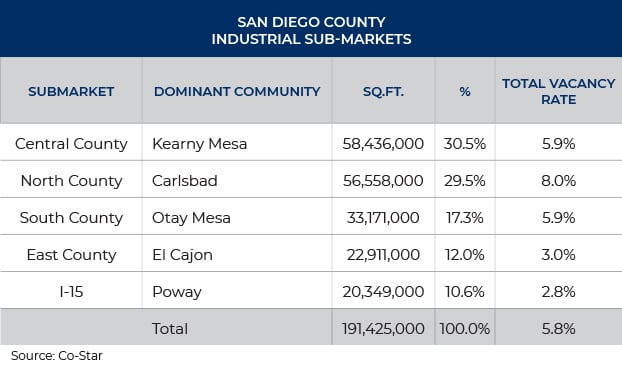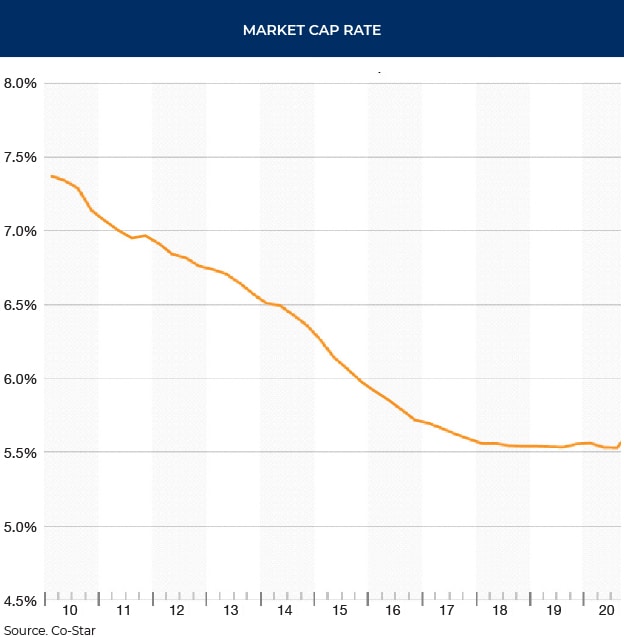 Rising Rents In Industrial Property
Rental rates have gradually moved upward to the $1.00 per square foot range, almost doubling in the past decade.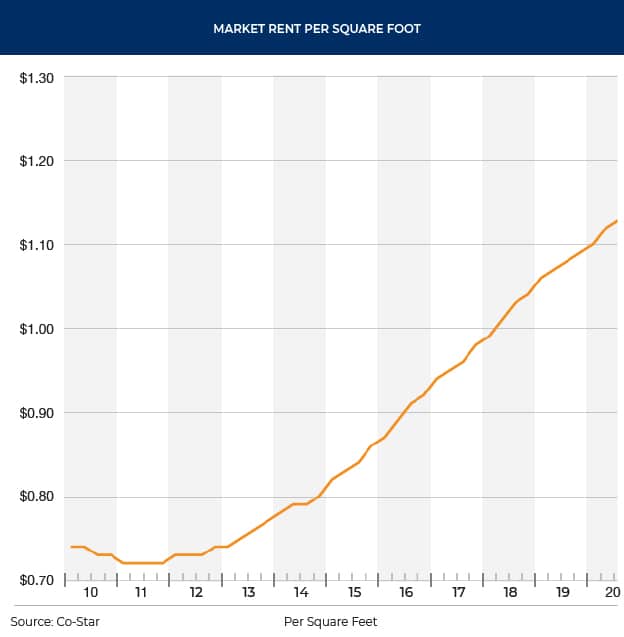 The Future Of Industrial Real Estate In San Diego County
We can logically expect that much of San Diego's existing industrial space will be upgraded over the next decade. Recently, IDS completed a massive and very attractive upgrade of its one-million-square-foot Viva Logistics industrial project in Otay Mesa.
Looking to the near future, it is highly likely that the lion's share of the new space production will be in Otay Mesa (I wrote more extensively about development in Otay Mesa in 2020). This is due to three factors:
There is a lot of industrially zoned vacant land there, mostly on the eastern end.
There are two massive projects currently underway: Sunroad's joint venture with Majestic Realty, which will produce 765,000 square feet of industrial space, and Otay Crossings with another 2.9 million square feet. Our database has a total of 5.3 million square feet of industrial space, in addition to Amazon's monster-sized fulfillment.
The grand opening of the 125 toll-road connector to State Road 11, and a greatly expanded Port of Entry, will enhance the ability of commercial trucks to move quickly across the Within the next year, annual truck traffic at the SR-11 border will surpass one million vehicles.
Overall, industrial space appears to be relatively immune to COVID-19's risks and impacts. It is the only real estate sector that can make that statement.
This article was originally published by Xpera Group which is now part of The Vertex Companies, LLC.