In early-2019, I wrote an article for Xpera's newsletter about regional shopping centers in San Diego County. The article started this way:
"Now, in today's world, the retail devastation created by online shopping has mandated that regional shopping centers revitalize themselves or disappear.

Today, 12-15% of retail goods are bought online.

And from a San Diego standpoint, we have too many regional shopping centers. Historically, a community could support one regional center for every 100,000 households. That means, at least in theory, that San Diego could support a dozen centers and each center would produce $300+ per square foot of sales annually.

Unfortunately, very few of the County's regional shopping centers operate at $300 per square foot and several operate at the $200-250 per square foot level."
The 2020 pandemic has accelerated the trend of e-commerce replacing brick and mortar shopping. March's lockdown of non-essential businesses dramatically impacted shopping centers, hitting their small shops and anchor stores alike. Now more than ever, developers are eager to transform their retail properties into something better, but it will not be easy to do in a post-COVID world.
One complicating factor is that the land under regional shopping centers is rarely owned by a single entity. In order to obtain financing to build a shopping center, developers typically have to sell the anchors the land under their stores. For example, at the Shoppes at Carlsbad, Macy's, J.C. Penney and Sears own the land under their stores.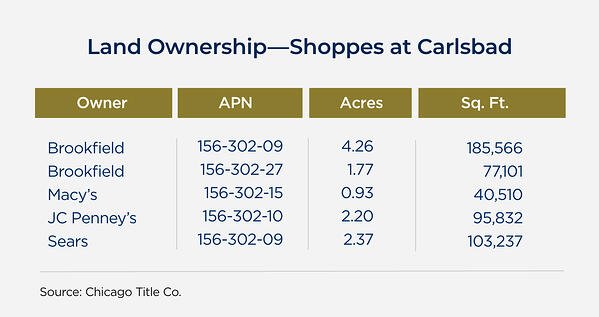 At UTC, the entire east end of the center is owned by Seritage. In addition, Macy's and Nordstrom own the land under their stores.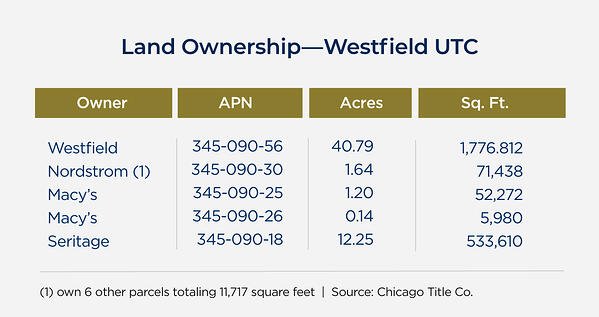 State of San Diego's Shopping Centers
Let us now take a look at where the shopping center market sector stands at the mid-point of 2020. The following exhibit shows the 12 regional centers (now 11) in San Diego County.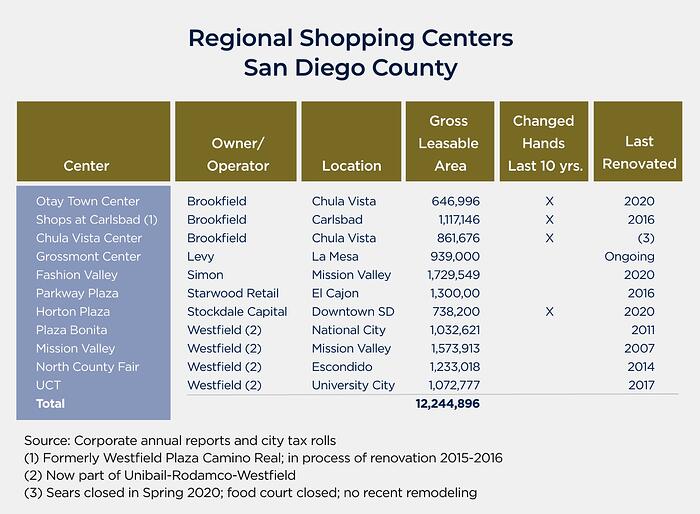 Recent Development & Redevelopment Projects
Central San Diego
Horton Plaza
In my last article about regional shopping centers, I mentioned that Horton Plaza had completely failed and was acquired by Stockdale Capital Partners. With a downtown population of 52,000, there were never enough people in the area to support Horton Plaza as a shopping center, and tourists ignored it.
After the acquisition, Stockdale obtained a $330 million loan to rebuild the 738,000-square-foot shopping center as a 700,000-square-foot office venue, with 300,000 square feet of ancillary retail and entertainment space. Ultimately, 3,000 to 4,000 people will be employed at the property.
University Town Center (UTC)
Westfield's showpiece retail property is undergoing a metamorphosis. The first stage was the $1.0 billion addition of ArcLight Cinema and 24- Hour Fitness in 2012. The second was the massive $600 million renovation in 2017 that added a new Nordstrom store, numerous restaurants and CBRE's corporate offices. The third phase was initiated in 2019, thanks to the demise of Sears. The main store and auto center were sold to Seritage Growth Properties, which is in the process of building out a 226,000-square-foot work/eat/play center, 33,000-square-foot Equinox gym and 50,000+ square foot of office and retail space. All told, the three- phased expansion will total 1.3 million square feet.
As icing on the cake, Greystar added a 300-unit Joseph Wong-designed high-rise rental property on the site, with more to come.
As an aside, Costa Verde, a faded shopping center across the street, will be leveled and rebuilt with 400,000 square feet of high-tech office space, 200,000 square feet of retail space and a 200-room hotel.
Westfield Mission Valley
The original San Diego mall (built in 1961) has lost its key anchor, the 363,000-square-foot Macy's. Fortunately, it has a Target to keep it going. Its location is first-rate, so it will certainly go through a major transformation. No plans have been announced yet.
North County
The Shoppes at Carlsbad
Now on its third owner in six years (Westfield, Rouse and Brookfield), this regional center has closed its Sears and Macy's stores. Over the next several years, the property will be redeveloped to encompass 1.4 million square feet, with the addition of 300+ apartments, hotel, TopGolf recreation facility and numerous dining facilities.
Westfield North County
Nordstrom, the former star of the ailing center, is waving goodbye after 34 years, leaving four anchors – Target, J.C. Penney, Sears and Macy's – with the later three on death row. The good news is that they have a huge parking lot that would accommodate thousands of new apartments and condominiums.
South County
Chula Vista Center
Sears just closed up shop and the mall is the walking dead. It's a Brookfield problem. Watch the depressing YouTube video by the creator "Retail Archeology."
Otay Ranch Town Center
Another Brookfield acquisition (from General Growth Properties). Unfortunately, it just never had the horsepower to be successful. Now, Brookfield intends to modify the property with 1,900 apartment units.
As we see more developers moving forward with creating the next generation of regional shopping centers, I suspect others will follow, eventually transforming into villages. Some of the retail spaces will survive, but they will be complemented with entertainment, hotels, apartments and condominiums. In the face of a continued housing shortage, the land surrounding these centers is just too valuable to only be used as parking lots. That's just old hat.
This article was originally published by Xpera Group which is now part of The Vertex Companies, LLC.