It has been a long time since any new master-planned communities have been developed in northern or central San Diego County. Major communities like Del Sur and Civita are essentially built out or close to it.
Now, there is a breadth of fresh air. There are currently nine new master-planned communities in development, mostly in North County, which will result in 9,000+ new housing units, a combination of detached and attached, for-sale and for-rent product, and more than 800 affordable units. (There are several additional master-planned communities that are going through the development process, but none that are ready to break ground yet.)
The nine new communities now underway include: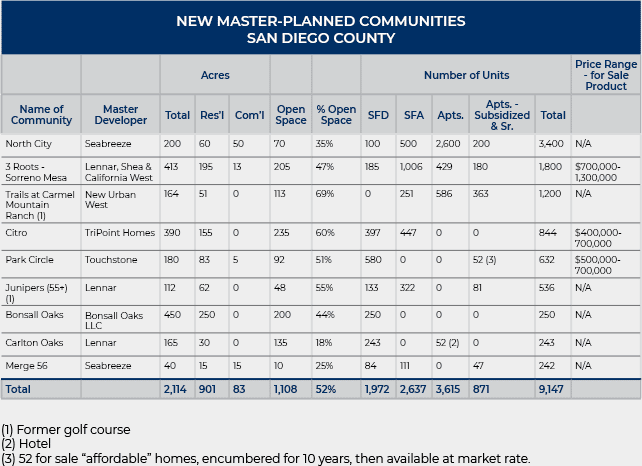 The largest of these new communities is Seabreeze Properties' North City, adjacent to the 15,000-student Cal State San Marcos campus. The 3,400-unit master-planned community includes both dormitories and apartments, as well as 50 acres of commercial space.
The second largest of the new master-planned communities is 3 roots in Sorrento Mesa, with construction now underway. Once completed, its developers, Lennar, Shea and California West, will have delivered 1,800 units, including a mix of single-family and multi-family for-sale homes and 600 apartments (180 of them subsidized).
In Valley Center, the 632-unit community of Park Circle is being developed by Kerry Garza's Touchstone Communities. All of the lots are committed to a group of five builders, including Beazer, KB Home, Meritage, Richmond American and Shea Homes. Prices will range from $500,000 to $700,000 and will feature a variety of elevations and styles. The community will also include 52 affordable for-sale units to be developed by Ito Girard, a long-time builder of moderate-priced housing in San Diego.
Slightly closer in is Bonsall Oaks, situated 2.5 miles west of Interstate 15, adjacent to the Vista Valley Country Club. Approximately 200 of its 450 acres will remain open space. The lots will be sold to several builders. Grading and infrastructure are underway, with lot delivery early next year. It will be a gated community and very upscale, according to Managing Partner David Pallinger.
Not far away from Bonsall Oaks is TriPoint's new Citro community, located at Highway 76 and I-15 in Fallbrook. It is composed of six neighborhoods and will ultimately have 844 detached and attached homes, with homes priced from $400,000 to $700,000.
Along the I-15, two major new communities are almost across the freeway from each other. The first is The Junipers, an active senior community by Lennar with 536 single-family and attached homes, including 81 subsidized apartments. It is sited on land once occupied by the Penasquitos Golf Course. Adjacent to The Junipers is a 300-unit apartment project by The Dinerstein Companies that is now under construction on land once occupied by the Hotel Karlan.
To the east is the Trails at Carmel Mountain Ranch by New Urban West. It is unique in the local market because it is entirely composed of attached units, both for-sale and for-rent. It is also a former golf course.
Near The Junipers on State Route 56 is Seabreeze Properties' Merge 56, a 40+ acre, high-density, multi-product community with more than a half million square feet of office and retail space. Construction is now underway, with Lennar building 242 housing units. The project was in the planning process for 20 years. In its last iteration, it was a big box center.
Last, but certainly not least, is Carlton Oaks in Santee. Lennar will be reconfiguring the existing golf course, building a new clubhouse and 52 hotel rooms, as well as 250 single-family homes.
All of these communities will be highly desirable additions to the San Diego County landscape, providing more than 9,000 residences for a region that is housing starved.