The Mamas and the Papas got it right!
You may think it dreamin' but in the Census period between 1950 and 1980, California accounted for 17.4% of the entire population gain in the Nation and not quite as glorious accounted for 16.5% of the Nation's population gain form 1980-2010.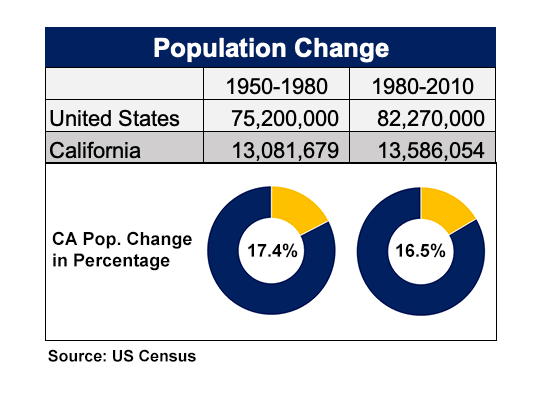 Basically, one of every six new persons added in the U.S. was in California. Not so bad.
That annual gain is more than the combined gain projected for 35 of the 50 states in the Northeast, Mid-west and Mountain States.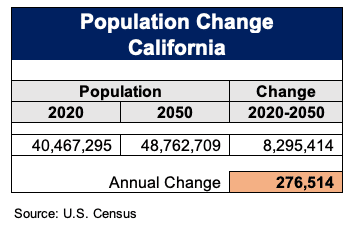 California's Jobs
The question arises: will there be enough jobs to fulfill the needs of those 276,514 additions to our population, or, possibly, will there be enough people to fulfill the jobs that are created.
We know that based on Bureau of Labor Statistics calculations, there are now 7.2 million job openings based on their national sample of 16,000 establishments. And as might be suspected, almost 700,000 of those job openings are in California.
We also know that the state's unemployment is in the 3-4% range, which for all intents and purposes is effectively 0% because it includes turnover.
In the last year, the state has gained more than 300,000 jobs. That means we have added more jobs than people. Or, more importantly, we have added many more jobs than we have added persons over age 18.
Another question arises:
Are these jobs all at McDonald's, or my preference, In'n'Out Burger?
The answer is that 2/3s of all jobs created are related to consumer spending.
The other third are what we call "basic jobs" – jobs that are economic drivers.
California is doing a wonderful job of creating economic drivers.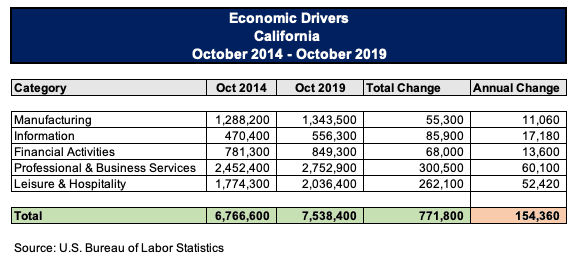 The other 2/3s of the jobs include a wide range of vocations including folks who earn minimum wage or are part of the GIG economy.
Note that construction is not in the exhibit because it is not an economic driver. For the most part, construction is consumer driven, both for sale and rental housing as well as retail and most other non-residential construction.
California's Homebuilding
It appears likely that construction will finish the year in a mediocre fashion followed by equal mediocrity in 2020. The price of sale housing is causing the market to drag and, on the multi-family side, in many of the markets, rental construction has been centered on high-priced rentals and that market, in several metros, is nearing satiation.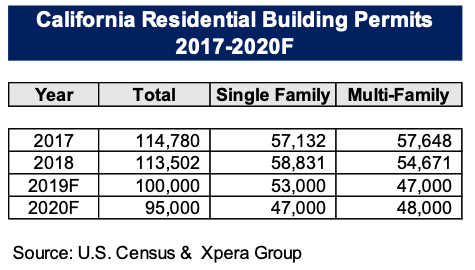 As the stricter 2019 building code goes into effect, builders will be dealing with a harder challenge in keeping the cost of construction low enough to make money on home sales or rent.
The consumer spending statistics continue to look bright because Californians just love to buy things, including cars, RVs, clothing and eat-out food. And as you add population, you obviously also add consumption. And that's a good thing.
So, as I look at California in the coming year, we continue to be the state that other states dream about. Yes, everything is expensive here, but it wouldn't be if the demand wasn't there. The median price of a resale home in the City of Detroit is $65,000. There's a reason for that.
This article was originally published by Xpera Group which is now part of The Vertex Companies, LLC.