Curtain Wall and Window Wall systems are commonly used methods of exterior cladding for mid-rise and high-rise buildings. To address the common confusion in terminology between these two systems, this article will discuss the similarities and differences between these two systems, as well as common components used in each.
What is the difference between curtain wall and window wall systems?
A window wall system spans only a single floor, is supported by the slab below and above, and is therefore installed within the slab edge.
A curtain wall is a structurally independent/self-supporting system, typically spanning multiple stories, and is installed proud of/beyond the slab edge.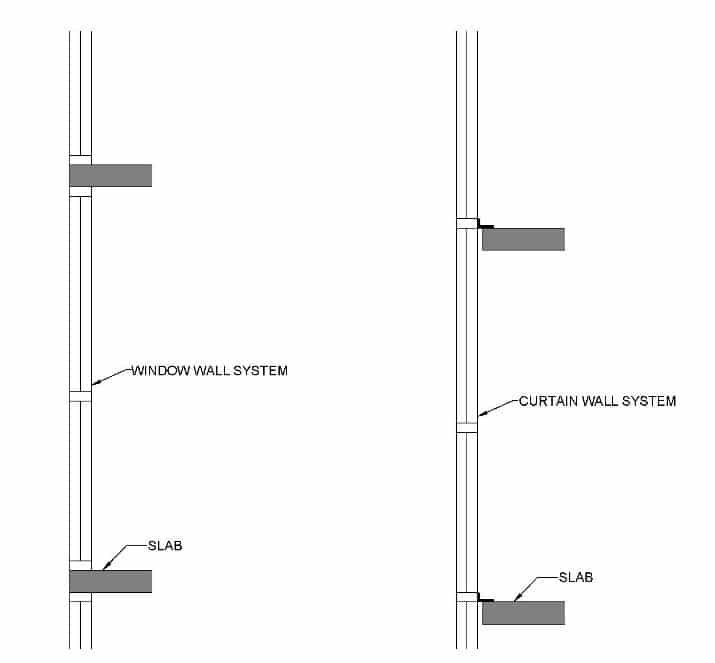 What are the similarities between curtain wall and window wall systems?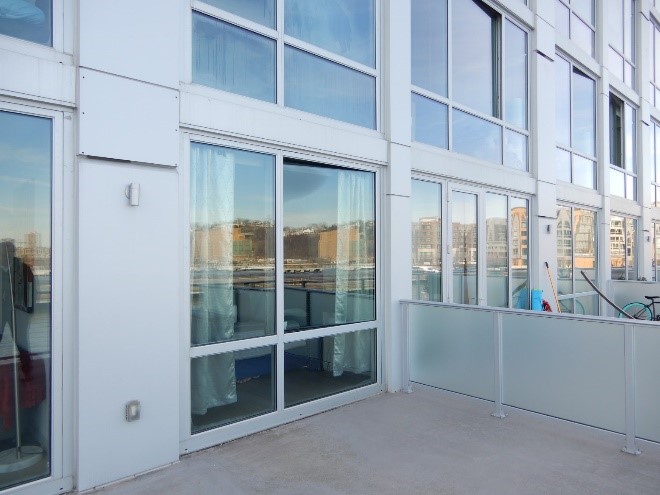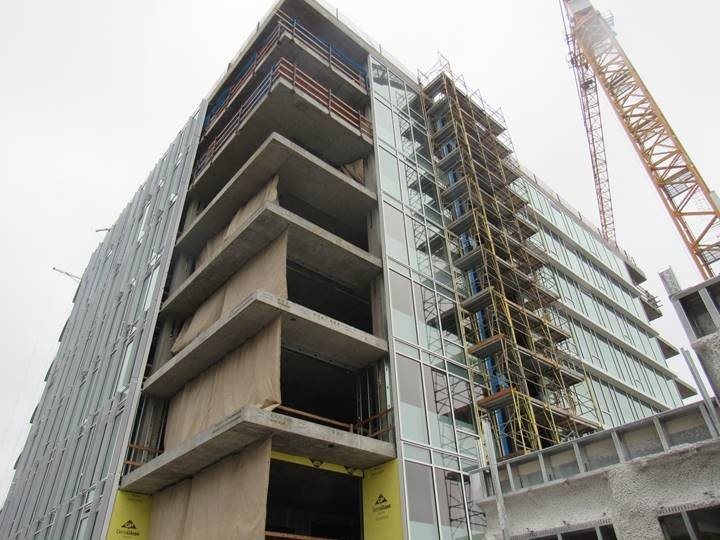 Both curtain walls and window walls are intended as all-in-one cladding systems. While most people think first of the glazing or window component of these systems, they both encompass many aspects and functions common to any exterior wall, including:
Enclosure/Barrier – These systems inherently act as the primary air/vapor/weather-resistive barrier for the building envelope.

Cladding – Beyond clear glass, these systems can incorporate panels of metal, stone, opaque glass, etc.

Insulation – While they do not have the same insulation value as a solid or framed wall, these systems do provide some degree of insulation value.

Structural – While these are not bearing walls (i.e. they do not support the floors above, and can be removed without any detrimental effect on the overall building structural system), they transfer their loads to the main building structure, and need to be designed to resist wind and other lateral loads.
Installation and Construction
There are two main types of systems: Stick Built and Unitized.
A Stick-Built system arrives at the site as a kit of parts. The mullions/frames are assembled on site, and the glass/glazing is installed in place.

A Unitized system arrives at the job site in prefabricated panels. Sections of the wall are completely assembled in the factory including the glazing and then set into place.
Components of Curtain Wall and Window Wall Systems
Both systems utilize many of the same components and common terminology. Here are some of the more common terms and components used: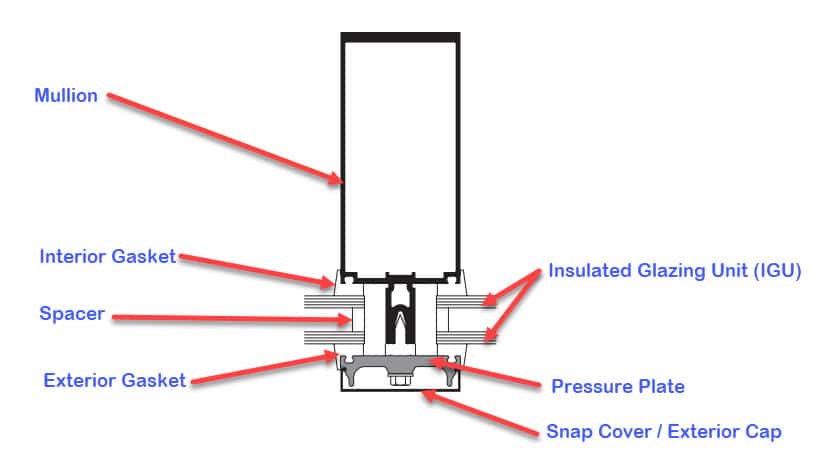 Mullion – The metal extrusion between glazing panels that supports the system. Mullions are used both vertically (up & down) and horizontally (left to right).

Pressure Plate – A metal plate secured to the mullion to retain the glass in place, typically 2 or more inches wide, present at each horizontal & vertical mullion. A snap cover, the exterior "cap" of the mullion, covers the pressure plate and is the visible portion of the mullion on the exterior.

Structural Silicone – In lieu of a pressure plate, the glass may be held in place via structural silicone to give a more minimal appearance. There is either a gasketed joint or wet-sealed joint a fraction of an inch wide visible between glass panels on the exterior, rather than a 2-inch or wider metal pressure plate and cap.

Insulated Glazing Unit (IGU) – Two or more panes of glass separated by a spacer and filled with an inert gas (argon, krypton). Often referred to as double-glazed or double-pane (though can include more than 2 layers), an IGU provides improved insulation value over a single pane of glass.

Spacer – The component that separates the glass panes at the edge of the IGU. It often includes a desiccant material to absorb moisture. Better spacer materials can improve the overall insulation value of the system.

Setting Blocks – Used to separate IGU edge from the mullion/frame at the perimeter.

Gaskets – Extruded rubber used as a glazing seal between the IGU and mullion. They are compressed into a joint between frame and window at both the exterior and interior.

Wet Seals – In lieu of gaskets, field-applied wet sealant can be installed between the IGU and mullion. Wet seals are typically silicone applied over a backer rod or glazing tape.

Fixed Glazing – As the name implies, these are glass panels that do not move.

Operable Panel/Operable Vent – These are hinged or sliding glazed panels that allow for the introduction of fresh air into the building. These require specialized hardware (hinge, latch, etc.) and a "frame within a frame" to hold the glazing in place.

Spandrel Panel – As opposed to vision glass, a spandrel is an opaque panel of either obscured coated glass or another material (metal, masonry veneer, thin stone). They are typically used to conceal structural elements (columns, slab edges) or interstitial space (above ceilings). There is often a "shadow box" or "backpan" behind the panel to hold/conceal insulation to improve the thermal performance of the overall system.

Louvered Panel – A panel that incorporates louvers for the operation of mechanical units (PTACs, exhaust fans). The louvered panel should be integrated with a sleeve to allow for protection from water infiltration and allows for drainage to the exterior.

Anchor – Used with curtain wall systems, the anchor ties the curtain wall to the slab edges or structural frame. The anchors can be embedded when the slab is poured or fastened to slab after the slab is in place.

Receptor – Used with window wall systems, a receptor is often a C-shaped channel design to accept the sill, jamb, and head of the overall frame to hold the system in place.

Thermal Break – Separates exterior metal mullion components from interior metal mullion components, the thermal break is a literal "break" in between the inside and outside portions of the metal frame/mullion. It reduces thermal conduction through frame/mullions by making the metal discontinuous. The break needs to be contiguous throughout the assembly to be effective. Typically, the wider the break, the better performance.
What can go wrong?
In VERTEX's forensic investigations, we have encountered a variety of ways in which curtain wall and window wall systems can fail. Such failures may relate to design, manufacturing, and/or installation defects. Typical failures of these systems may include:
Structural Failure – This may be a result of inadequate design for anticipated loads, inadequate design for deflection, improper or insufficient anchoring, or a catastrophic event (storm, tornado, earthquake).

Water Infiltration/Air Infiltration – This may be a result of defects inherent to the window system itself; penetrations in the system; interfaces with adjacent building systems; installation deficiencies; insufficient or obscured drainage; gaps in gaskets; or degraded/failing seals or gaskets.

Glass Breakage – This may be caused by physical impact either during construction or post-construction; weakening of the glass; unintended contact between the glass and frame; impurities in glass; or insufficient strength/thickness of glass for the size of the opening.

Fogging of IGUs – This is a result of condensation occurring between the panes of glass, which is caused by a failure in the seal at the spacer of the IGU. While IGUs have a finite expected useful life, premature fogging may be an indication of a manufacturing defect or physical damage to the unit.

Indoor Condensation – This is a result of the surface temperature of the interior frame and/or glass dropping below the dew point. There may be various possible contributing factors including air leakage; inadequate specification of the system; excess indoor humidity; or thermal bridging.
How Can VERTEX Help?
VERTEX has vast experience performing building envelope consulting for new construction projects as well as forensic investigations of building envelope systems (including curtain walls and window walls) for building owners, property managers, homeowner's associations. Our team can also provide forensic expert services for litigation matters on behalf of developers, general contractors, subcontractors, manufacturers and design professionals (architects, engineers, and building envelope consultants).
To learn more about VERTEX's Forensic Architecture services or to speak with a Construction Expert, call 888.298.5162 or submit an inquiry.