Over the past few years, Xpera Group (now part of VERTEX) has become increasingly active in downtown San Diego construction. We have been providing market research, construction management, and building envelope services for a number of vertical projects. For that reason, we have been tracking development on a routine basis, trying to keep a tab on everything that is happening in the dynamic 1,500-acre city center.
We know that the redevelopment of Seaport Village is still a few years away, but Manchester's Pacific Gateway is underway now (with the massive 17-story Navy headquarters leading the way). The two mixed-use projects together will dramatically transform the waterfront landscape over the next decade, along with the introduction of several new hotels on Harbor Island and the new Brigantine restaurant complex (replacing Anthony's) on the Embarcadero. But, let's take a look at what is happening away from the waterfront.
Hotels and Condo Construction in Downtown
According to our database, there are almost 4,800 new hotel rooms in planning or under construction. The latest completion was Robert Green's Pendry in the heart of the Gaslamp Quarter. Also under construction are Rob Lankford's 422-room Intercontinental and Legacy's 240-room Carte Hotels. The extra good news is that the downtown hotels are having their best year ever in 2017, with sky-high occupancies and room rates.
The condominium scene is a bit sparse, but what we have is pretty impressive: the 215-unit Pacific Gate and the 285-unit Savina, both by Bosa Development. Pacific Gate is a 41-story monument with Kohn, Peterson, and Fox Architects providing the exterior cladding. Prices there routinely surpass the $1,000-per-square-foot level and sales are booming (with more than 100 units sold). The project should be completed by year's end.
Just starting construction is Savina at Kettner & Ash, a step-down pricewise from Pacific Gate, but still impressive, with wonderful harbor views. Sales there are buoyant, with contracts on 100 units currently in escrow.
I do wish we could produce vertical condominiums for the Millennials who work and live in apartments downtown. But there doesn't seem to be anybody willing to take a chance.
Apartment Construction in San Diego
Now, let's look at the world of apartments. This year, only one market-rate rental project was completed: the 480-unit, 22-story project known as The Rey, next to Symphony Hall. The market has been very receptive with rent-ups at a pace of 30-45 units a month. The project not only has fantastic views, but it also has a wonderfully landscaped entry on B Street with an Achilles coffee bar. That entry is to be applauded. If you have the opportunity, walk by and say thank you to Wood Partners, the developers.
Next, let's consider what is under construction. Our database has 4,200 units in various stages of completion, most of which will be complete in 2018 or 2019 at the latest. The biggest, by far, is Greystar's 730-unit, 37-story tower next to Petco Park, which is almost complete. It has spectacular bay views and you won't need to buy a ticket to see the Padres or tractor pulls—just look out your window.
Little Italy is also moving along in a spirited manner. After a decade with little to no construction in the district, there are now eight projects underway with a total of 800-plus units. Such familiar development names as Fenton, CityMark, McMillin, Segal, and Lennar dot the skyline.
Back to East Village: In addition to Greystar's tower, there are another 2,500 units underway, including offerings by Alliance Residential, Trammell Crow, Richman Group, Lennar, and Pinnacle's second tower. They will enter the market over the next 18 months. Competition should be spirited.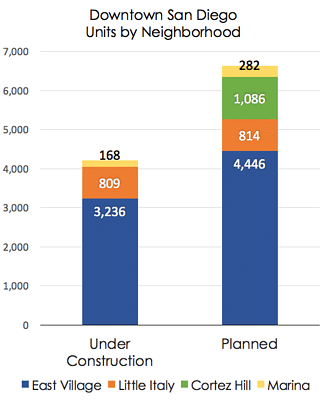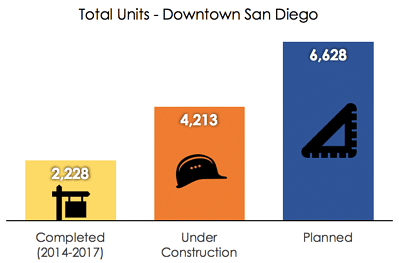 Looking a little further out, there are another 6,000-plus apartment units in the planning stage, two-thirds of them in East Village. The most exciting of these projects is Cisterra's 7th and Market mixed-use community, with a Ritz-Carlton Hotel, gourmet market, apartments, and office space, all in one highly creative block designed by Carrier-Johnson. As for the myriad of rentals planned for the next few years, it is highly unlikely that most will come online in the "near term" as scheduled, but instead, be spread out over a few years. Developers need to be convinced that the market can absorb large numbers of upscale units in a timely fashion.
Now, if we can just get the Convention Center Phase Three underway, downtown will really be hopping.
SANDAG predicts that downtown will eventually have 90,000 residents. Right now, it's barely 30,000. But if everything in the pipeline flows as predicted, we will reach nearly 50,000 in the next few years. And that is pretty exciting, especially if you are a retailer downtown.
And who knows: we may even have a lacrosse arena.
The VERTEX team is pleased to be involved in 40% of the current projects under construction in the dynamic downtown San Diego market. Some of our current and recent projects include the following: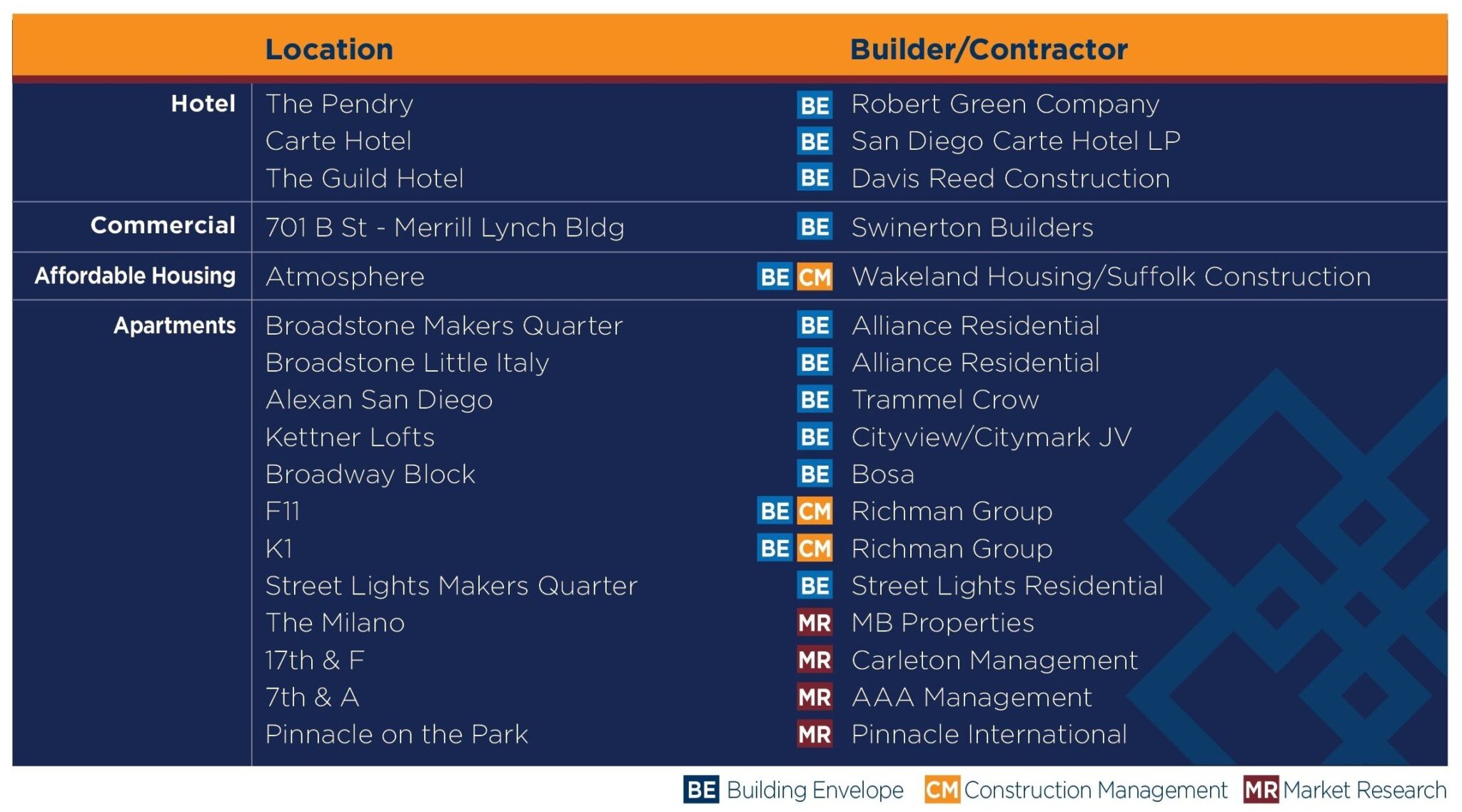 Author
Alan Nevin
Director of Economic and Market Research, Xpera Group
This article was originally published by Xpera Group which is now part of The Vertex Companies, LLC.