Over the past decade, more than 1,000 golf courses have closed across the country. In all honesty, many of them should never have been built. They were built solely to facilitate the marketing of new homes or new hotels but never made economic sense. Between 2002 and 2016, the number of regular golfers has declined from 30 million to 21 million, with golf course utilization at 52% nationally.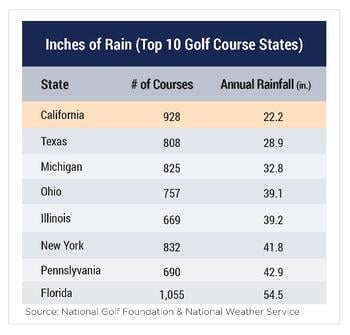 The slow demise of the golf course industry has as much to do with demographics as with overbuilding and, in many cases, deferred maintenance. The cost of operations is paramount in the golf business. I looked at the 10 states with the highest number of golf courses. California is second only to Florida. The other nine average twice as much rain as California (40 inches to California's 22 inches).
Millennials appear to have different athletic tastes. To many of them, the sport of golf is too slow-paced (four hours if all goes right), expensive and offers few health benefits. Additionally, golf is not typically seen as a family sport, making it less desirable as today's parents increasingly look for activities they can do together with their kids. This is supported by a Pew Research study, which found that in nearly half of U.S. families, both parents are fully employed, with almost 40% of couples sharing equally in the management of their children's schedules. That means fewer days for dads to escape to the golf course sans kids.
I was recently retained as an expert witness in a litigation matter involving a beautiful and exclusive private golf course community in the Coachella Valley. The golf course had major financial problems. The average age of its homeowners was 77 and 80% lived elsewhere most of the year. That appears to be the case in many of the Coachella Valley golf communities, although it is not quite as pronounced in San Diego County.
San Diego is not exempt from its own share of golfing problems. Since 2013, 10 courses were being considered for reuse.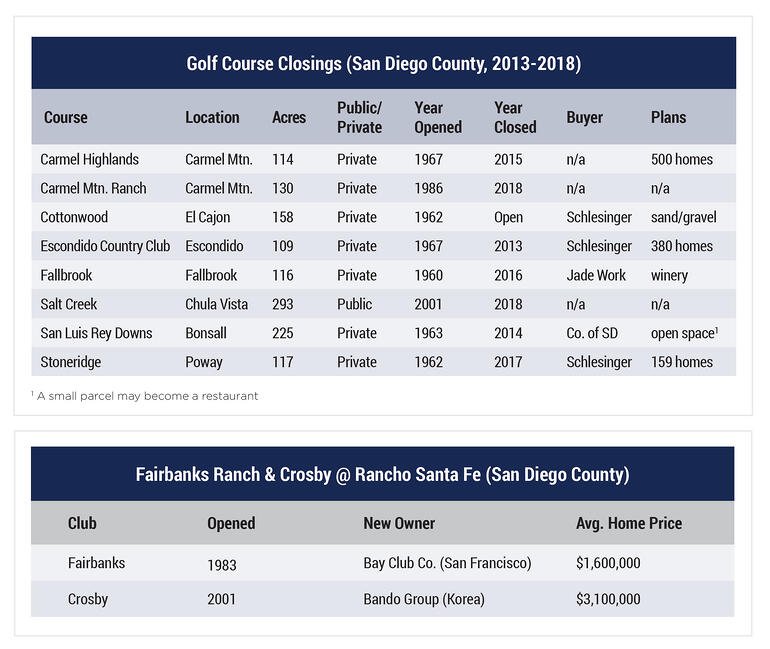 Of these, the most elite were Crosby at Rancho Santa Fe and Fairbanks, both under new ownership. Fairbanks was sold to Bay Club and Crosby to Bando. Reportedly, both are doing well now.
The other eight each have interesting stories. One is planning to convert to a sand-mining operation (Cottonwood); one to a winery (Monserate); and one to permanent open space (San Luis Rey Downs).
Three of them are destined for new home development (Carmel Highlands, Stoneridge, and Escondido). The other two are in the question mark stage: Salt Creek and Carmel Mountain Ranch.
There are 80+ golf courses in San Diego County. As water costs spiral and interest in golf wanes, I wonder how many will end their days as subdivisions or perhaps high-rises.
Author
Alan Nevin
Director of Economic and Market Research, Xpera Group
This article was originally published by Xpera Group which is now part of The Vertex Companies, LLC.