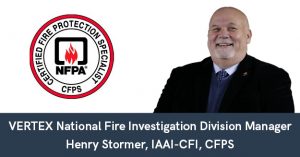 Henry Stormer, National Fire Investigation Division Manager for VERTEX, was recently awarded the Certified Fire Protection Specialist credential.
The Certified Fire Protection Specialist (CFPS) credential was created in 1971 to recognize, through certification, qualified individuals who are dedicated to curtailing fire loss, both physical and financial, and who have acquired a level of professionalism through applied work experiences and related education opportunities, and through successful completion of a certification examination. The CFPS program is administered by the National Fire Protection Association (NFPA) has received accreditation from the American National Standards Institute (ANSI).
More than 4,000 people have been awarded the CFPS certification. This group of professionals includes risk managers, loss control specialists, fire officers, fire marshals, fire inspectors, safety managers, fire protection consultants, designers, engineers, code enforcers, facility managers and others who have responsibilities dealing with the application of fire safety, protection, prevention, and suppression technologies.
According to Dr. Robert S. Fleming, CFPS Board Chair, "The ISO 17024 accreditation is an important milestone for CFPS and for the fire protection field of practice. Employers in the private and public sectors can be confident that fire protection specialists holding the CFPS designation possess the necessary skills and experience to effectively implement fire protection policies and strategies."
VERTEX's team of highly experienced professionals perform the complex task of uncovering the origin and cause of damage from a fire or explosion. To learn more about VERTEX's Forensic Fire Investigation Services, call 888.298.5162 or submit an inquiry.