Logistics is the planning, execution, and control of procurement, transport, and stationing of workers, materials, and other resources to achieve the goals of a construction project. Construction site logistics are extremely important to all aspects and phases of a project. The more coordination, logistics planning, and organization, the less likely something is to go wrong. The absence of site logistics planning can lead to bottlenecks, and in the long term, impact a project's schedule and completion date. Developing a logistics plan prior to the start of construction and then implementing the plan is increasingly key to successful construction projects.
In this post, we discuss
The basic of construction logistics
The value of logistics planning in construction project management
The roles and responsibilities of logistics managers in construction
Software tools that can help
What are Construction Site Logistics and How Does it Work?
The most important aspect of construction logistics is movement. The movement of materials, equipment, and workforce all need to be coordinated to the appropriate locations in order for construction activity to begin. Here is a straightforward example of construction logistics when precast concrete structures, for example, are a critical project component:
Precast concrete structures must be moved from the plant to the project site and arrive on time and undamaged.
Once on-site, a crane needs to be available to hoist the precast structures into the coordinated position.
Workers need to be coordinated so they are available once the structures are in place and ready to be used
A negative cost impact is likely if one component is not in position and ready. On a construction project, the workforce gets an hourly wage, and if equipment is not in position or the material is delayed or arrives damaged, the workforce can't perform the work. Anytime this happens, it is detrimental to a construction project.
In construction, when one activity is delayed, other activities are likely to be negatively impacted, potentially delaying the entire project's completion schedule. Going back to our precast concrete structure example, if the concrete structures arrive late or damaged, they can't be installed on time, and other trades such as electricians, plumbers, and carpenters will be delayed.
Construction logistics is simply the task of getting all the necessary components – materials, equipment, and labor – in the right position and ready.
Logistics Planning: Essential to Schedule, Order, and Cost Savings
Good planning is essential to keeping a construction project moving forward. Project completion schedules are created prior to breaking ground. All of the project's activities are sequenced from start to finish. The activities are connected, i.e. when one activity is completed, the next one can begin.
Along with the project's completion schedule, a total inventory of materials, equipment, and tools are calculated and planned for the entire project. All three aspects are staged within the project site in accordance with the completion schedule. Logistically planning and managing the total inventory of a construction project successfully only has positive, long-term advantages.
Logistical planning helps maintain order on a site. When a construction site is organized, a project is more efficient and safer for the workforce. When materials are stored appropriately, they are easier to locate, making the project more maneuverable. Successful logistics planning of materials can also reduce waste, which results in cost savings. Planning can ensure that the correct and right amount of material is on-site, reducing excessive waste.
Logistics Management and Implementation of the Plan
Effective logistics management is important and can greatly enhance efficiency and productivity. On a construction project, the three main factors for success that every contractor values are
Good logistics management helps teams perform well in all three areas by ensuring that the workforce can carry out the project's requirements immediately and with the best quality.
Logistics managers must keep in mind many activities prior to and during the construction phase, including
Resource Management: have quality materials, equipment, and subcontractors arrived on-site and are they being used?
Lead-Time Assessment: when will the materials, equipment, and subcontractors arrive on-site?
Supply and Demand Planning: will the delivery of materials and equipment be on-site for subcontractors in alignment with the construction schedule dates?
Sourcing and Procurement: where is the nearest supplier and how soon can they deliver?
Production Planning and Scheduling: some materials need to be fabricated by manufacturers before they can be delivered and installed on the project. How much lead-time does the manufacturer need to start the fabrication process?
Inventory Management: what materials are currently on-site? Are there materials or equipment not currently on-site that will be needed so that the next activity can begin on time?
Inbound and Outbound Transport Management: what is the most efficient location on-site to receive deliveries? Where is the most efficient egress?
Warehousing: can materials that are currently not needed be stored off-site? What are the costs of off-site storage and is it economically efficient for the project?
Material Handling: what equipment is needed on-site to place materials in the most efficient locations without damaging the materials or surroundings?
On-site Vehicle Management: where is the most efficient location for contractors to park and get onto the project site? What is the most efficient plan for egress?
Waste Management: where is the best location for dumpsters and is it easily accessible for removal and replacement?
The main responsibility of a logistics manager is the coordination of these activities. Some of the above activities are planned for prior to the start of the project, and the plan must be implemented once the logistics are organized..
Advances in Construction Site Logistics Software
With the complexity of developing and implementing of a logistics plan, new software programs that help analyze and visualize the processes that enhance logistics planning can be useful. Three commonly used software programs for enhancing construction logistics plans are Voyage Control, Bluebeam Revu, and StructionSite.
Voyage Control is a customizable cloud-based platform that allows contractors to manage deliveries, hoist requirements, and workforce availability everyday on the site. Its smart phone app makes it easy for truck drivers and on-site managers to schedule deliveries on the go. On-site managers can view and approve scheduled deliveries and check when they have arrived. Real-time views of day-to-day activities can be viewed on a TV, computer screen, even a hoist or tower crane.

Voyage Control prides itself as being a proven system that gets subcontractors to buy into the software; in fact 85% of the deliveries made using Voyage Control are scheduled by subcontractors. The software is proven effective in minimizing duplicate efforts as only 5% of deliveries placed with Voyage Controls are edited, reflecting accuracy and timeliness.The solution promises to "prevent bottlenecks by analyzing peak capacities of loading docks, tower cranes, and hoists and managing their capacity limits accordingly."
Bluebeam Revu includes customizable markup and collaboration tools that allow contractors to create, manage, and store site logistics plans on a single application. This software offers the best in-class PDF markup and collaboration tool for use throughout a construction project. It allows on-site management to create preliminary and high-level site logistics plans, understand site constraints, site logistics challenges, and compare multiple scenarios and options for the project during the initial phases. It also allows the site team to do minor updates to the drawings during construction and present various solution options to the stakeholders.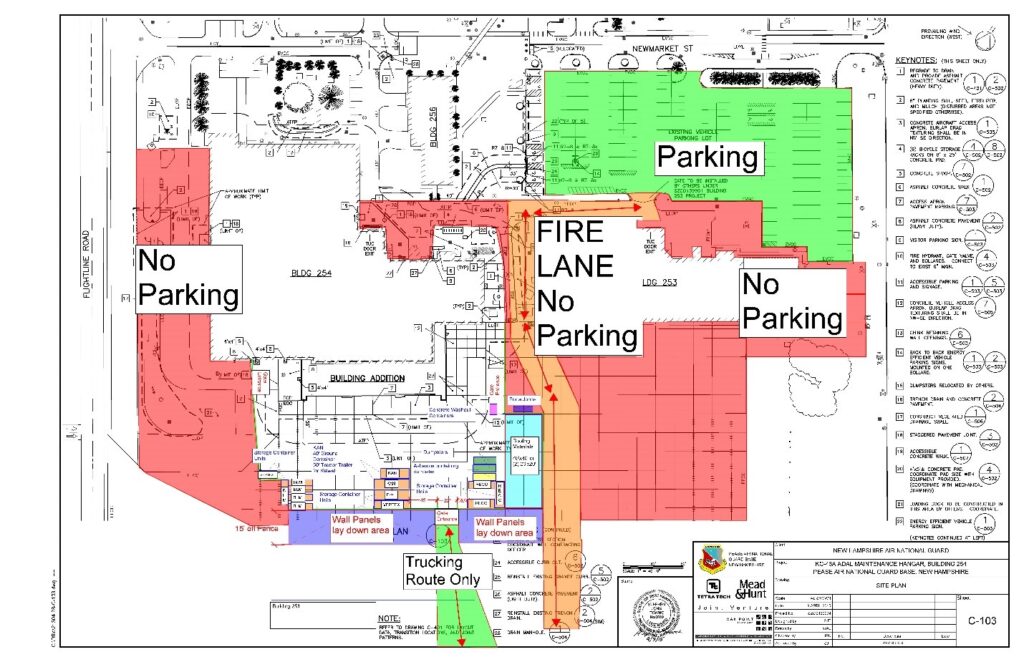 StructionSite is another cloud-based platform that verifies work put in place with a 360° camera that rapidly digitizes the project site onto construction plans. With StructionSite, work can be verified in place by date. It can be also used to "walk the job" while in the office and allows the team to "travel back in time" and view images of work in progress or completed on specific dates. This software is extremely helpful in coordinating site logistics.

All stakeholders can use the tool to stay up to date in the progression of a project and the logistics without even being on-site. This photo documentation software enhances project logistics coordination multiple parties, including design teams and sub-contractors. Even when project stakeholders are located in various cities, they can review design challenges remotely, saving significant amounts of time and money.
Before the Project Begins, Make a Logistics Plan
Developing a logistics plan prior to the start of construction, using software tools, and then implementing the plan, will lead to a more successful construction project. With efficient initial planning and strong logistics management team, a construction project can better control costs, improve schedule efficiencies, and improve quality.
For more information, please contact Jared O'Brien, jtobrien@vertexeng.com or view VERTEX's services for Surety Claims Consulting.