The Health and Safety Culture of your company is important in many ways, most importantly in keeping your employees safe and healthy at work. But the Health and Safety Culture of a company can also have an effect on the bottom line – either in a positive or negative direction. The cost of managing Workplace Health and Safety and especially managing an employee injury or illness suffered at work, can be substantial and will last for several years. According to the National Safety Council ("NSC"), the average cost of a medically-consulted workplace injury in 2020 was $44,000 with a total annual cost of $163.9 billion paid out for injuries for all employers. And that is only the cost of the injuries or illnesses themselves without consideration of the cost of lost-work time. Also according to the NSC, the number of employee lost-work days in 2020 was 99,000,000 (including injuries attributed to previous years). An additional 50,000,000 lost workdays in the future will also be attributed to 2020 year injuries. That adds up to an astonishing nearly 150,000,000 lost workdays from injuries experienced in 2020 alone!
How can your Health and Safety Culture help save your company money in the short and long run?
The majority of workplace injuries are paid by an employer's Workers' Compensation ("WC") insurance provider. WC providers charge employers a premium for WC coverage that is based on several factors.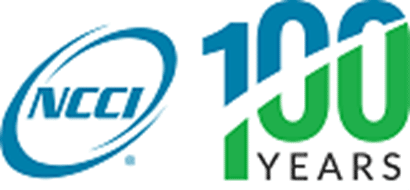 Some of these factors are based on data and statistics from the National Council on Compensation Insurance ("NCCI"), an insurance data collection bureau owned by its member insurers. NCCI annually collects data covering more than four million workers compensation claims and two million policies. The bureau uses this information to provide:
Analysis of industry trends in workers' compensation costs;
Workers compensation insurance rate and loss cost recommendations;
Cost analysis of proposed legislation regarding workers' compensation regulations and benefits;
Special claims research projects
Analysis of judicial and regulatory decisions on workers' compensation
Cooperation with other data-collection agencies to ensure a credible database
How does your Workers Compensation provider calculate your premiums?
In general, the primary factors, which can vary from state to state, are:
Payroll
The total amount of salary and wages an employer pays their employees is a primary factor in determining your premiums because if there is a lost workday due to injury or illness, the WC provider may have to cover a portion of that lost pay.
Classification Codes
A premium in part is paid based on an "Classification Code." The Classification Code is a system established by the NCCI and is based on exposures to injuries within a certain industry (e.g., roofing). When an industry – like roofing– has more worker injuries over a given period of time, the Classification Code can change and raise the premium rates for all employers in that industry sector. Additionally, there are Employee Work Classification Codes that are considered in establishing the insurance premium. Each Employee Work Classification Code is assigned an injury experience expectation. For example, the code and associated premium for an administrative assistant will typically be less than an outside salesperson, and that will be less than an on-site construction worker.
Experience Modification Rate
An Experience Modification Rate ("EMR" or "E-mod" or "X-Mod) is a numerical rating assigned to an employer's WC policy, also by NCCI, based on the employer's injury history. The EMR number is used as a multiplier against the average premium in an employer's industry, meaning a roofing company would be compared to only other roofing companies. If an employer's EMR is below the industry average, which is established at 1.0, then the WC premium would be lower than the average premium for that industry sector, and vice versa. Most employers whose premium averages more than $4000 over a three-year period are eligible for an Experience Modification Rate. Employers with less than $4000 in premium costs are not assigned an EMR because their exposure to injury claims is too low, and these companies pay a standard premium. The number of person-hours worked in a year is considered in determining an employer's premium payments, since an employer with 50 employees would be expected to have more injury claims than an employer with 5 employees. The EMR also considers the frequency of injuries and not just the cost of handling a claim. For example, an employer with 5 claims totaling $25,000 over a three-year period has a greater impact on their EMR than a single claim costing $25,000 over a three-year period.
What are the best ways to reduce your Workers Compensation premium?
Now that we know how an employer's WC premium is generally established, we can determine ways to reduce the cost of the premium. Naturally, the best way to reduce your premium is by experiencing fewer injuries, but also to carefully and sensitively manage the injuries cases you do have. Here are some approaches.
Have a discussion with your WC provider.
WC insurance is a competitive business, and many providers have programs that can help employers improve their Safety Culture and procedures, which should in turn, reduce their premiums. Proactive safety and injury prevention programs and sound return to work policies are just two ways to lower the EM rating and thus, lowering the premium.
Establish accurate hazard classification assignments.
Make sure that the hazard classification assigned to your employees is accurate for their level of risk. Talk with your WC carrier about this. Making sure classification is correct will right-size the risk expectation and potential premium allocated for injuries and over time, driving down the EMR.
Increase awareness of risks and precautions on the job.
Make Health and Safety a topic of discussion in all your meetings, in your office and in project site meetings, if you work on project sites. This will increase awareness of the risks and precautions of the day's activities. There are also office-related topics, such as workstation ergonomics, stretching, addressing clutter that creates tripping hazards, etc.
If you have an intranet in your organization, create a Health and Safety section to share the organization's commitment to a safe and healthy operation.
Quick and effective injury reporting.
When you have an injury, quickly get to the root causes of the injury and get it reported to your WC carrier. Make sure that they assign an adjuster promptly. You should proactively reach out to the adjuster at least weekly to be sure that they are driving medical attention to your injured employee, as needed, as quickly as possible. That will reduce the pain for the employee, get them back to work quicker if it is a lost-time injury, and reduce your insurance cost. There are firms that also provide injury intervention and case management services to assist in driving employee recovery and thus reducing costs.
Reducing the frequency and also the severity of injuries will join to lower the employer's EMR and the resulting premium.
Here are two examples of how an EM rating can affect the cost of an employer's "WC premium." Remember, the benchmark threshold for EMR is 1.0. Having an EMR of less than 1.0 is better.
A company with a strong, proactive safety program, low claim history, and an EM rating of 0.85 would result in a 15% premium discount than other employers in the same industry.
A company with a weak safety program (e.g., not proactive, no injury prevention, no return to work policy), high claim history, and an EM rating of 1.25 would pay 25% more on their WC premiums than others in the same industry.
It is clear to see that employers do have some control over their Workers' Compensation costs by establishing strong, proactive safety programs and continually monitoring their safety programs for avenues of improvement. Many WC providers offer safety and injury prevention program templates and offer safety training programs and auditing for their insureds at no additional costs beyond the premium, although it may be necessary for an employer to be proactive and contact their provider to inquire about these programs.
How can VERTEX help employers lower and manage WC premium costs?
VERTEX can assist employers in lowering and managing WC premium costs by reviewing existing technical Health and Safety programs and providing recommendations for proactive improvement. VERTEX provides the knowledge and tools to develop strong programs. We will advise you on the design, management, and continuing surveillance of programs to meet or exceed ISO, OSHA, EPA, and additional standards and guidelines, including best-practice approaches to health and safety, so that solutions align with exposures and risks.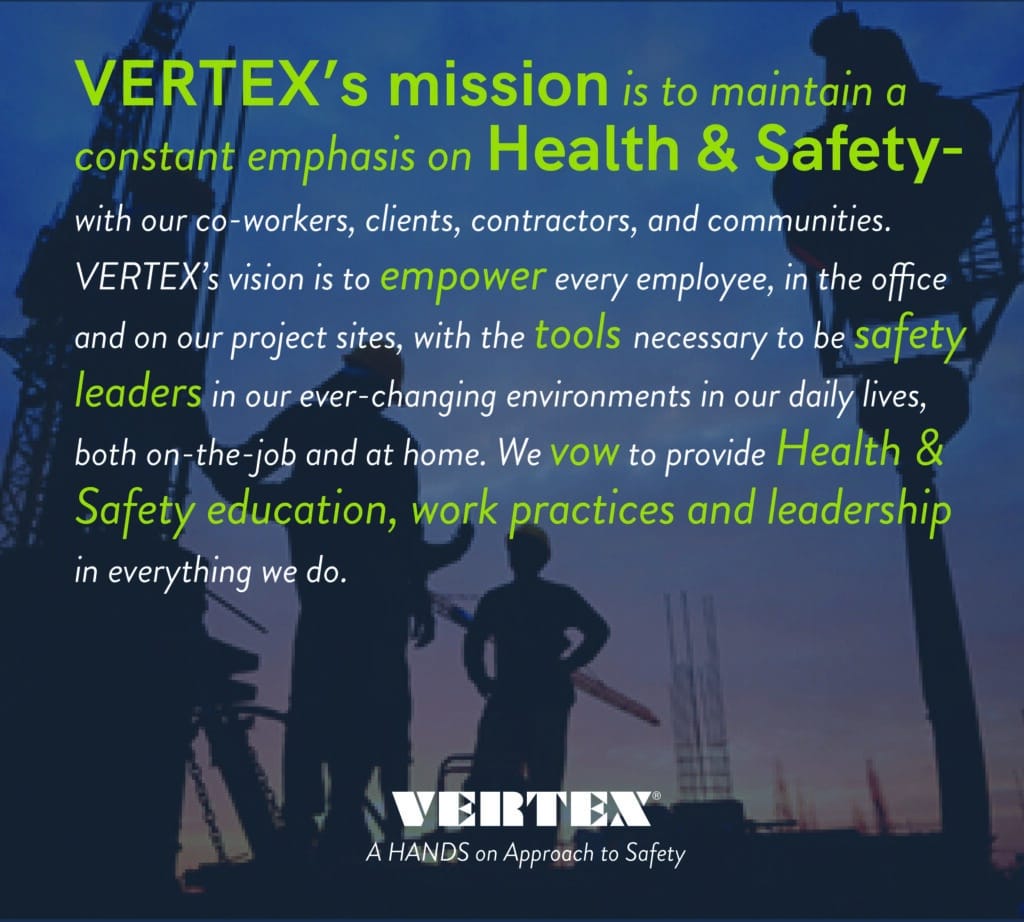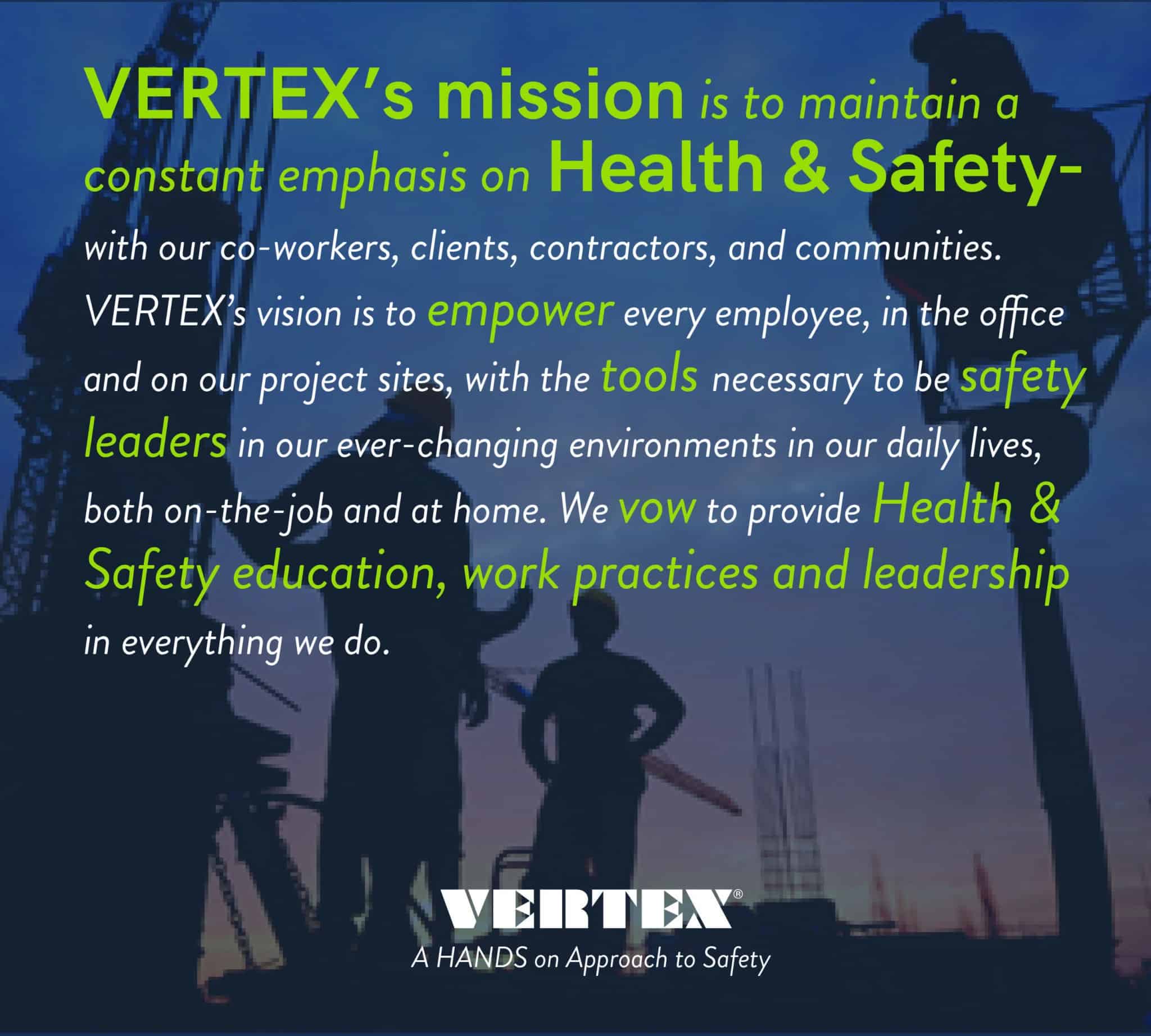 VERTEX's H&S Mission Statement, the foundation of our H&S Culture
VERTEX can also build a robust Health and Safety Culture from the ground up with technical programs and employee engagement activities which communicate employer concern for the wellbeing of their employees and encourage ownership for Health and Safety on the part of the employees who ultimately need to avoid the risks that cause injuries. VERTEX partners with employers who do not have Health and Safety programs, and new employers and start-ups who may not have the internal resources to build these programs. VERTEX's staff of Certified Industrial Hygienists, Certified Safety Professionals, and EHS Professionals have decades of experience teaming with employers to manage and enhance their Health and Safety programs and Culture and their Risk Management Programs.
Our professional resources include Occupational Health and Safety, Risk Management, Industrial Hygiene, Environmental Program Auditing, Building Science and Sustainable Building expertise. We have experience working in team environments to deliver integrated interdisciplinary consulting products and technical solutions that can help employers lower their Health and Safety program costs, improve environmental performance, and human productivity and assist in increasing the bottom line.
If you have questions regarding VERTEX Health and Safety program and Risk Management consulting or to request more information please call 888.298.5162 or submit an inquiry.