As most of my students and audiences have learned over the years, for an industrialized nation to prosper, it is necessary to have two children born for every mom and dad. If that birth rate falters, the economy of the nation cannot grow and prosper on a long-term basis.
Thus, the economies of Russia, most of Europe, Korea and Japan are suffering and it isn't because of bad management. It is due primarily to having an insufficient young adult population (today's "millennials") to bolster their work force. As a result, they do not have the spending power that the millennials bring to their nation. Millennials in most industrialized nations account for the majority of household spending on housing, clothing, automobiles, entertainment and dining out. Those activities produce the property and sales taxes that are needed to support the government and its services.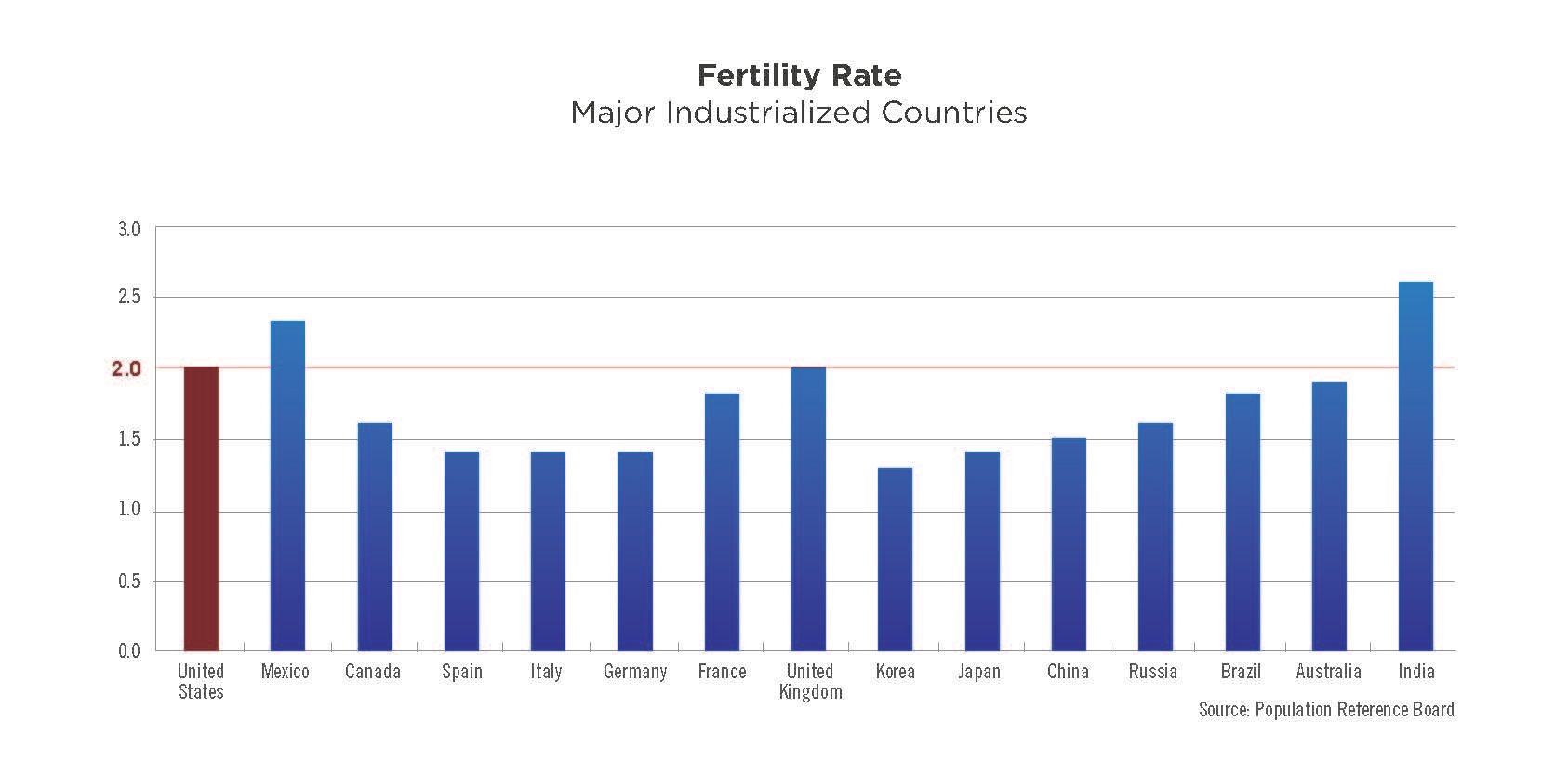 The aforementioned nations began their struggle in World War II when a substantial number of their young males were killed. Prior to World War II, having three or four children per household was common. Since then, the ratio has fallen to 1.4, thus substantially failing the ideal 2.0 target. In 2010, the fertility rate in South Korea was 1.3, with Japan, Germany and Italy at 1.4 and Russia at 1.6.
In Japan, in addition to the below-norm birth rate, job gains are anemic. In the past 20 years, there have been no job gains, holding steady at 62 million. Importantly, Japan has a strong bias against permanent immigrants (although they do allow short-term immigrant workers), so the population is not growing that way either. Long story short: the population in Japan in 2015 was 126 million and is projected to decline to 100 million by 2050.
Then, there's the United States. With a fertility rate of 2.0, the nation will continue to grow by 2.5 million persons annually.
As noted repeatedly in my book, The Great Divide, not all states are equal in terms of achieving a 2.0 fertility rate. The 15 high-growth states are achieving the 2.0 ratio or higher and do so solely because of the growth of the Hispanic and often the Asian population. For instance, California, 61% of the births are Hispanic and Asian. In Texas, it is 54% and in Arizona 46%.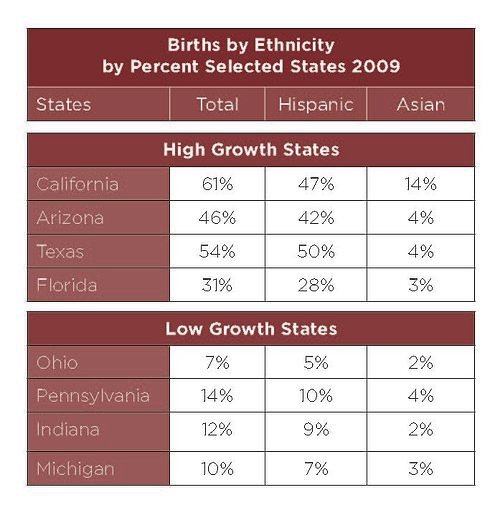 Looking at the slow-growth states, the picture is radically different. In Ohio, only 7% of the births are Hispanic or Asian, with similar figures in Pennsylvania (14%), Indiana (12%) and Michigan (10%).
From a different perspective, the U.S. Department of Health and Human Services states that only 14.8% of non-Hispanic women aged 15-44 will have three or more children. Comparatively, the percent of U.S. born Hispanics that are expected to have three or more children is 19.6% and non-U.S. born Hispanics 39.9%.
Thus, from a pure economic standpoint, the Hispanic population is providing the U.S. with its primary growth and is allowing the 15 highgrowth states to account for 75% of the nation's population gains. And it is no secret that the Hispanic population is the driving force behind the state's ability to supply its burgeoning labor needs, both skilled and unskilled.
In 1900, 13.6% of the population of our country consisted of the foreign-born. This year, it is 13.5%. Not much has changed in that respect over the past 117 years. It is apparent that the foreign born contribute substantially to our economic growth and the diversity of our nation. And that's a very good thing.
This article was originally published by Xpera Group which is now part of The Vertex Companies, LLC.