In recent years, savvy real estate investors are including infrared (IR) surveys as part of pre-acquisition Property Condition Assessments (PCAs) to help identify areas of excessive moisture within the building envelope systems. Excessive moisture within building envelope systems may be indicative of systemic failure that could lead to poor indoor air quality, costly repairs, and worse, litigation.
What is Infrared Thermography?
The Hollywood version of IR is a big misconception and leads the laymen to believe the technology can "see" through walls. This couldn't be further from the truth. IR thermography is a process where a thermal imaging camera captures infrared radiation emitted from an object. The amount of radiation emitted by an object increases with temperature. In general terms, it is a graphical display of the range of temperatures on the surface of an object.
Infrared surveys are typically performed in the evening following sunset. While heat on the surface of building envelope dissipates at consistent rate, areas of excessive moisture within the building envelope retains heat. A competent thermographer is able to interpret recorded thermal images and identifies these areas of thermal anomalies. Since thermal anomalies can be attributed to various causes such as air leakage, gaps in insulation, and excessive moisture within a wall/roof system, a subsequent intrusive investigation is often recommended to verify if the observed thermal anomalies were caused by excessive moisture.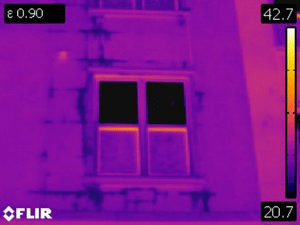 Figure 1: Suspect excessive moisture around a window.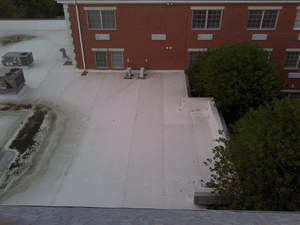 Figure 2: Visual observation does not reveal any deficiencies at a roof section.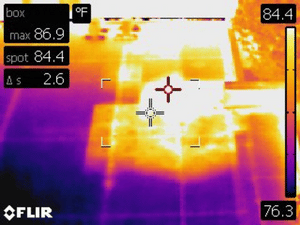 Figure 3: IR image reveals possible wet roof insulation at the same roof section.
Advantages and Limitations of Infrared Surveys
An IR survey is a rapid assessment technique where large areas of building façade and roof can be reviewed in a relatively short amount of time. This provides the client an initial snapshot of building envelope conditions and can help to determine if observed thermal anomalies are isolated or widespread occurrences.
Due to the non-contact, non-intrusive nature of an IR survey, clients do not have to worry about repairing sampling locations, probe holes or other testing aftermath. As such, the current property owners are more likely to grant permission to perform an IR survey than other intrusive assessments.
It is important to understand the limitations of an IR survey to determine if it is suitable for a particular project. One significant limitation is weather dependency. IR surveys cannot be conducted in wet weather and are best if conducted after sunset.
Effectiveness of IR surveys also depends greatly on the material and construction of the building façade and roof. For example, due to thermal mass of brick and presence of drainage cavities in the wall system, an IR survey is not suitable for buildings finished with brick veneer. It is important to have a discussion with a thermographer to determine if an IR Survey is suitable for a particular project.
How Can VERTEX Help
When performed by a competent professional, IR technology is a valuable tool in the due diligence process. VERTEX has certified thermographers who regularly perform IR surveys of building envelopes. We also have professionals who can provide subsequent investigation, consulting, methods for corrective measures, and design.
To learn more about VERTEX's consulting services, or to speak with an Environmental Expert, call 888.298.5162 or submit an inquiry.