Ethylene oxide (EtO) is recognized by the Environmental Protection Agency (EPA) as a hazardous air pollutant and is therefore regulated by the EPA under the Clean Air Act (CAA). At room temperature, ethylene oxide is a colorless, flammable gas. It is used in a variety of manufacturing processes like antifreeze manufacturing, textiles, plastics, detergents, and adhesives and is also used to sterilize medical equipment[1]. In fact, according to the Food and Drug Administration, approximately 50% of sterile medical devices are treated with EtO – about 20 billion each year. EtO is also used to sterilize some food products such as spices, certain dried herbs, dried vegetables, sesame seeds and walnuts[2].
When EtO is used or produced, some of it may be released to the air and water as fugitive emissions. Release to the air is the primary way EtO enters the environment. When it is released to water, some of it may move from the water into the air. EtO that stays in water will either break down or be destroyed by bacteria. The time frame for the breakdown of EtO in the environment can vary depending on environmental conditions[3].
Ethylene oxide is a known human carcinogen (cancer-causing agent)[3],[4] and inhalation of air contaminated with ethylene oxide is the primary route of exposure. According to EPA, workers may be exposed to EtO if they work in places where EtO is produced or used, such as chemical plants and commercial or hospital sterilizers. These workers potentially have higher-than-average exposure. People who live near facilities that release EtO to the outdoor air may be exposed to fugitive emissions of EtO, depending on how much EtO is released and how close they live to the facility[3].
Situated just six miles west of Denver, Colorado, there is a site being evaluated by the Environmental Protection Agency (EPA) for emissions of ethylene oxide (EtO), a recognized Hazardous Air Pollutant (HAP) .
Image Source: https://www.lakewood.org/Government/Departments/Economic-Development
The site near Denver uses EtO to make medical devices and to sterilize plastics, polymers, metals, and glass that cannot withstand the high heat and moisture of steam sterilization. Examples of such devices include catheters, resuscitation bags, and anesthesia masks.
The EPA is working to reduce amount of EtO that is allowed to be emitted, but it will take time to change the regulation. In the meantime near Denver, the EPA is working with Colorado Department of Public Health and Environment (CDPHE) and Jefferson County Public Health (JCPH) to reduce levels of emissions of EtO alongside the medical device manufacturer, who has already instituted emission reduction upgrades and is planning on additional voluntary upgrades to its facility. One occurred in 2018 and another is scheduled to be completed in the summer of 2023. It is important to note that the facility near Denver is not violating any current air pollution control requirements and is working with regulators and health departments to reduce the amount of ethylene oxide released into the air[5].
Health Impact Study Findings
Regulatory agencies study regions with elevated levels of EtO to see if there is more cancer in the communities and surrounding areas near facilities that release EtO based on EPA's guidance for "acceptable" risk level (more than 100 excess cancers in one million exposed people). This estimate is based on a worst-case scenario where an individual is breathing outdoor air 24 hours a day, 7 days a week, for 70 years. Breathing low levels of ethylene oxide similar to those detected in the neighborhood surrounding the facility near Denver over a lifetime may lead to a small increase in a person's overall cancer risk. The levels of ethylene oxide in the air around this particular facility are well below levels expected to cause non-cancer health impacts [6].
Properties like the facility near Denver often are working on installations of additional controls, sometimes resulting in a two- to five-fold reduction in the cancer risk to residents in the area, and more generally, a significant reduction in ethylene oxide concentrations around the facility.
Following is a Lifetime Residential Cancer Risk map that shows EPA's estimates of lifetime cancer risks from EtO near the Colorado facility. These maps are public information and can be found on the EPA site for elevated EtO areas across the country. EPA cannot predict whether an individual person will develop cancer. The exact chance of cancer to people exposed to EtO in the air around the facility cannot be known as exposure depends on many factors (e.g., duration, wind and weather patterns, etc.). Actual risk depends on how close an individual is to the source of EtO emissions, how much they inhale, and how long they are in this area. The estimate indicates a possible elevated risk of cancer based on the potential exposure.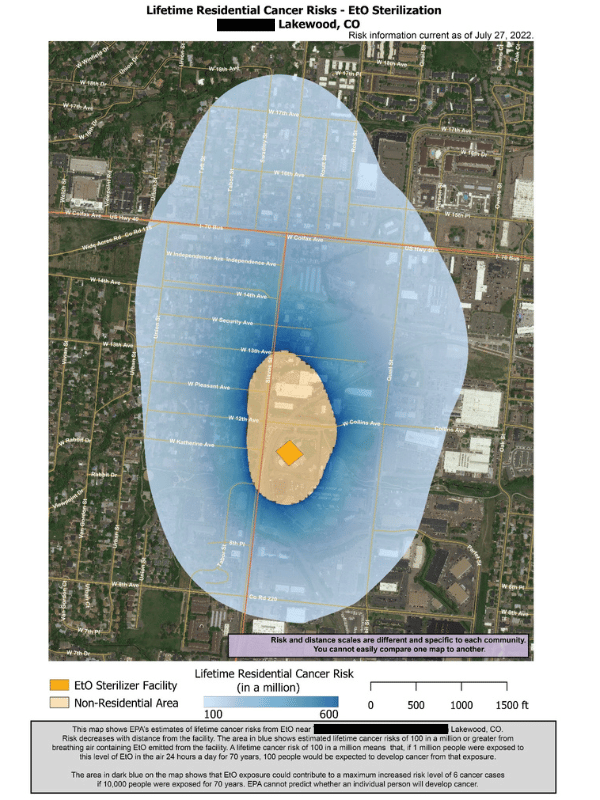 Conclusion
Despite the EPA's commitment to reduce emissions of EtO and the facility's adherence to local and federal emissions standards, according to EPA, there is still an elevated risk of developing cancer for individuals living in close proximity to this particular location just west of Denver. As such, more research, public information, and regulation is expected in the coming months and years.
---
[1] https://www.lakewood.org/files/assets/public/economic-development/community-profile-brochure-2022.pdf
[2] https://www.epa.gov/hazardous-air-pollutants-ethylene-oxide
[3] https://www.epa.gov/hazardous-air-pollutants-ethylene-oxide/our-current-understanding-human-health-and-environmental
[4] https://www.cdc.gov/niosh/npg/npgd0275.html
[5] https://www.epa.gov/trinationalanalysis/ethylene-oxide-releases-trend
[6] https://cdphe.colorado.gov/public-information/ethylene-oxide