Start: 11/7/2019
End: 11/7/2019
Venue: Boston Marriott Cambridge
URL: Event URL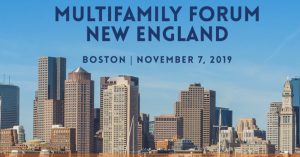 On Thursday, November 7th, VERTEX's Jaron Frieden and Frank Calandra will be at the 5th annual Marcus & Millichap/IPA Multifamily Forum New England in Cambridge, MA.
This event brings together New England's most prominent developers, investors, owners and operators to discuss what has become one of the hottest real estate markets in the country. Discussion topics will include the urban and suburban rental, condo and mixed-use market across New England and what supply versus demand balance means for multifamily investors, owners and operators.
To learn more about VERTEX's Environmental Consulting services or to speak with an Environmental Expert, call 888.298.5162 or submit an inquiry.