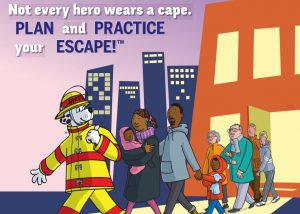 Since 1922, the National Fire Protection Association (NFPA) has sponsored Fire Prevention Week which is observed each year during the week of October 9th in commemoration of the Great Chicago Fire. This year's campaign is "Not Every Hero Wears a Cape. Plan and Practice Your Escape!" which is aimed at educating people about the small but important actions you can take to keep yourself and those around you safe. Fire spreads rapidly and you may only have a few minutes to get out safely once your smoke alarm sounds, so it is important to plan ahead.
Fire Escape Plan Tips
Make a home escape plan that includes maps of your home showing all doors and windows.
Know at least two ways out of every room, if possible, and ensure all doors and windows open easily.
Have an outside meeting place near a tree, light pole or mailbox for everyone to assemble.
Practice home fire drills during the day and at night, at least twice a year.
Practice using different escape methods.
Teach children how to get out on their own in case an adult is not able to help them.
Always sleep with bedroom doors closed.
Make sure you close all doors behind you as you leave.
It is important to remember that you should have working smoke detectors in every bedroom and hallways/areas outside of the bedrooms.
Winter Heating Season Tips
As the season changes and the temperature drops, heating systems will begin to be used. Below are some home heating safety tips.
Have your furnace inspected and serviced by a qualified professional.
Clean and inspect your chimneys and vents.
All wood to be burned in fireplaces or woodstoves should be dry and seasoned.
Keep a metal, covered container to dispose of cooled ashes at least 10 feet away from any building.
Teach children to stay at least 3 feet away from the fireplace, woodstove and space heaters.
Plug space heaters directly into an electrical outlet with a 3 ft safety zone on all sides.
Test carbon monoxide and smoke detectors.
To learn more about VERTEX's Forensic Fire Investigation Services or to speak with a Fire Investigation Expert, call 888.298.5162 or submit an inquiry.