What is Post-tensioning?
Post-tensioning is a method of reinforcing or strengthening concrete or other materials with high-strength steel strands, typically referred to as tendons. Post-tension systems have been widely used in hi-rise construction and heavy civil projects around the world. In many cases, these systems allow the construction of structural elements that would otherwise be impossible due to site constraints or architectural requirements. For example, concrete is very strong in compression, but relatively weak in tension and so post-tensioning systems provide greater spanning capabilities in a concrete structure.
Two Types of Post-tension Systems
Unbonded systems: typically used in hi-rise construction, parking garages, and residential foundations.
Bonded systems: typically used on segmental bridges and cantilever structural elements. These tendons utilize a series of ducts throughout the structural element that carry a grouping of tendons inside. After stressing, grout is applied to the ductwork to seal it from the elements.
In this post, we will briefly discuss the most common issues with water intrusion in unbonded post-tension systems. These issues can potentially cause the failure of the building's structure, put projects at a higher risk of litigation, and result in construction defect claims.
Unbonded Post-tension Systems
Unbonded post-tensioning systems are especially sensitive to the elements and the surrounding environment. Consider systems in buildings in coastal environs: these are significantly more likely to experience corrosion due to the natural conditions of the setting. Particularly challenging is that corrosion-induced failures of tendons in unbonded post-tensioned systems often occurs silently, and can go unnoticed for years.
Below are some of the more common problems when post-tensioning tendons are exposed to water intrusion and recommended steps to ensure quality control and mitigate risk.
Common Problem #1: Cap Tendons within the Prescribed Time
Possible signs of water intrusion issues include rust spots from the edge of slabs, or in some cases, spalling and failure of concrete on the exterior of buildings. During construction, wind-driven rain can seep into the tendon ends, make its way into the sheathing, and become trapped. This trapped water can initiate corrosion until internal rust completely consumes the strand.
The Post-Tension Institute recommends the installation of grease caps within 24-96 hours after the tendon ends are cut, following final stressing. Additionally, the stressing pocket should be filled with mortar within 10 days of strand cutting and capping. If the tendons are not capped within the recommended timeframe, wind-driven rain may enter the system and salts coat the tendon ends, further corroding tendons from the outside in. If not treated in time, tendon failure can cause internal damage to the floor or even the building.
Note that some of the parameters described above may be different due to the type of environment in each given project. Tendon suppliers and project specifications are the ultimate sources for best practices on any given project.
Common Problem #2: Tendon Finishing and Grouting
When conducting destructive testing after identifying a problem on the building, some common post-tensioning errors are the result of improperly cut strands and loose grease caps. If a grease cap is loose, it can leave a void at the face of the anchorage, as shown below in Figure 1, creating a weak link where water can enter. In addition, this issue can cause the grout for the stressing pockets not to be filled properly and potentially come out entirely. In fact, when expansion joints or architectural elements, such as exterior insulation and finish systems, hide stressing pockets, these may be left unfilled, or even covered with mesh and stucco, ultimately allowing water to percolate in the void.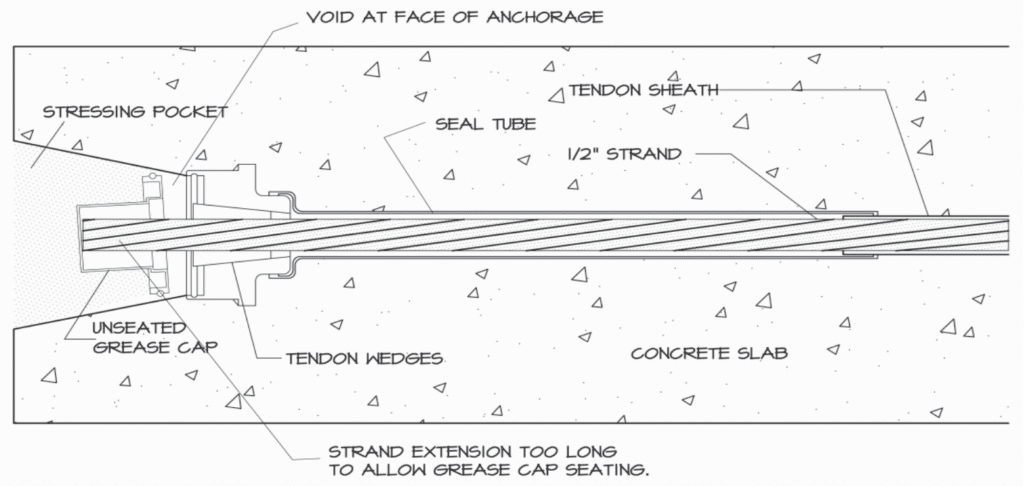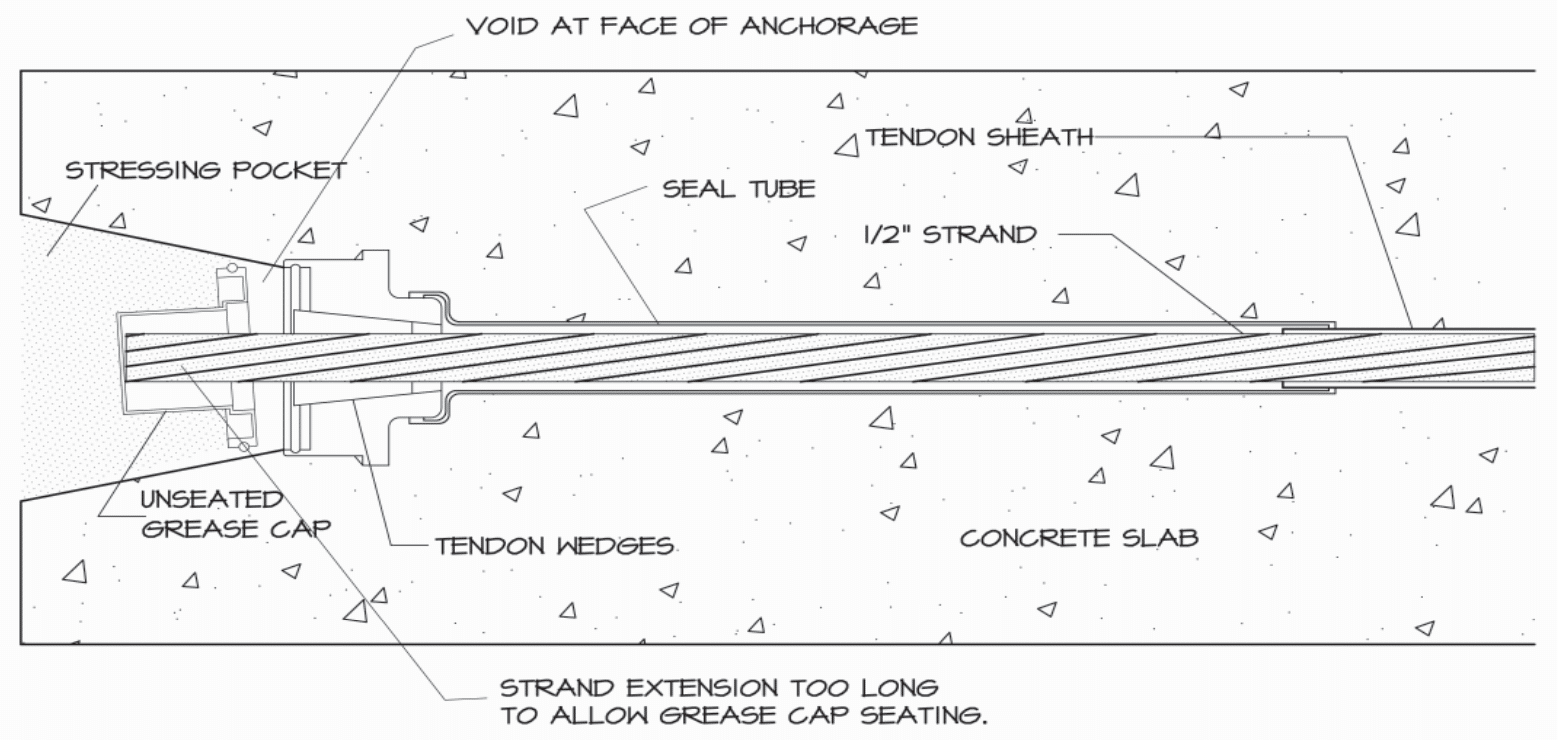 To avoid this, after cutting the strands, it is imperative to make sure that grease caps are immediately installed, seated correctly, and covered with non-shrink/non-metallic grout — all within the allotted time on the project specifications.
Caution should be exercised when cutting the strands. The Post-Tension Institute recommends cutting strand extensions or "tails" between ½" and ¾" beyond the wedges. Then, with the grease caps specified by the tendon supplier, caps should be firmly seated and tight.
Prior to installing the grout on stressing pockets, the pockets should be inspected and cleared of any dirt, oil, or grease to allow for a proper bond to the concrete. Bonding agents may be used to enhance the bond between the grout and the concrete. Another important factor to consider is that the grout not have chlorides or other chemicals that can be deleterious to tendon steel.
Common Problem #3: Storage and Handling of Tendons
The storage and handling of post-tensioning steel is also very important to the integrity of the system:
Carefully handle tendons
Use nylon slings to prevent damage to tendon sheathing
Store tendons an area free from the elements and protected from adjacent construction operations that might damage the tendons
Store bundles somewhere on site that is dry, so that no water contacts the tendons
When installing, make sure the bundles have no visible corrosion or pitting prior to installation and that no damage occurs to sheathing prior to or during installation. Both could cause the unseen failure of the tendons in the future.
The Takeaway
Careful consideration when planning and installing unbonded post-tension systems, combined with proper quality control measures, will substantially reduce issues when handling, installing, and stressing tendons and ultimately extend the life of the system.
To learn more about VERTEX's Construction Consulting and Surety Claims Consulting services or to speak with a Construction Expert, call 888.298.5162 or submit an inquiry.