Cooling towers are key components of HVAC and process load cooling systems found in commercial buildings, industrial energy plants, and data centers. Cooling towers that are well maintained and operating at peak performance save energy, while those operating with fouled heat transfer surfaces also referred to as "tower fill," inadequate water treatment or those not prepared for winter operation can result in increased operational costs and often lead to unplanned outages for corrective maintenance and repair.
While there are many types of cooling towers in operation today including open circuit, closed circuit, induced draft, and natural draft, two of the most popular designs encountered are crossflow and counterflow towers. The main difference between crossflow and counterflow towers is how the air moving through the tower interacts with the water being cooled. In a crossflow tower, air travels horizontally across the water traveling downward. In a counterflow tower, air travels vertically upward in the opposite direction to the water traveling downward.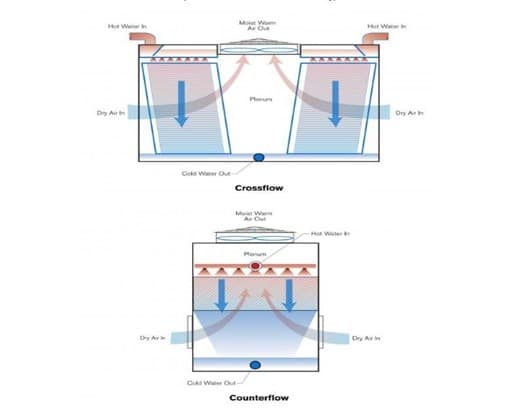 Regardless of the type of tower design utilized at your site, cooling tower preventive maintenance is the key to long-term and successful tower operation. Here is a sampling of preventive maintenance suggestions that VERTEX has found to be instrumental in maintaining cooling tower reliability and efficiency:
Maintain a Daily Cooling Tower Log
The daily cooling tower log is the first step toward maintaining and ensuring maximum tower efficiency. The daily cooling tower log helps build a history of tower operating conditions including tower supply and exit temperatures, tower water flow rate, tower basin fluid level, and tower blowdown frequency. Today's Building Management Systems (BMS) allow operations personnel to evaluate tower performance both continuously and remotely, and the daily log also allows easy generation of trend reports that can be used to troubleshoot operational issues requiring preventive maintenance before an unplanned tower outage occurs.
Keep Cooling Tower Fill Clean
Heat transfer effectiveness directly impacts cooling tower performance, so it's imperative to keep the tower fill clean to promote proper air and water flow during tower operation.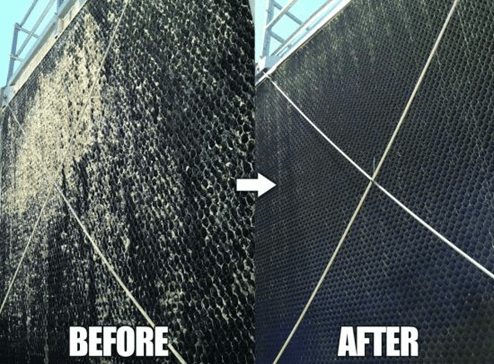 VERTEX suggests cleaning all cooling tower fill surfaces and the basin at least annually and, in some cases, more frequently depending upon the cleanliness of the surrounding air that the tower typically operates in. Environmentally friendly chemical cleaning agents combined with proper pressure washing technique does work well, but care must be taken to not fracture the tower fill which is typically constructed of 1/16" thick PVC. The goal is to remove tower fill contaminants such as minerals, scale, mud, and other impurities that will reduce overall tower heat transfer performance.
Maintain Proper Cooling Tower Water Treatment
The Air-Conditioning, Heating, and Refrigeration Institute (AHRI) recommends that cooling tower water treatment be continuously monitored and maintained such that the pH, hardness, alkalinity, total dissolved solids (TDS), conductivity, chlorides, sulfates, and silica of the tower water be kept within the ranges shown in the table below.
| | |
| --- | --- |
| Property of Water | Range |
| pH | 6.5 to 9.0 |
| Hardness as CaCO3 | 30 to 750 ppm |
| Alkalinity as CaCO3 | 500 ppm |
| Total Dissolved Solids | 1500 ppm maximum |
| Conductivity | 240 micromhos |
| Chlorides | 250 ppm maximum as CL / 410ppm as NaCl |
| Sulfates | 250 ppm maximun |
| Silica | 150 ppm maximum |
Proper water chemistry through water treatment helps prevent tower corrosion, formation of scale on the tower fill, and biological fouling. If properly designed to monitor the parameters listed in the table above, the BMS can be a useful tool in helping to maintain proper tower water treatment, but VERTEX strongly recommends obtaining the services of a competent water treatment company to address tower water treatment onsite through weekly if not daily water testing. Additionally, to protect against the risk of Legionella contamination, a cooling tower should never be operated without adequate biological control.
Winter Operation
In many installations, 24/7/365 data centers for example, cooling towers are required to operate when external temperatures dip well below freezing. In these installations proper winter operation is paramount. Maintenance of the tower electrical resistance basin heaters, proper heat trace and insulation of tower piping exposed to below freezing temperatures, and proper design and operation of the tower by-pass when full water flow over the tower would result in cooler than desired tower exit temperatures must be part of your site's preventive maintenance. VERTEX suggests testing and verification of all tower winter operation systems during the summer months to avoid unplanned and costly outages during winter operation.
Maintain Variable Frequency Drive (VFD) Starters and Motors
For efficient operation of VFD starters and motors, check the safety and sensor calibrations on microprocessor controls at least annually. Electrical connections, wiring, and switchgear providing power to cooling tower fan motors and pump motors should be thermally scanned for "hot spots" or worn contacts. To prevent insulation faults, test VFD motor windings for insulation resistance to ground and winding-to-winding. Clean VFD motor cooling air vents to ensure the maximum motor cooling effect. With proper maintenance, VFD motors will extend the useful operating life of cooling towers by reducing the mechanical stresses of rapidly starting and stopping large horsepower motors.
Interested in Learning More?
VERTEX's team of professional engineers has expertise in all aspects of cooling tower preventive maintenance, operation, design, and installation. We are available to analyze your cooling tower issues and help you identify potential installation, operational, maintenance, or design challenges which could lead to component failures. We look forward to assisting you.