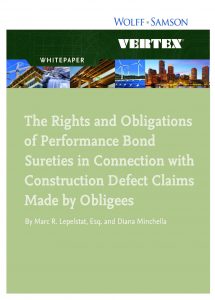 Claims are commonly made by project owners against performance bond sureties for damages sustained as a result of construction defects. Often, these claims are made many years after the physical work on the project has been completed. These claims may still be timely, as against completing sureties, based on separate warranty obligations which they may incur. A surety that has sustained a loss under its bond may seek to recoup all or a portion of its loss through its right of subrogation.
This article explores the time periods in which sureties may be exposed for construction defect claims under the New York and Connecticut law. It also provides an analysis, under New York and Connecticut law, as to the subrogation rights which are available to performance bond sureties in connection with losses sustained as a result of construction defects. The article further examines whether a performance bond surety may recover all or a portion of its losses from an insurer which issues a commercial general liability insurance policy (a "CGL policy") naming the bond principal as insured.
Download Full Whitepaper Now »
Marc Lepelstat's practice at Wolff & Samson is focused in the areas of fidelity and surety, construction, commercial and ERISA litigation, and insurance coverage, including ERISA liability policies. His experience includes many trials and appeals – several of which have led to important reported decisions by federal and state courts in both New York and New Jersey. Marc also provides advice and defense counsel to various insurance carriers in complex coverage matters involving extremely substantial claims. Marc is the author of several articles, including: "Claims from Sale of Collateral Mortgage Obligations," New York Law Journal, Feb. 15, 2008; "Unlawful Profiteering: Obligations of Liability Insurers," New York Law Journal, Sept. 27, 2006; and "Insurer's Denial of Coverage, Extra-Contractual Damages Claims," New York Law Journal, June 15, 2006. He has an AV® rating from Martindale-Hubbell, the highest ranking of both ethical standards and legal ability that Martindale awards.Mr. Lepelstat earned his Juris Doctor from Washington University School of Law, and his undergraduate degree from Tufts University.
Diana Minchella is a Vice President of Vertex Construction Services and manages our office in New York City. She has been with Vertex for over fourteen years and is one of the most sought after Claims Consultants in the industry. Ms. Minchella has been the Project Manager on behalf of surety and insurance companies on numerous separate claims. She is highly experienced and considered an expert in performance bond claims, payment bond claims, delay claims, damages analysis, liability analysis, and scheduling to name a few.
Ms. Minchella earned her Undergraduate degree in Civil Engineering at Duke University and, earned a Master's degree in Construction Engineering and Management from the University of California at Berkeley.