As a Property Condition Assessor (PCA) for VERTEX, I often see the Trane Variable Volume RTUs providing service well beyond the industry expected useful life of 15 years. However, due to the issues associated with the continued use of R22, PCA assessors typically recommend replacement of the IntelliPak units, even when they have not reached the end of their useful life. The manufacturing of R22 was phased out of production in the US in 2020. Since the 2020 phase out, the availability of R22 has become scarce and cost of replacement R22 has skyrocketed as remaining supplies continue to be exhausted.
Trane Technologies (Trane) developed the IntelliPak Refresh Service Program several years ago in response to frustration expressed by owners of the IntelliPak package units.
Trane initially developed their IntelliPak line of variable volume rooftop package units (RTUs) in the mid-1980s. These units range from approximately 30 tons of cooling to over 160 tons of cooling capacity and operated with R-22 refrigerant. These IntelliPak units developed a reputation for solid service and are typically observed on the roofs of many larger office buildings throughout the United States.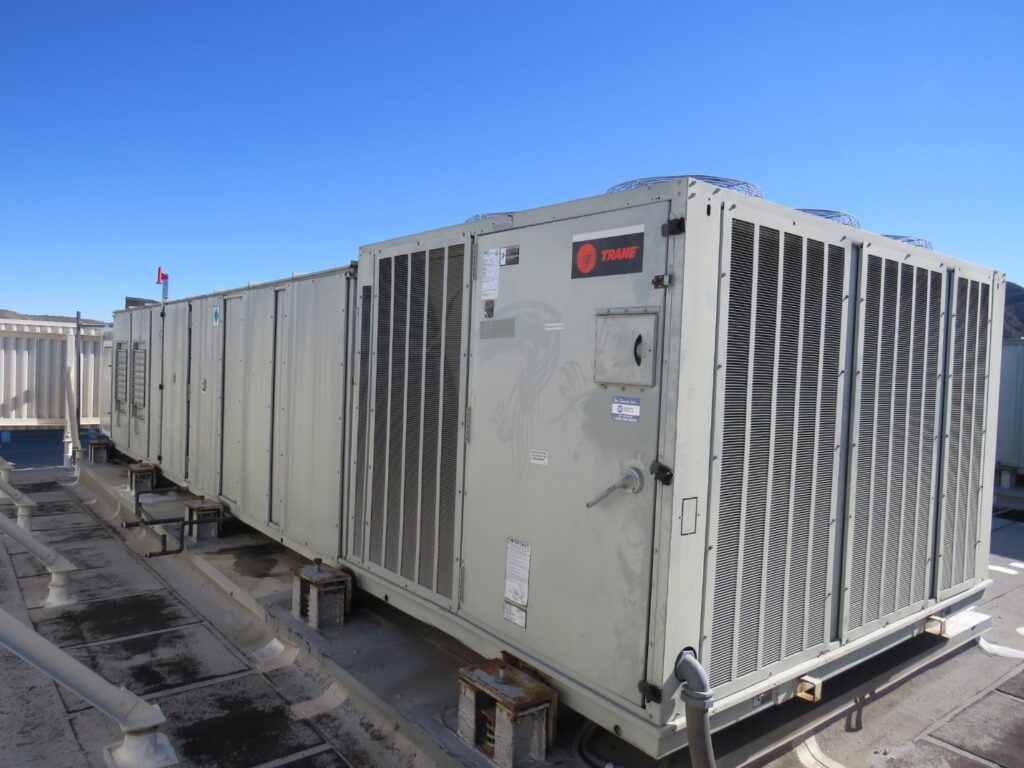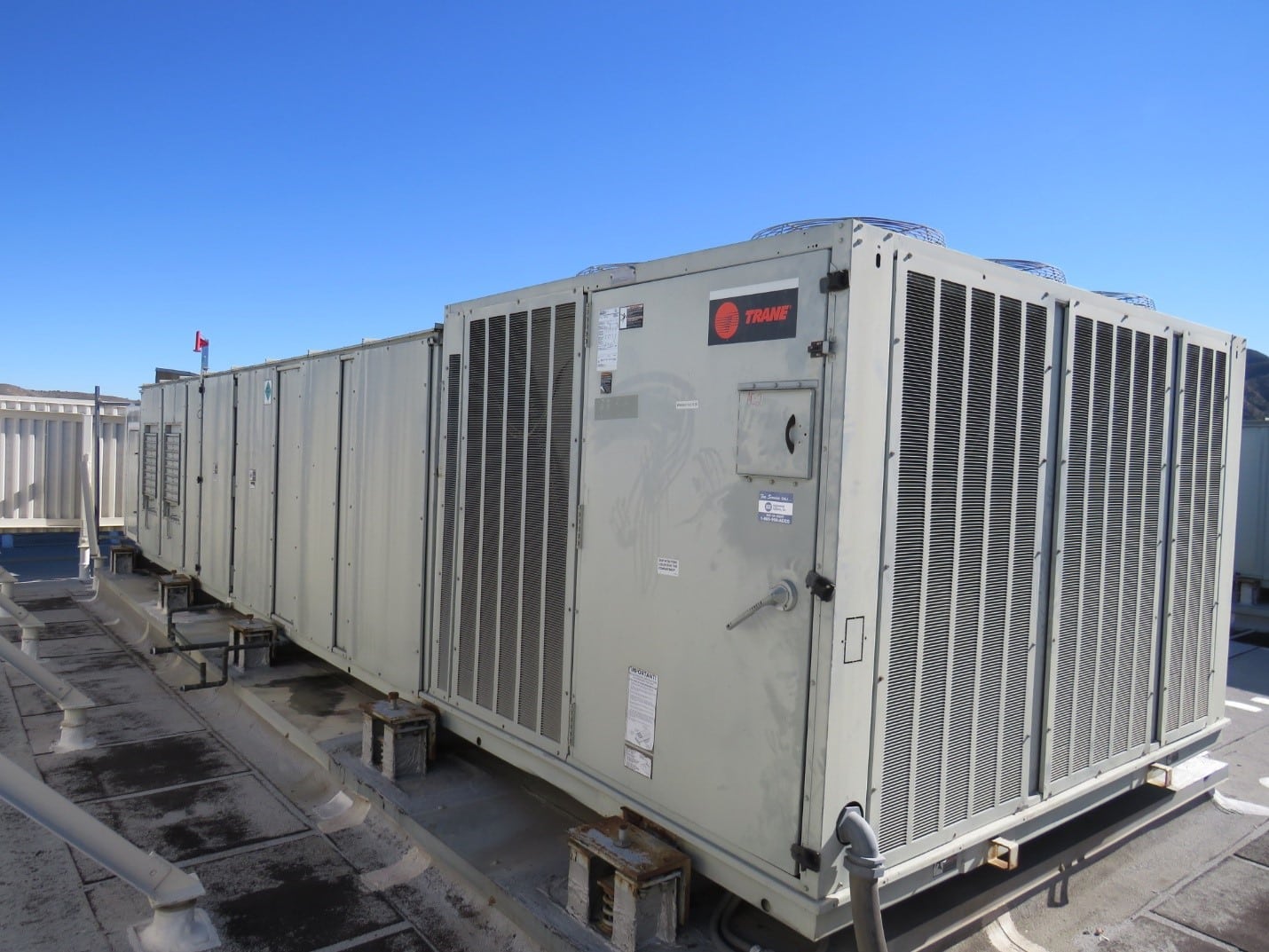 Industry use of IntelliPak units
As discussed above, Trane developed the IntelliPak Refresh Service Program in response to frustration expressed by owners of the IntelliPak package units. Prior to the development of this program, when these units reached 15 years of age, owners typically faced a dilemma. They had to choose from fixing problems upon failure or having to purchase and install new units.
The IntelliPak Refresh Program provides a new option for owners of these industry workhorses. The program includes proactive replacement of wear components that cause problems on older units and avoids downtime for owners who would like to keep their equipment running for 20 years or more. The program provides a range of options that allows customization to complete a simple base refresh program or a comprehensive total overhaul of compressors, heat exchangers motors and more. At the core of the IntelliPak Refresh program is the conversion from the units from R22 to R407C refrigerant. Trane has identified R407C refrigerant as the best performing refrigerant to replace R22 in the IntelliPak units. This change in refrigerant can provide many additional years of service for these RTUs.
Refresh Service Program Options
The standard IntelliPak Refresh can typically be complete in one day. The first steps are to inspect the unit's critical components for wear or damage and identify key components that could result in failure and unplanned downtime.
The base refresh program includes the following components:
Inspect the critical components of the unit for wear and/or damage
Engineered conversion from R22 to R407C
Replacement of compressor and fan contactors
Replacement of supply fan and combustion air fan makeup switches
Replacement of cabinet door and panel gaskets and missing fasteners to restore cabinet leak integrity
Installing a new 3-phase power monitoring module to update the controls
Optional service content can also be added, and these options may include the following content:
Replace fan motors and blades to improve reliability and avoid significant repairs
Replace supply and exhaust fans top improve reliability and increase energy efficiency
Replace supply and exhaust fan belts and pulleys to avoid significant repairs
Upgrade existing inlet guide assembly to variable frequency drive to improve reliability, avoid significant repairs and increase energy efficiency
Upgrade existing VFD with new Trane VFD to improve reliability
Replace all existing compressors with new compressors to improve reliability
Replace actuators and linkage and rebuild worn bushings to improve energy efficiency
Install new damper assembly to increase energy efficiency
Other non-standard refresh program options are also available to meet specific customer needs.
Intellipak Units Eligible for the Refresh Program
The Refresh Program services are available for IntelliPak units utilizing R22 refrigerant that were purchased between 1983 and 2005 which have design sequences C, E, F and G.
Eligible IntelliPak models include the following:
SAHC, SAHE, SAHF, SEHC, SEHE, SEHF, SEHG, SFHC, SFHE, SFHF, SFHG, SLHC, SLHE, SLHF, SLHG, SSHC, SSHE, SSHF, SSHG, SXHC, SXHE, SXHF, SXHG
Trane Intellipak Refresh Program – Case Studies
Site Details
487,750 square feet of Class A Office Space with five buildings
17 Trane IntelliPak unit manufactured between 1997 and 1999
Issues
High rates of compressor failures (seven to eight compressor per year).
R-22 refrigerant, currently phased out in the US – poor sustainability
Broken outside air and exhaust dampers resulted in poor ventilation and energy efficiency
Mix of original components and non-OEM components on units
Worn pulley, belts and sheaves resulting in up to 30% loss of efficiency
Lack of digital building automation system for remote monitoring, scheduling or alarm notifications
Benefits of the IntelliPak Refresh Program
Mitigates the risk of unplanned downtime and customer revenue losses associated with thermal discomfort
Drastically increases the unit reliability backed by a long term 5-year factory warranty
Gains benefits of improved HVAC system at 1/3 the cost of replacement
Reduces operational costs by bringing units back to original capacity and efficiency.
Increases sustainability by converting to a lower global warming potential (GWP) refrigerant with no phase out date
Includes a new serial number and factory nameplate, qualifying as a new capital investment
Potential for LEED/WELL credits, based on scope of work
Case Study – Scope of Work
Initial site safety inspection including lock out and tag out of the IntelliPak units.
Replacement of internal airflow and air pressure switches and electrical control components.
Replacement of cabinet door gaskets, damper seals, missing fasteners and failed panel latches to improve cabinet integrity.
Replacement of large power contactors for condenser, supply, and exhaust fans and compressors.
Installation of power protection monitor.
Installation of outside air static pressure sensor, if available on unit.
Replace condenser fan blades, brackets and fan motors.
Replace supply and exhaust fan bearings, sheaves, bushings, belts and exhaust fan shaft.
Replace Existing compressors with R407c compressors.
Evacuate system of all R22 refrigerant and mineral oil.
Trane to dispose of used oil and refrigerant.
Replace filter driers and Schrader valve cores.
Replace high output pressure switches.
Replace unit compressors with R407c compressors.
Charge system with POE oil and R407c refrigerant.
Replace worn outside air dampers actuators and rod bearings.
Clean and vacuum condensate drain pans.
Leak check with nitrogen .
Evacuate and charge system.
Refresh log with electronic device.
Install new nameplate with new serial number.
Case Study – Trane Service Agreement
A Trane service agreement is required for a three (3) to five (5) year extended warranty. The minimum service interval is three times per year and the typical standard service interval for IntelliPaks is four times per year.
Trane offers an option to fund the refresh program through the service agreement. Trane can build in the IntelliPak Refresh work as part of a monthly or quarterly service agreement. This option allows payment schedule to remain constant month over month. A service agreement with Trane is required over the term of the Refresh work.
Case Study – Building Automation System
Including a Trane Building Automation System (BAS) in the Refresh scope of work can mitigate the risk of unplanned downtime and customer revenue losses associated with thermal discomfort. Emergency response time is increased by implementing a remote alarming system to notify the facility staff of any issues with the HVAC equipment before it becomes a tenant complaint. The BAS will modernize the system with a new digital and wireless control system. The BAS will reduce operational costs by scheduling the equipment to automatically turn on and off at preset times. Facility personnel off time will be maximized by allowing them to remotely monitor and control the IntelliPak units by phone from anywhere with cellular access. The accessibility of the IntelliPak units will be increased by giving more access to the unit beyond the human interface controls.
Added benefits of Trane's Building Automation System option include the following:
Single Front End for all monitoring and scheduling 
Not connected to the interior spaces as with pneumatics 
Scalable to migrate from pneumatics and to pull in hot water, lighting and meters 
Allows Trane to introduce modern, intelligent control strategies 
AirFi Wireless hardware and protocols results in no interference with the Wi-Fi system 
Temporary Cooling for Intellipak Refresh 
If downtime is an issue during the implementation of the IntelliPak refresh work, Trane can provide mobile cooling to temporarily replace the IntelliPak units (per floor cooling) or cooling for individual spaces. The temporary cooling is generated by trailer mounted cooling units with flex duct run to the roof with connection to the supply air duct.
Closing 
The IntelliPak Refresh Service Program provides building owners with a realistic option to convert their existing units to utilize R407c refrigerant. The refresh program will provide years of additional service instead of prematurely replacing the equipment due to the use of R22. Some of the key pros and cons of the IntelliPak Refresh Program are listed below.

INTELLIPAK REFRESH PROGRAM: REFRESH versus REPLACEMENT
| | |
| --- | --- |
| Refresh | Replacement |
| One-third to one-tenth the cost of replacement | Replacement of an IntelliPak is costly and will require a crane |
| Converts unit to the use of R407c (a refrigerant without a phase out date) | Not all IntelliPak equipment will qualify for the Refresh program, particularly for those units with significant housing corrosion |
| Trane provides a new warranty with three to five years of coverage. | Not applicable to new construction |
| Converted equipment qualifies as a capital expense | |
Background 
VERTEX took an interest in the IntelliPak Refresh Program and reached out to Trane to obtain more detailed information to share with our building owner clients. VERTEX recognized that the IntelliPak RTUs were being replaced before their useful life was reached, primarily due to the use of R22 refrigerant. VERTEX reached out to Trane to get more information on the program and subsequently contacted Rob Palaniuk and Tyler Sasse of Trane Technologies to review the details of the IntelliPak Refresh Program and to identify the key program advantages. This document has been prepared to identify a reasonable alternative to replacement of existing IntelliPak units that have typically provided a high level of operational performance and reliability.
If you should have any questions or need additional information regarding this subject, please reach out to VERTEX by calling our main office in Weymouth office (781) 952-6000 or reach out directly to Robert Fitzburgh at 650-823-7688 or rfitzburgh@vertexeng.com.