Alan Nevin is an Advisory Board Member for UCSD's Real Estate Development Department.
There's a battle afoot among University of California campuses when it comes to enrollment growth. UCSD is currently in third place (after Berkeley and UCLA), with an enrollment of 39,600 in Fall 2019. The future looks fairly bright for overtaking UCLA — largely due to available land. UCSD has a total 2,000 acres and has only built on 700 of them. By contrast, UCLA has 415 acres and they are nearly built out.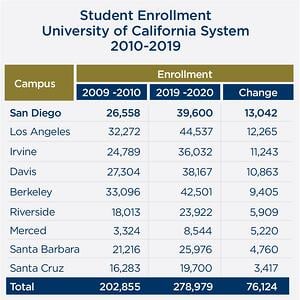 UCSD is on a tear in terms of new development. Currently, there are three massive residences under construction and another was recently completed. All told, these projects will deliver more than 5,000 beds to the La Jolla campus. By comparison, that is 2.5 times the number of beds at Donovan Prison in Otay Mesa. Of course, UCSD is not a lock-down facility.
As an aside, Xpera Group (now part of VERTEX) has been able to contribute its expertise to this exciting building boom at UCSD, providing building envelope consulting services for Nueva West and East and the recently completed Mesa Nueva.
VERTEX also provided plan review for the campus' new Living and Learning Neighborhood, featuring two high-rise education buildings housing the Division of Arts and Humanities (including the new Real Estate Development Department) and other faculty and student services.
Just to the south of Living and Learning will be a near duplicate project, with another 2,000 beds and educational structures.
In 2018, the 196,000-square-foot UCSD Biomedical Research Facility was completed, as was Tata Hall with 132,000 square feet of research and science space.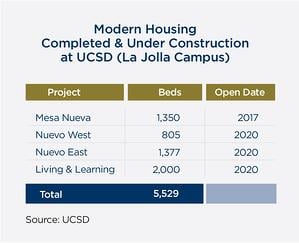 Most recently, the Center for Novel Therapeutics was completed with 137,568 square feet.
Additional projects coming online in the near future include:
Pepper Canyon West (1,400-bed dormitory)
Viterbi Family Vision Research Center
Design and Innovation Building (74,000 square feet)
Franklin Antony Hall at the Jacobs School of Engineering (200,000 square feet)
Engineering Inter-Disciplinary Building
Center for Coastal Studies
Triton Pavilion for Student Resource and Community Enlightenment
Most recently, UCSD announced its new School of Public Health, funded by a $25 million gift by the Wertheim Family Foundation.
Lastly, this exhibit shows the extensive list of medical centers on the UCSD campus, including two major hospitals — the Jacobs Medical Center and VA Hospital.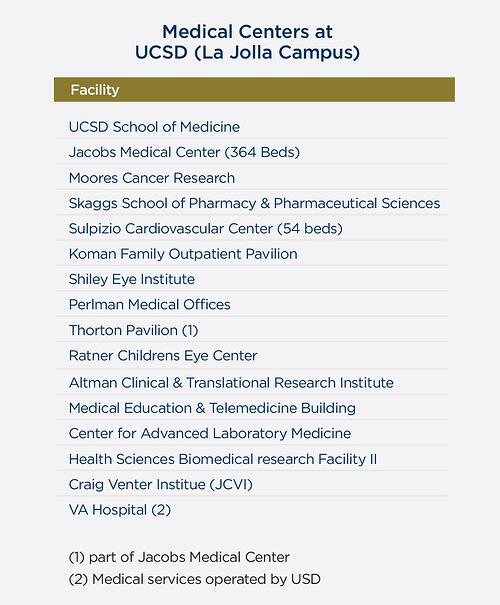 On any given day there are more than 60,000 students or personnel on the UCSD campus. It is a city unto itself and there's a lot more coming, including (of course) two stops on the new Mid-Coast Trolley and an on-campus fire station.
Still to come: A complete renovation of the UCSD Medical Center campus in Hillcrest, with a new hospital and 1,000+ residential units.
These are exciting times for the university and the San Diego community at large.
This article was originally published by Xpera Group which is now part of The Vertex Companies, LLC.