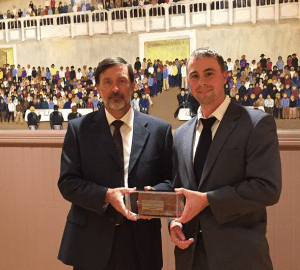 VERTEX wants to congratulate the entire team that was involved with the renovation of the Upton Town Hall. Your hard work made it possible for the renovation to be complete in time for the 130th anniversary of the original dedication of the Town Hall. Specifically, VERTEX would like to thank two strong leaders of this project, Bryan Fors and Steve Kirby.
Bryan Fors was sent out to serve as the Owner's Project Manager to the Town of Upton fifteen months ago and has only been seen in the office twice since.  During that fifteen months, Bryan and Steve managed to play well with others, make new friends and complete a very impressive project. The Rededication was held earlier this week on the evening of September 23rd, and VERTEX was honored in the new Auditorium.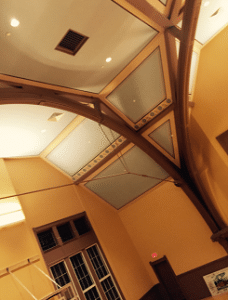 One of the highlights of the project is the newly exposed ceiling of the Auditorium with steel beam arches and historically preserved painted ceiling. Many of the Town Officials that worked with VERTEX expressed the pleasure they all had working with them throughout this project.  They mentioned the dedication and professionalism that Mr. Fors and Mr. Kirby always represented.  Some say they were seen scraping paint over the weekends.  The ability for VERTEX to work seamlessly with the Building Committee, Town Officials, and the GC was outstanding. To the town of Upton, VERTEX would like to say thank you for this great project and we hope to work with you again in the near future!
Feel free to reach out and congratulate our latest All-Stars, Bryan Fors and Steve Kirby. It's always fun to see a project go from the proposal stage to completion.