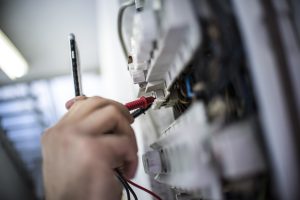 WEYMOUTH, Mass. – January 3rd, 2013 – The Vertex Companies (VERTEX) entered into an agreement to purchase certain assets of the electrical and mechanical firm, Technical Construction Services, Inc. (TCS). Headquartered in Westwood, Massachusetts, TCS is a power and control specifier, supplier, and installation company. TCS was founded in 1998 and serves the greater Boston area.
The assets are now part of a new company, VERTEX-TCS, LLC. As part of the family of VERTEX companies, VERTEX-TCS will expand their services to a global client base. VERTEX will work with companies to provide electrical power solutions and troubleshooting of their building and process systems in order to achieve better control and energy savings. TCS will relocate its operations to VERTEX's Weymouth headquarters. TCS's principle work of motor controls, power wiring, energy management systems, and energy conservation alternatives will be offered to VERTEX's clients who are real estate buyers, builders, owners, asset managers, insurers and surety companies.
"We are excited to have entered into this agreement with TCS. Their expertise will seamlessly accompany VERTEX's core services," said Jeffrey Picard, Principal at VERTEX.
"We can offer building and process system consulting during design with our engineers, during acquisition negotiations with our due diligence team, or during site development with our construction professionals," added James O'Brien, President of VERTEX Environmental.
"I am particularly excited with the acquisition. I think the kind of services and expertise that VERTEX -TCS brings to this venture will let us enrich VERTEX's services offered." said Carlos Vargas, Chief Operating Officer of VERTEX – TCS.
"Joining VERTEX offers us a much broader platform to work on and dramatically increases our customer base," added Dan Reagan, President of VERTEX – TCS.
About the Leading Team Members of VERTEX – TCS, LLC
Daniel Regan: Mr. Reagan is a Technical Manager with over 45 years of electrical and mechanical experience, from power plants to commercial/industrial buildings. His breadth of experience coupled with his strong educational background spans both theoretical and applied mechanical and electrical technologies and their integration into building systems from utility and commercial/Industrial perspectives.
Carlos Vargas: Mr. Vargas has significant experience in Finance and Real Estate. His professional background includes designing, managing, and developing commercial and residential Real Estate projects. Specifically, Mr. Vargas has developed several financial models for solar power plants in Mexico. He has also developed business plans and business models for the financing of substitution from diesel to renewable sources of energy. Mr. Vargas is earning his Master's degree in Sustainability and Environmental Management at Harvard University.
About VERTEX
VERTEX is an international company providing consultancy, engineering, and construction for energy, infrastructure, air, environment, and building projects. Our highly experienced team of professionals provides solutions to some of the most challenging and technically advanced projects in communities around the world. We rank among the top 100 environmental firms, top 100 construction management firms, and top 50 program management firms in the United States. VERTEX will remain a leading global player because of our commitment to our core values: urgency, entrepreneurship, and pride.
VERTEX's mission is to solve clients' construction, environmental, air quality, and energy challenges with a high degree of strategic and technical expertise. Around the globe, VERTEX helps firms in diverse markets succeed by supporting vital project goals with a complete range of consulting, engineering, and project management solutions.
VERTEX has been providing technical solutions for construction and environmental professionals since 1995. We have more than 20 offices throughout North America, Latin America, and Asia. Our construction experts provide a host of services such as construction management, surety, and construction defect claims consulting while our environmental experts provide due diligence, indoor air quality, and site remediation support services to name a few. Our work product and customer service are unmatched, keeping our clients coming back to VERTEX for consistent quality and value.
For more information about VERTEX news, please contact Lisa Dehner at ldehner@vertexeng.com or 781.952.6000.