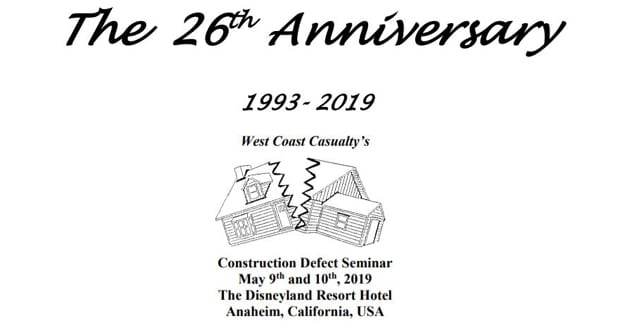 From May 9th to the 10th, 2019, The Vertex Companies, LLC (VERTEX) will be one of many in the construction industry learning and collaborating about insurance coverage, prosecution, defense, and other specialized topics around the subject of construction claims and litigation at the 2019 West Coast Casualty Construction Defect Conference. 
Since 1993, the West Coast Casualty Construction Defect Seminar has become an institution, a staple and go-to event for all the members of the construction defect community. The West Coast Casualty Construction Defect Seminar series is the largest event of its kind worldwide and continues into its 26th year of bringing the national and international construction defect community its most informative event regarding this specialized subject. Attendees, from the legal, insurance, builder, contractor, subcontractor, and numerous other communities averaging in number approximately 1500 per year, come from all over to hear speakers' views on this continuing and emerging area of claims and law.
VERTEX provides forensic consulting to the insurance industry relating to construction, engineering, environmental. To learn more, call 888.298.5162 or submit an inquiry.