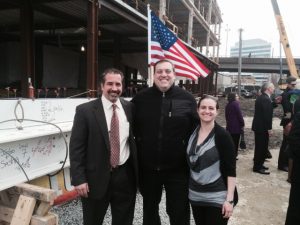 VERTEX attended the Topping Off Ceremony for the NorthPoint Twenty|20 Building. NorthPoint, which was first slated for development in 2010, is the largest remaining land parcel in the City of Cambridge. The construction of the Twenty|20 building residential tower is the first step towards transforming the vacant former railroad yard into a vibrant mixed-use community.
VERTEX began work on this property in 2010, engaged by the purchaser/developer to evaluate the environmental risk and corresponding redevelopment plan associated with a 30-acre parcel of land with heavy historic industrial use. "This week's ceremony marked a great milestone for the entire development team and we are proud to be involved in this work. NorthPoint is becoming part of the city skyline. It will be a big step in Cambridge's renewal," says, Jaron Frieden, Vice President of VERTEX. Also in attendance from VERTEX were Jessica Fox and Jesse Freeman.
Learn more about VERTEX's role at NorthPoint.