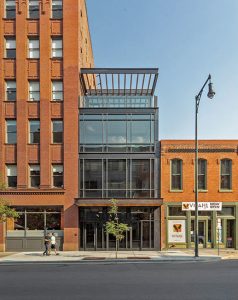 VERTEX is proud to be part of the ENR Mountain States 2019 Best Small Project winning team as the structural engineering consultant on the SugarSquare project in Downtown Denver, CO. Congratulations to Urban Villages, Semple Brown Design, P.C., Jordy Construction and IMEG Corp. (formerly MKK Engineers).
SugarSquare is a four-story, 11,400-sq-ft building in Denver's LoDo neighborhood. Working between the 100-year-old Sugar Building and the 130-year-old Spice Building created complex challenges. The 25-ft by 125-ft lot didn't allow for laydown space. Every piece of material that came to the site had to be planned and timed down to the minute because there was no option to shut down two-lane Wazee Street for construction traffic. Space constraints also meant the construction team had to take the unusual approach of building the structure from back to front, instead of bottom up. Despite the challenges, actual ground-up steel and concrete erection was completed in just 30 days. Read more about the SugarSquare project at ENR.com.
For more information on VERTEX's Structural Engineering Design services or to speak with an Engineering Expert, call 888.298.5162 or submit an inquiry.