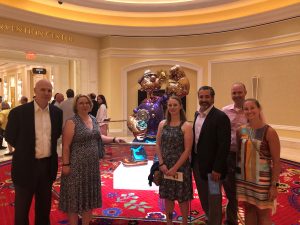 The VERTEX Team was an invited guest at the Encore Casino earlier this week to celebrate the opening of this grand resort to the public on June 23rd, 2019. Working alongside the great Encore Development Team for the past several years led up to the opening of this beautiful five-star 671-room casino; the only casino in the Boston area and the biggest in Massachusetts.
The casino at Encore Boston Harbor brings glamour on a grand scale to the Mystic riverfront. A five-star waterfront resort accessible by land and sea, the $2.6 billion Encore Boston Harbor resort is conveniently located just minutes from Logan International Airport; Boston's famed Back Bay, Seaport, North End, Financial and Theater Districts; and Cambridge's Harvard University and M.I.T.

Learn more about Encore Boston Harbor.