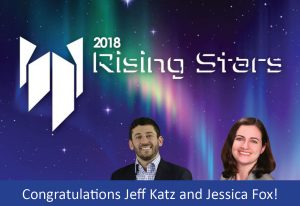 VERTEX is proud to announce that two of our engineers have been honored as 2018 Rising Stars in Civil Engineering. 
Zweig Group's 7th annual Rising Stars in Civil Engineering and Rising Stars in Structural Engineering recognizes 26 professionals, 40 years old or younger working in the United States, who have shown exceptional technical capability, leadership ability, effective teaching or research, or public service benefiting the civil and structural engineering professions, their employers, project owners, and society. Zweig Group editors selected the engineers from an impressive group of nominees from both the private and public sectors. 
Congratulations Jessica Fox, PE and Jeffrey Katz, PE! Your dedication, technical expertise and leadership abilities speak for themselves.