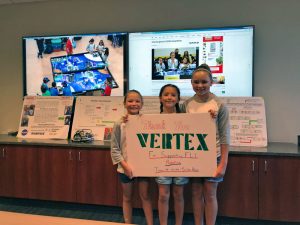 VERTEX's Denver office recently had an inspiring demonstration on how robotics is creating innovative thinkers when our favorite First Lego League (FLL) robotics team, Sister Bots, came to the office to show us some solutions from Artificial Intelligence (AI).
The Sister Bots are comprised of our own Claire Gemperline's three nieces, Madilyn, Noelle, and Charlotte with their father, Claire's older brother, as their coach. The Sister Bots took second place in regional competition last year, which gave them the chance to compete in the Colorado State Championships. Sister Bot's early success in contributing solutions to real-world challenges with their work has kept them motivated, and it was evident in VERTEX's Denver office on August 9th.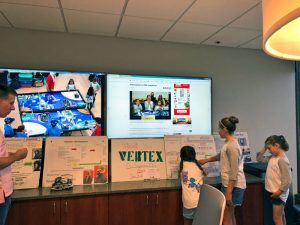 Each year the FLL introduces a scientific and real-world challenge for teams to focus and research on. This year the competition was "Into Orbit." The teams chose real-world problems to solve. They also built, tested, and programmed an autonomous robot using LEGO Mindstorms technology to solve a set of missions in the robot game. The students worked out solutions to the various problems they were given and met at regional tournaments to share their knowledge, compare ideas, and display their robots. At VERTEX, the Sister Bots demonstrated the robotics that they've created and told us more about what they did to become innovative thinkers with AI. Of course, the VERTEX team heavily recruited them! VERTEX is so proud of Sister Bots and thrilled to support young STEM minds at work.
VERTEX's Charitable Giving Committee was developed to support causes that our employees, clients, and vendors are passionate about. Opportunities like this drive us to make a positive difference in our communities by devoting resources and time to causes we believe in. Learn more about how VERTEX Gives Back to our communities.