As we've experienced unprecedented natural disasters in 2017, VERTEX felt a strong need and calling to respond, which was reinforced by the multiple emails received from employees encouraging us to give back and suggesting additional giving options and ideas. It's heartwarming to feel the culture of giving ingrained in who we are at VERTEX in large part thanks to Jeff Picard, who has been and continues to be, the driving force behind the initiative of generosity here at VERTEX.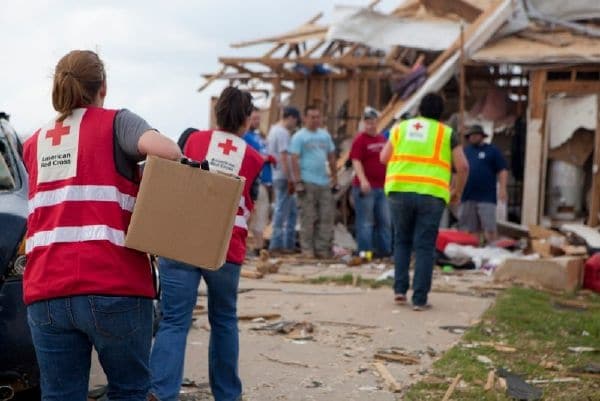 The Charitable Giving Committee is very excited to share the organizations we donated to and the amounts we donated, which started with employees' generous donations, totaling $6,000 for the Hurricane Harvey and Hurricane Irma Relief Efforts.
Hurricane Harvey and Hurricane Irma Relief Efforts
$6000 donation from VERTEX employees
$6000 matching donation from VERTEX
VERTEX split the collective $12,000 donation between these two organizations:
American Red Cross – VERTEX gave directly to the disaster relief initiatives.
Hand in Hand 2017 – VERTEX gave directly to the Hurricane relief efforts in both Texas and Florida. The Hand in Hand organization gives to a variety of different deserving organizations including Rebuild Texas Fund, Direct Relief, Feeding Florida, Feeding Texas, Habitat for Humanity, Save the Children, United Way, United Way of Greater Houston, ASPCA, and Best Friends.
Mexico Earthquake Relief Efforts
$2500 donation from VERTEX to CADENA
Arriba Mexico – VERTEX gave to this organization because 100% of the money raised will go to a home reconstruction fund for the states of Morelos, Puebla, Oaxaca, Chiapas, and Mexico City through CADENA, a nonprofit organization. CADENA is one of the most transparent non-profit organizations dedicated to providing assistance in emergencies and natural disasters around the world through the "hand-in-hand" method of assistance, which consists of delivering the aid directly collected to the affected people on behalf of the local Jewish community. CADENA is also headquartered in Mexico. Cadena Foundation Inc is a 501 (c)(3) registered in Florida as a not-for-profit organization; tax ID:81-2702562.
Providing monetary support will help in two phases:
Give temporary shelter to the people that have lost their homes. Each shelter consists of a 5-person tent with beds, lamps, groceries, kitchenware, stove and a water filter.
Reconstruction of homes on the most devastated areas of the country.
Hurricane Maria- Puerto Rico Relief Efforts
$2500 donation from VERTEX
Project Hope – this organization has earned 4 out of 4 stars, according to Charity Navigator. They distribute medicine to hospitals and clinics in disaster areas and are boots on the ground right now in Puerto Rico.
Las Vegas Victims' Fund
$2500 donation from VERTEX
Currently, there is only one organization for relief efforts and Victim Assistance. There is a GoFundMe page that was started by Steve Sisolak, the Clark County Commission Chair. The fund is up to $11.5M at this point and still growing. The plan is that they are going to work with state and local officials, GoFundMe, the Direct Impact Fund, and the National Center for Victims of Crime to ensure that the funds are distributed directly to the victims and families.
We can all spread positivity and hope, whether it be a monetary donation or helping those in need. Thank you for your contributions at VERTEX and in your communities; we are VERTEX strong and proud of it.