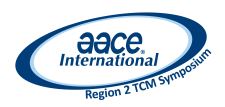 VERTEX's Amin Terouhid, Ph.D and Andrew Sargent, EIT, recently presented at the Association for Advancement of Cost Engineering (AACE's) Northeast Total Cost Management Symposium. The topics of their presentations included:
Key challenges in demonstrating Loss of Productivity Claims based on specialty industry studies. 
The use of common visuals used for preparing and assessing construction delay and productivity claims.
The two day-symposium, hosted in Valley Forge, Pennsylvania, provided attendees with the latest in Capital Management, project controls and claims tools and technologies.