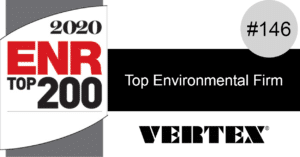 VERTEX is proud to be ranked #146 in ENR's 2020 Top 200 Environmental Firms. Firms are ranked based on the % of their 2019 gross revenue from environmental services.
ENR reports that public and private sector work was at full tilt in 2019. Top 200 Environmental Firms revenue total rose 2.8% to $58.9 billion from the previous year's also strong increase. Domestic revenue was up 3.4% to $45.2 billion and non-U.S. markets stayed steady to generate $13.7 billion in revenue. But just a few months later as the COVID-10 pandemic jolted the marketplace, firms are battling to leverage last year's foundation and make adjustments to the "new abnormal" to gain strength in 2020 and beyond.
To learn more about VERTEX's Environmental Consulting services or to speak with an Environmental Expert, call 888.298.5162 or submit an inquiry.