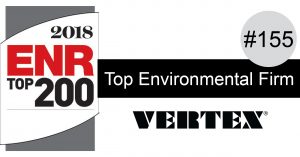 VERTEX is proud to be ranked #155 in ENR's 2018 Top 200 Environmental Firms. Firms are ranked based on the % of their 2017 gross revenue from environmental services. Figures are in $ millions; percents are rounded and may not add up to 100. A company update or clarification is marked by number in red, with a detailed footnote on the side of each list page.
ENR reports that despite solid results and strategic changes last year that pushed a number of Top 200 Environmental Firms higher on the 2018 list, some uncertain signals on the U.S. and global political fronts injected caution into the environmental marketplace, with total list revenue falling 2% to $53.37 billion from the previous year's tally. But nearly three-quarters of this year's listed firms see better signs for 2018 and ahead, with markets strengthening and projects on the move.
To learn more about VERTEX's Environmental Consulting services or to speak with an Environmental Expert, call 888.298.5162 or submit an inquiry.