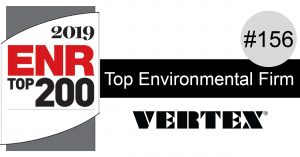 VERTEX is proud to be ranked #156 in ENR's 2019 Top 200 Environmental Firms. Firms are ranked based on the % of their 2018 gross revenue from environmental services.
ENR reports that a strong economy in the U.S. and in some other key global markets pushed the ENR 2019 Top 200 Environmental Firms to revenue levels not seen for some years. Even with some exceptions, more public and private owners committed to big project investment and compliance steps to address both legacy and emerging environmental challenges. The Top 200 total environmental services revenue, based on what firms reported in 2018, hit $57.24 billion—up 7.3% from the previous year. Domestic revenue showed a 6% boost from last year's total, with activity in global markets up 13.3%.
To speak with one of VERTEX's Environmental Consulting experts, call 888.298.5162 or submit an inquiry.