We are thrilled to announce that VERTEX has been placed in the coveted top 100 list of AEC Professional Services firms in 2023, as published by Engineering News-Record (ENR). This esteemed recognition highlights our company's exceptional performance and contributions to the industry.
This year VERTEX was recognized as:
#26 on the list of "Top 50 Construction Management Firms"
#35 on the list of "Construction Management/PM-for-Fee Firms"
#45 on the list of "Top 50 Program Management Firms"
#335 on the list of "Top 500 Design Firms" which ranks the 500 largest U.S.-based design firms, both publicly and privately held, based on design-specific revenue.
Download ENR's Top Professional Service Firms of 2023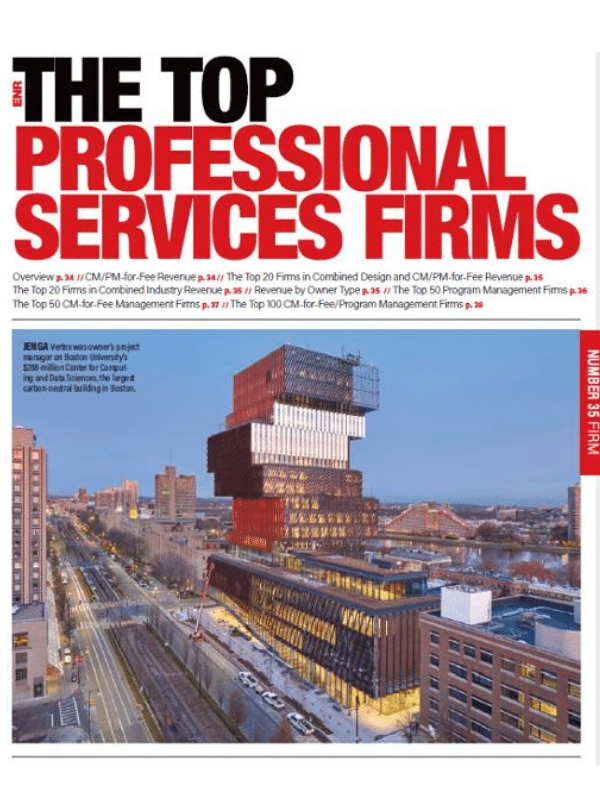 The front cover of this publication showcases Boston University's Center for Computing and Data Sciences, in which VERTEX served as the Owner's Project Manager for the duration of the project.
Engineering News-Record is a leading publication that annually assesses and ranks AEC firms based on various criteria such as revenue, growth, innovation, and project portfolio. The top 100 list represents the most outstanding companies in the field, showcasing their dedication, expertise, and ability to deliver exceptional results.
VERTEX recognizes this accomplishment as a reflection of the hard work and dedication of our entire team, as well as the trust and support of our valued clients. We remain committed to delivering exceptional results, and bettering outcomes for our clients, colleagues, and communities through our projects.
With a diverse portfolio of successful projects across various sectors, VERTEX has established itself as a leader in the AEC industry. Our expertise in construction project advisory, as well engineering, environmental consulting and forensics, has garnered accolades and a strong reputation among clients and industry peers.
Being ranked among the top 100 AEC service firms not only solidifies VERTEX's position in the industry but also serves as a testament to our continued growth and success. It highlights our ability to adapt to evolving industry trends, embrace innovation, and consistently deliver excellence.
To learn more about VERTEX's Construction Project Advisory, Engineering, Environmental, and Forensics Solutions, or to speak with a Forensics Expert, call 888.298.5162 or submit an inquiry.
We would like to once again thank our dedicated team for continuing to make VERTEX a great company in the AEC industry!