We're thrilled to announce that VERTEX is a 2023 Zweig Hot Firm Award winner, ranking among the top 100 fastest-growing AEC firms in the U.S. and Canada.
This recognition underscores our dedication to excellence, our clients, and our team's exceptional efforts. We would like to extend our gratitude to our clients, partners, and team members who have contributed to our continued success. As we move forward, VERTEX remains committed to pushing boundaries, driving innovation, and setting new standards in the AEC industry.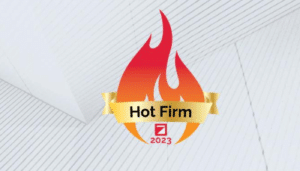 Key Entry Criteria:
AEC Focus: Over 50% of our revenue in 2020 and 2022 is from the AEC industry.
Excluding Public Entities.
$1M+ Revenue in 2019.
Established Before Dec 31, 2017.

To discover more about our company's awards and recognition, visit our dedicated webpage for a closer look. Stay tuned for more exciting updates as we continue to elevate our industry!