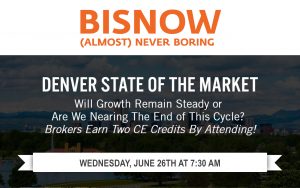 Join VERTEX Engineers, Construction Experts, and Environmental Scientists at Bisnow's Denver State of the Market on Wednesday, June 26th at 7:30am.
Get 20% off your registration with our discount code: VCSD20LHEO.
What you'll learn:
1. As Denver's multifamily rents continue to increase, how will developers and the City of Denver approach the need for affordable housing?
2. Will Denver continue to remain a seller's market with relatively low cap rate averages, or is the real estate market too optimistic?
3. Which major tenants are moving their headquarters to Denver and how are these companies disrupting the status quo of Denver's real estate market?
4. How will opportunity zones in Denver's surrounding submarkets spur development & activity in the real estate sector? How will developers work to connect these submarkets to the 5280 urban core?
5. While Colorado's economy is expected to grow next year, the pace of growth is predicted to slow. How will this affect real estate investment & development in and around Denver?
**Brokers Earn Two CE Credits By Attending!**
Featured topics:
Designing & Constructing Denver As A Placemaking Hub
Denver's Founding Figures on Preserving Mile High Culture
Capital Markets Forecast: Are We Nearing the End of the Cycle?