Most industry professionals who have been around the block a few times will tell you they've seen it all. That is until they're surprised by a major problem they've never encountered before. When these surprises involve waterproofing issues, the ripple effects can be truly disastrous to a project.
In February, our Building Envelope team worked with the AIA's San Diego and Palomar College chapters to deliver a special presentation about critical waterproofing issues for their members.
The lunch-and-learn presentation, Understanding Building Envelope Risks, was delivered by Architectural Expert Kirk O'Brien, AIA, and Principal Building Envelope Consultant Steve Easton.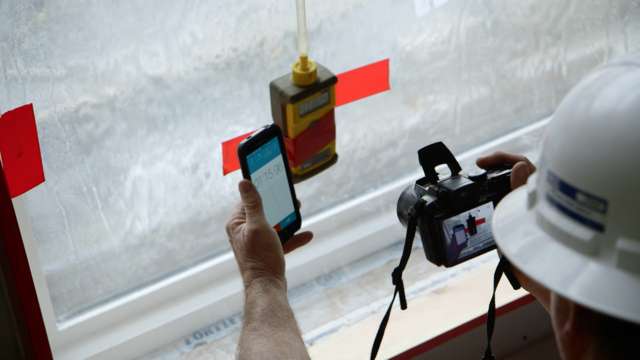 "If I knew then what I know now about waterproofing, most of the leaks that I accidentally designed would never have happened," O'Brien reflected in the opening to the presentation.
O'Brien and Easton provided extensive information on the subject, including lessons learned through decades of experience, and answered a number of specific technical questions from attendees.
The hour-long presentation had a strong turnout and participants were highly engaged, according to AIA San Diego and Palomar chapters Executive Director Bastiaan Bouma. The presentation covered the major risk factors of the building shell's design, who is ultimately responsible for the envelope performance, and how a building envelope consultant can play a critical role in managing waterproofing risk.
The final "Tales from the Trenches" portion of the program received the strongest response from attendees. O'Brien showed numerous examples of waterproofing mistakes caught by Xpera field inspectors. Issues ranged from small things, like not staggering the fasteners of a flashing, to much more expensive mistakes, like not properly preparing for a rain event in certain phases of construction, damaging the materials and forcing repairs.
We have seen far too many good designs go wrong thanks to water issues. That's why we recommend that every architect spend some time in the field. The insights gained from these real-world, out-in-the-trenches experiences can make a world of difference, helping improve the quality of designs and allowing designers to better communicate critical details that can be misinterpreted or omitted during the building process, to the overall project's detriment. You can watch highlights from the talk and see a full video of the presentation soon on our website.
Following the success of this first event, our Building Envelope team has been asked to give the same presentation to architects by major design firms.
This article was originally published by Xpera Group which is now part of The Vertex Companies, LLC.