Congratulations to the Ashland Mindess School team.  They worked overtime all summer to get the old school demolished despite a 2-week delay due to unforeseen conditions to the tune of $400K in ACM ceiling panels in a utility trench below the building slab and another $60K in the transit pipe on the site. Paving and sidewalks were getting installed right up through Saturday of Labor Day weekend.  The school successfully opened on Tuesday 9/5 and the happy students are loving their new space.
The ribbon cutting ceremony was held Saturday morning, September 9th with all the people who helped make it happen.  A lot of praise was given to the VERTEX, Shawmut, and Flansburgh teams for making this school a reality and on time while navigating a myriad of challenges.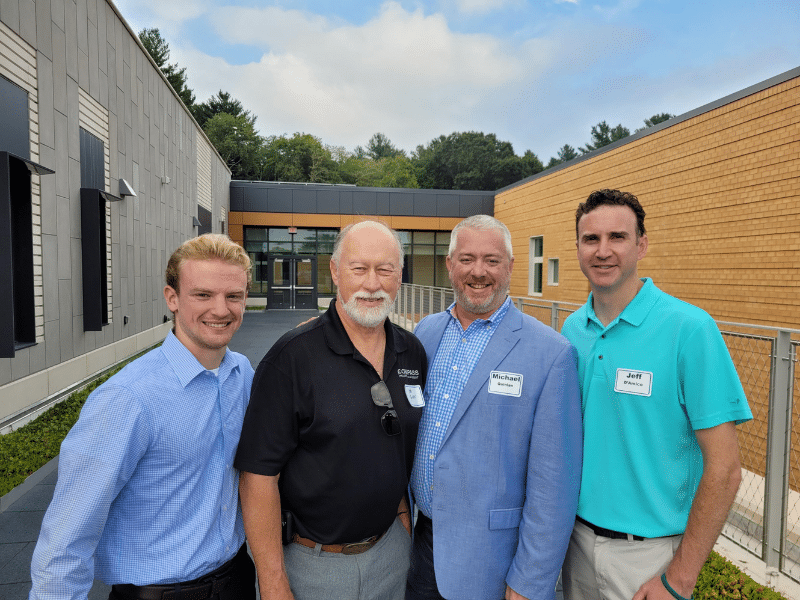 Congratulations to Mike Quinlan, Bob Tucker, and Eric Rubin for never taking their foot off the gas despite all the supply chain issues that COVID-19 kept throwing at them.

Highlights of the new Ashland Mindess School building:
The building uses a pod design for 3rd, 4th and 5th grade students.
The building uses color-coded hallways to make it easy to navigate. Yellow is for third grade, green is for fourth grade and blue is for fifth grade.
The school has wonderful spaces specifically designed for special education students.
It has multiple outdoor learning areas and a rooftop classroom.
Landscape choices were made intentionally with low-maintenance plants and trees.
There are two common areas where teachers can take students to learn in a new environment. 
The building supports 635 students and 65 teachers, support staff and administrators.
It is climate controlled due to geothermal wells.
The next steps are to build the outdoor playground, basketball court and athletic fields in front of the building.

Learn more about VERTEX's expert Owner's Project Manager services. Our team members specialize in ensuring each project is executed smoothly and efficiently from start to finish. Let us help you bring your vision to life today! Speak with a Construction Expert, call 888.298.5162 or submit an inquiry.