Start: 11/14/2019: 7:30 am
End: 11/14/2019: 11:00 am
Venue: To Be Announced
URL: Event Link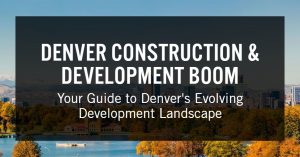 VERTEX's CEO, Bill McConnell, will be speaking at Bisnow's Denver Construction & Development Boom on Thursday, November 14th, 2019.
What you'll learn:
What innovative technologies are being used to overcome construction challenges and improve project efficiency?
How will Denver's 20-Year Plan impact the commercial real estate industry and the way Denver thinks about development?
What opportunities and challenges are present in value-add versus new development? Urban core vs. suburbs?
Which neighborhoods are primed for the most growth in 2020? What asset classes are hottest?
In new construction and adaptive reuse projects, to what lengths are developers going through to ensure that projects integrate seamlessly into the fabric of the community?
With the population of Denver growing at double the national average, it's no secret: Denver is BOOMING! Considering the amount of multifamily, office, and massive mixed-use projects currently in motion, Denver's developers have taken notice.
With so much in the pipeline, how are market leaders building a rapidly growing metropolis? We will take a closer look at what technologies, construction capabilities and creative design strategies are pushing the needle, cutting costs and keeping projects on track. Denver's most innovative bunch will take our stage to discuss best practices and business-changing takeaways.
Get 20% off your registration with discount code CDD20NF3AM.