I was recently asked to participate in a panel discussion on the topic of California's SB 721 and SB 326 as part of a rare joint event.
It was between the Building Industry Association (BIA) of San Diego and the Southern California Rental Housing Association (SCRHA). Over the last year, with the pandemic taking the full attention of multifamily housing professionals (and the world at large), inspecting balconies and other elevated elements (known as EEEs) has become a lower priority.
However, with the January 1, 2025 compliance deadline now looming even larger for the owners of condominium and apartment projects, this lost year means that there is a lot of catching up to do. Judging by the reaction of the webinar's attendees, it is fair to say that a better understanding of what is required to comply with the laws is urgently needed.
Senate Bill 721, now found within California Health and Safety Code Section 17973, was signed into law in 2018 and applies to apartments with three or more attached units. Senate Bill 326, now found within California Civil Code Section 5551, was signed into law in 2019 and applies to community associations or condominiums with three or more attached units. Both laws mandate the inspection of the wood-framing components that support balconies, decks, elevated walkways and landings.
Inspection Methodologies
One of the hardest parts of the EEE inspection process for people to understand is what exactly needs to happen for the inspection to be valid. We have written about this in the past, but just to clarify, both laws require that the wood framing be visually inspected at a certain minimum number of EEEs.
What a lot of people do not understand is that in California, we prefer to clad our balconies, landings and walkways in stucco or siding, concealing the wood framing from view. In such cases, both laws still require visual inspections of the concealed wood framing, stipulating this can be done through the "least invasive means necessary." What does that mean?
Below are some different options for inspecting the load-bearing components of EEEs:
Visual Inspection
This should always be the first – and best – option for evaluating any EEEs. The condition of the exposed surfaces, the integration of the various building components, the guardrails and attachment points, are all critical observations that need to be documented. But, if the wood framing is concealed by stucco or siding, visual inspection alone is insufficient to comply with either SB721 or SB326.
Infrared Thermography
We have certified thermographers on our team, and there are definitely some useful ways to incorporate IR into the building diagnostics toolkit. However, if the wood framing is concealed, IR is not adequate for meeting the requirements of the EEE laws. Why? Infrared light is on the spectrum that is, by definition, out of the range of human vision. Therefore, an IR camera does not allow one to visually inspect something concealed behind another surface.
Endoscopic Inspection/Borescope
At Xpera, our preference is to use borescopes, industrial endoscopic inspection cameras and related technologies. The process is fairly straightforward and involves drilling a series of holes in the underside of an EEE's covered soffit. A fiberoptic camera with built-in LED lights is inserted into the hole and manipulated by the operator to visually inspect the otherwise concealed cavity of the assembly. After the inspection is complete, the hole is sealed with a special water- and air-tight plug designed for the purpose. While fairly cost-effective compared to other methods, borescope inspections are not necessarily conclusive. If we see a stain through the image produced by the camera, how do we know if this is an historical situation that was repaired long ago, or an active leak that needs to be addressed before further problems happen? Additionally, a borescope cannot confirm the condition of the wood if there is discoloration. For these reasons, a borescope alone may not be enough.
Destructive Testing
For the purpose of evaluating the current condition and remaining useful life of concealed wood framing of an EEE, nothing is as conclusive as destructive testing. Yet, the process is incredibly messy, loud, wasteful and expensive. Therefore, the goal is to minimize destructive testing as much as possible.
Removable/Operable Soffit Vents
This is our favorite option for a number of reasons. First, installing vent accessories enhances the inspector's ability to use a borescope to thoroughly inspect the concealed cavity and offers a much better view than what is possible through small holes. Secondly, if water does manage to get into a particular EEE assembly, the vent will allow the moisture to dissipate, rather than accumulate. This option is more costly than drilling holes into the soffits, but much less than the cost of full-blown destructive testing.
Statistical Sampling Methodologies
Understanding the different inspection options for complying with SB721 and SB326 can be challenging, but the statistical sampling methodologies are even more difficult to wrap your brain around.
In short, SB721 (which applies to apartments), requires that 15% of each type of EEE be inspected as part of the initial round of inspections prior to January 1, 2025. After six years, the next randomly selected 15% sampling of EEEs would need to be inspected. At that rate, it could take about 40 years for all EEEs to be inspected at an apartment property, which is odd considering that the typical expected useful life for a wood-framed EEE is 15 to 30 years.
For SB326 (which applies to condos), a "statistically significant sample" must be chosen. The law defines this as 95% confidence, plus or minus 5%. Below is a graph showing what that looks like: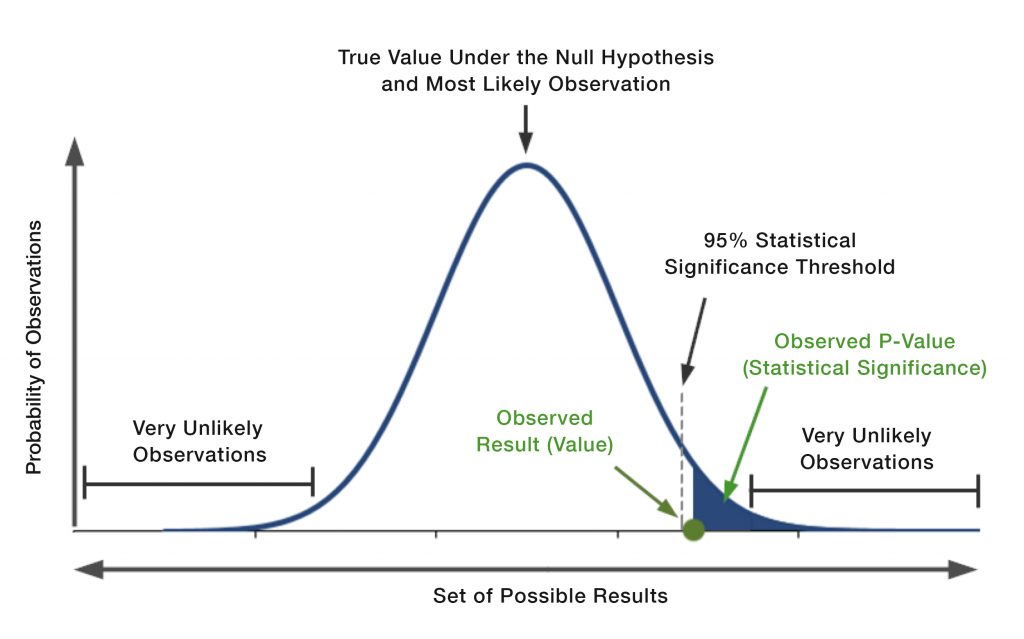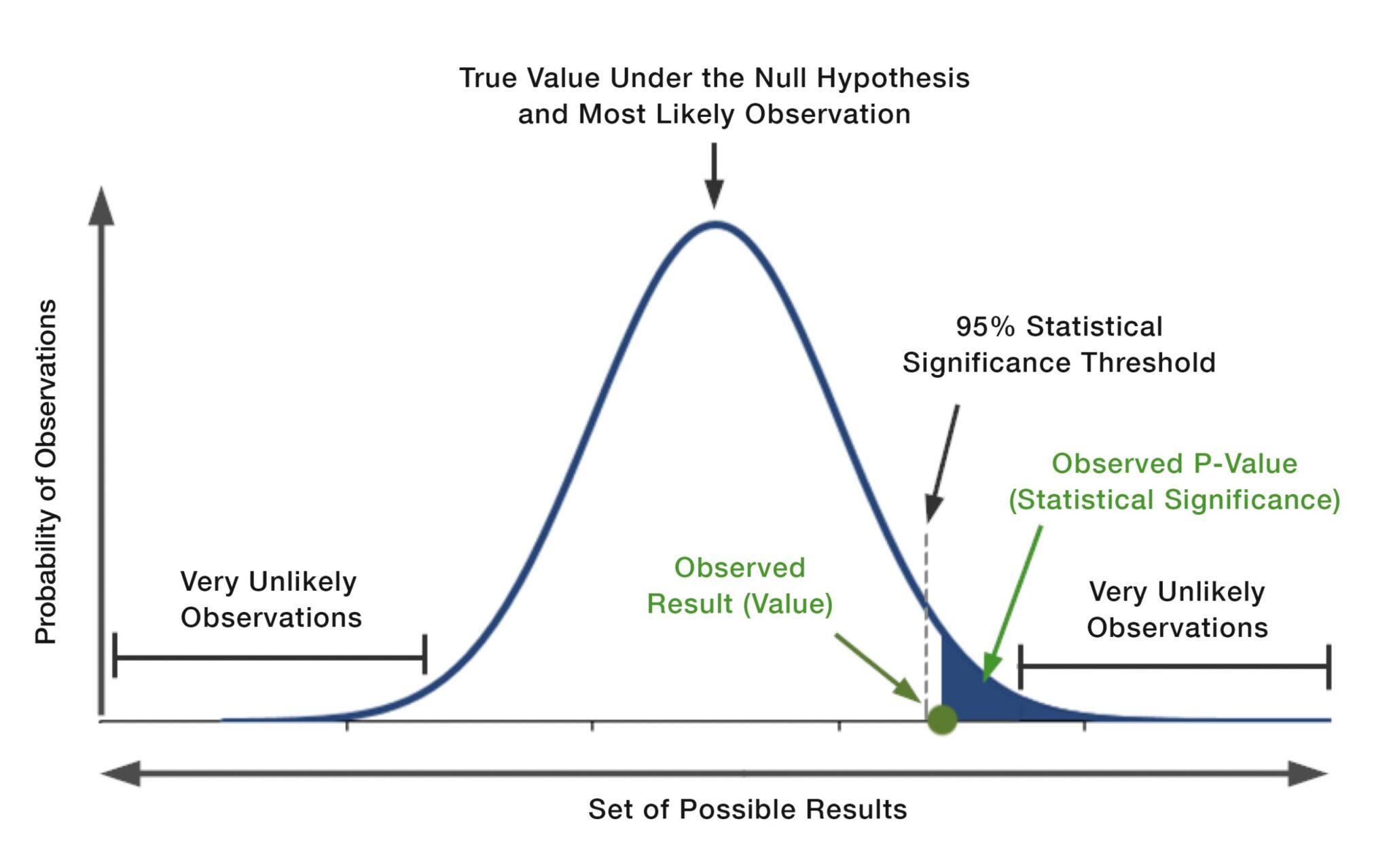 This is a topic we will cover in much greater detail in a future article, but for now, here is a table we put together that compares how the two laws treat sampling, assuming you have the same number of EEEs, or units.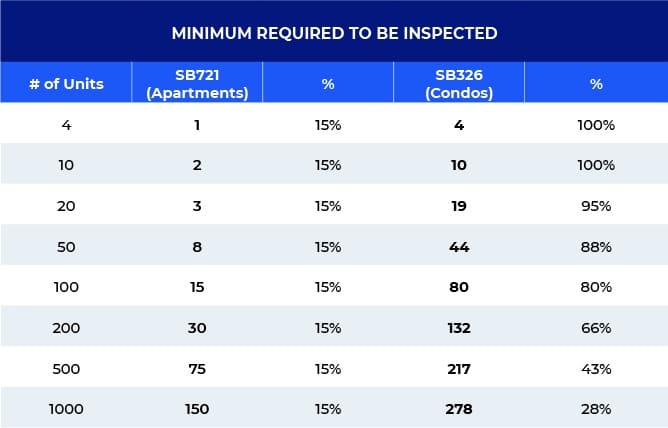 Key Takeaways
The BIA/SCRHA webinar was well-attended, and a lot of great questions came up. Perhaps the biggest takeaway was that there is no one-size-fits- all option for complying with the EEE inspection laws. The unanimous recommendation was for owners to engage professionals (like us) early in the process in order to help plan the best compliance strategy for their unique situations.
The Path to Compliance looks something like this:
Step 1: Figure out what is required for your specific property.
Step 2: Evaluate your own tolerance for risk to determine the level of inspection required for each EEE type, balanced with the obvious concerns for cost, practicality and impact on building occupants.
Step 3: Make a plan for your inspections so that you are not waiting until the last minute. Be sure to allow time for any necessary repairs triggered by the inspection process.
One last point is worth noting. The new laws are leading to an incredible demand for inspections, greatly reducing the availability of qualified inspectors (and consequently, qualified repair contractors). As a result, the cost for compliance will potentially increase the longer owners wait to act before the 2025 deadline.
This article was originally published by Xpera Group which is now part of The Vertex Companies, LLC.