The impact of COVID-19 on our economy is unmistakable. Is it like 1929? I think not. Is it very serious? Absolutely. But, to accurately gauge the severity of the situation, we need to look at the national economy, first and foremost.
From the time of The Great Depression, we have gradually moved from a production economy to a service economy. In 1929, 39% of all non-farm jobs were in manufacturing. In 2019, it was 9%.
Thus, the current drop we are seeing in manufacturing jobs (due to reduced demand and an inability to obtain parts from other countries, especially China), will hurt the economy, but not destroy it, as it did in 1929.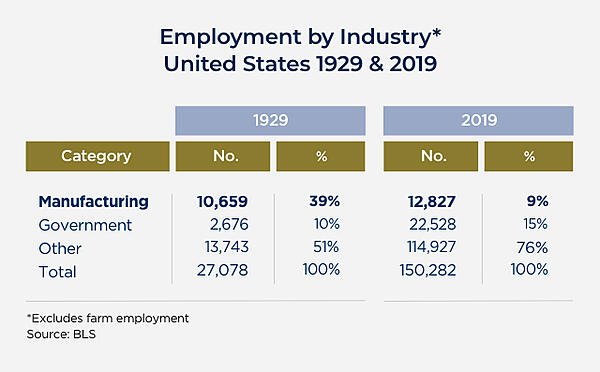 Clearly, manufacturing is not something that can function outside of a factory environment. However, the majority of our professional jobs can be conducted at home on our computers and by phone. While our offices are currently empty, business continues as usual telephonically and electronically.
The big question on everyone's mind right now: Will there be a recession? My answer is yes, but it will not be severe. Nothing like 2008-2009.
By federal definition, recession is two consecutive quarters with no increase in gross domestic product (GDP). By that standard, we will have a recession. However, there is a difference between a recession and a worldwide financial meltdown.
In September 2008, when Lehman Brothers went under, the Feds, including the White House, were completely unprepared to act. They did not understand that the proliferation of "liar loans" created a totally unstable financial market (known as "systemic risk"). They sat on their hands while the financial world headed toward complete disarray and did little until it was too late, when the markets totally collapsed (and rightly so).
There is an enormous difference between 2008 and today.
First, our banks are more structurally sound, though their branches may reduce their hours. Since the last financial crisis, the Basel Committee on Banking Supervision established their Third Accord which introduced requirements on liquid asset holdings and funding stability. The G20 also established the Financial Stability Board (FSB) to monitor the global financial system.
In terms of dealing with the financial impacts of coronavirus, the industrialized countries of the world are in far better shape than they were in 2008, and most have reacted incredibly fast to this malaise.
Second, mortgage loans and lines of credit are readily available. Lenders must get their money out in order to generate profits, and they are deluged in cash, because Americans have been saving at a much higher rate than at the time of the last recession.
Fortunately, the reaction to the current crisis has been swift, both nationally and internationally. The Feds did not hesitate to drop the Fed Funds rate to effectively zero and they have put in place a number of programs to assist small businesses and low-income households facing job losses. Congress managed to briefly get their act together as well. Other developments include:
The Department of Housing and Urban Development suspended all foreclosures and evictions until the end of April for HUD properties.
The Federal Housing Finance Agency announced that it was directing Fannie Mae and Freddie Macto suspend foreclosures and evictions for at least 60 days for enterprise-backed mortgages.
The Secretary of the Treasury announced a 90-day extension for any federal taxes due (from April 15 to July 15).
Congress passed the CARES Act, providing emergency financing for many businesses, extending unemployment and providing an emergency cash injection of $1,200 to taxpaying citizens.
National and Regional Impact
The daily news cycle during this pandemic has been propelled by negative news, and social media compounds this.
While it is true that the United States has the most cases of COVID-19 in terms of total numbers, from a per-population standpoint, our country ranks fifth among the top 12 industrialized countries in terms of deaths per million people. Unfortunately, most European nations are suffering far more than the U.S., as they were hit early.
Within the U.S., almost half of the deaths are in the New York/New Jersey metropolitan area. No other metropolitan area even comes close.
California has largely been spared from the worst impacts of virus, for many reasons. At the time of this writing (May 8th), the total number of deaths in the six-county Southern California metropolitan area (including San Diego) is 1,952. In the nine-county San Francisco Bay Area, the total is 337. By comparison, New York has had over 26,000 deaths; New Jersey over 8,900.
It appears that the virus survives longer on surfaces in cold, dry weather: 70% of the deaths to date are north of the Mason-Dixon line (from Maryland to the Northern California/Oregon border).
In terms of employment, the magnitude of initial jobless claims in the last two months has been historic. The Department of Labor reports that our national unemployment rate crept up to 4.4% in March 2020 – not too bad – but, there is a lot of dust to settle before we can get solid numbers.
The San Diego Economy
We are blessed in many ways. We have an enormous military and governmental presence in San Diego County. Manufacturing only makes up 8% of our jobs, and many of those jobs are manufacturing equipment for the military. Military and non-military government employment accounts for another 22% of our economy, with 12% comprised of health care and 9% for professional, scientific and technical jobs. That means that half of our jobs are in very stable sectors that will probably not be impacted too badly by the virus, except for the logistics of establishing remote work setups and covering for people who get sick.
The balance of our workforce is comprised of support jobs, which I will turn to next.
Impact by Sector
In terms of which sectors will be hurt least by the current crisis, there are several: healthcare, education, military, government, software, information systems, utilities, transportation and some financial services, including lenders, stockbrokers and financial advisors. Most professionals, including attorneys, accountants and engineers, should weather the storm fairly well, unless this plague continues much longer than I anticipate.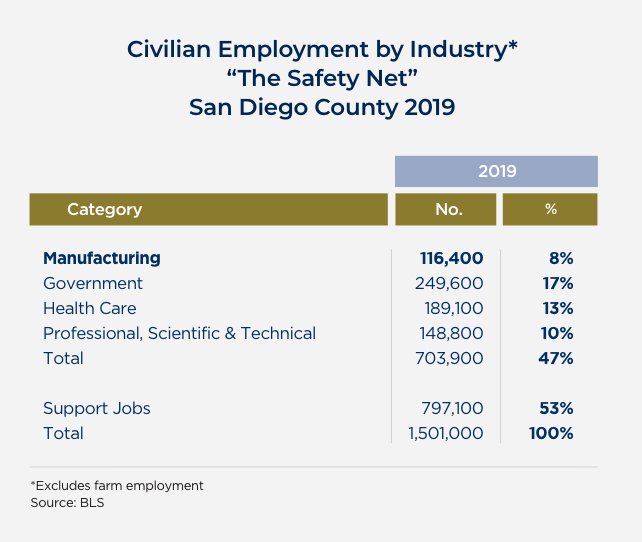 In 2009, the unemployment rate for those with college degrees was 9%. Now it's 2%.
The big difference between the last recession and this one is connectivity. In 2008, we were just beginning our romance with online connectivity. Now, most professionals can work at home and have conferences with Skype and Facetime and can really live without going into the office. Employees may not be quite as productive, especially if they have to also look after their kids, but it is manageable.
Who is Hurting Most?
Some sectors of the economy are clearly hurting, particularly tourism and the big three Rs: retailing, restaurants and real estate. Still others will see some benefit: particularly anything that can be delivered to homes.
Tourism and Travel
Tourism and travel will take the biggest hit by far. San Diego is the destination for 35 million visitors each year. They stay in our 55,000 hotel rooms, dine in our restaurants, take cruises from our port and inevitably visit the now-closed San Diego Zoo, SeaWorld and Legoland. Major annual events like Comic Con have been cancelled. The thousands of service people employed in this sector will be hit hard.
Retail Business
Part of the "gig economy" (e.g., food delivery services like Door Dash) and firms like Amazon will prosper because of their amazing home-delivery ability. The goods they provide will still land on your doorstep, although it may take a little longer to get there. The gig economy workers that rely on people transport (such as Uber and Lyft) may not fare as well, due to California's stay-home order and people cutting non-essential travel.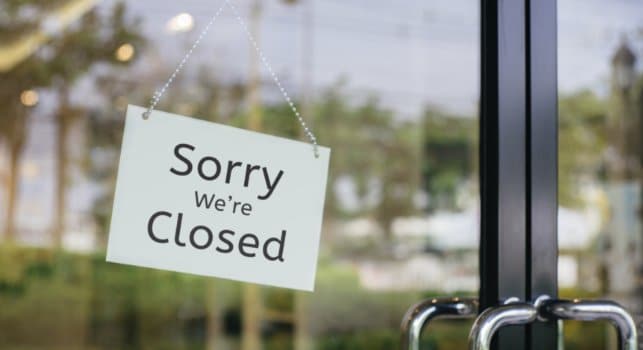 Regional shopping centers, big box stores, movie theaters and other retail venues that rely heavily on foot traffic will suffer the most.
Pointedly, people still want "things." Maybe not quite as many, but they will shift their shopping online and wait for the doorbell to ring. There will probably be a surge in home cooking-related items, for example.
Automotive
Auto-related businesses (including service centers) are starting to feel the impact from COVID-19's shockwaves. The stay-home order has kept plenty of people away from car dealerships and driving has fallen steeply. (The silver lining is that traffic is terrific.) When we are able to leave our homes again, buyers may determine that it is a great time to strike a bargain and take advantage of near zero interest rates. On the other hand, many brands may not be able to deliver product because of supply-line disruptions caused by countries shutting down.
Restaurants and Food Service
Restaurants that depend exclusively on people dining-in will suffer, particularly those at the high end. Those that have delivery capacity and pick-up service will muddle through. However, the waiters, bartenders and other service staff that depend heavily on income from tips will suffer.
Restaurants that are in regional-type centers will hurt the most because of the absence of foot traffic. The wholesalers that supply restaurants, bars and tourism venues will also feel the pain.
San Diego's craft brewing industry, which has become one of the biggest in the country, is feeling the hit. Many of them are turning to curb-side pickup and delivery to stay in business. Over 30 brewery locations have closed.
Grocery stores, drug stores and other retailers of necessities will do just fine, maybe even better than just fine. But, do not expect your usual selection of grocery goods. While the shortage of toilet paper and baking ingredients have become a running joke, the supply chain is obviously affected. Food shortages will not impact us in the U.S. as much as in the developing world.
San Diegans are resilient. Hourly workers may change employers and industries, but they will find employment. There continues to be a substantial number of job openings in the county for folks without a college degree.
Real Estate
Lastly, there is real estate, which calls for a more detailed look.
New Construction
Because construction, especially housing construction, is listed in the federal critical infrastructure sectors, it is exempt from California's State Shelter Order. However, the impacts of COVID-19 on the A/E/C industry are numerous.
Projects that are underway, especially residential and commercial high-rises and garden apartments, will keep on building as long as the materials are available. Some apartment projects may be delayed because many of the kitchen and bathroom fixtures come from China. Some builders may decide to delay starting construction on new projects.
The new home and condominium sectors have produced so little product that there is rarely any standing inventory. It is not as if there are hundreds of completed homes awaiting buyers. The statewide housing shortage still exists.
Major national homebuilders have an incentive pull out all the stops in order to meet their 2020 profit projections. As a result, they will start major production in the next 30 to 60 days in order to be able to effect closings by the end of the year. As we know from past experience, the buyers will be there, and the homebuilding industry drives economic recoveries. Sales may slow down, due to models being closed or by appointment only, but they will not stop.
The jury is still out on whether new homebuyers will stay home, even though they are drooling over 3.0% loans and with homebuilders quite willing to do buy-downs, pick up closing costs or toss in some landscaping.
We are uncertain about how this virus will affect pricing. Construction products made in the U.S. appear to be remaining stable, but those products made abroad may become more expensive due to supply shortages.
The remodeling business should remain healthy. In San Diego County, about 40% of all construction dollars are spent in remodeling rather than new construction. With home equity loans readily available, home remodeling is very tempting.
The Apartment Market
The apartment market has been remarkably positive for the past six or seven years, at least for owners. Occupancy rates have been over 95% and rents have been rising.
I suspect that will change fairly soon, but more so in the lower rent segments, as vulnerable employees get laid off and can no longer afford their apartments. They may double (or triple) up or move in family, but either way, vacancy rates will rise. There is scant chance that rents will rise during the active virus period.
There probably will not be many foreclosures of apartment projects, because the leverage in this county is fairly low and a substantial portion of the inventory has no debt (often folks who have owned their units for decades).
The owners of "B" and "A" quality projects will persevere, although they will be forced to offer giveaways. Like the new home market, there has been little overbuilding in the apartment sector, except in downtown San Diego.
COVID-19 will impact some subsectors of the apartment market more than others. (My colleague Bill Kennedy explores this topic further in another article, where he goes into the risk of the government imposing more "no eviction" and rent control actions than necessary, which could be devastating for landlords.)
The Existing Home Resale Market
In March, despite the stay-home order, home prices (for both attached and detached) edged upward compared to last year.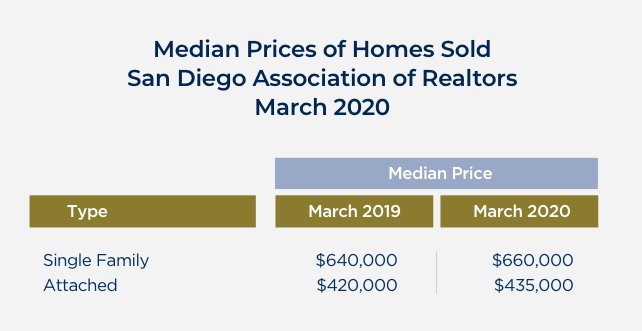 While we are certainly going through a difficult period in our economy, San Diego County continues to grow, as does the demand for home ownership. We have a population that wants to own homes, to trade up (or down) their existing homes, and that can afford to do so.
Millennials who are doing well are ready to buy a home. The ones living in apartments are tired of paying rents that are equivalent to mortgage payments. They want a tax write-off. They want a place to raise a family. That desire is not going away.
The real problem is inventory. There is not much out there. In March, the number of homes for sale declined significantly. (What a great time to list a home for sale!)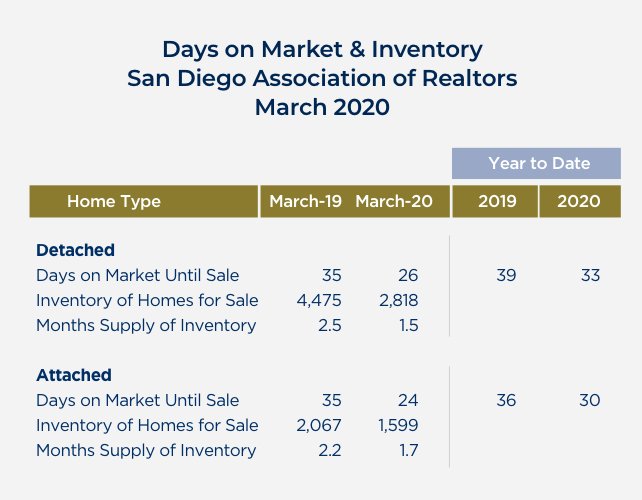 This brings some questions to mind.
Will homeowners who were planning to sell their homes decide to hold off? Do owners think that prices will accelerate after the virus subsides? Do they believe there are no buyers out there right now? Are they scared off by the idea of holding open houses? Are they concerned that they will not be able to find something else to buy? Or all of the above?
In most cases, we do not know the answers yet. We do know that there are soft spots: the upper end of the market will be sluggish, but not moribund.
Right now, there is a disconnect between sellers and buyers, and it is imperative for our real estate industry to re-connect them. It is time for virtual caravans, virtual open houses and creative marketing.
Wise buyers will recognize that the COVID-19 crisis will pass and that the fundamentals of demand/supply mean this is a good time to buy. They will remember the generous returns earned by those that bought in 2009-2011.
San Diego remains one of the strongest economies in the nation and that when it bounces back, it will do so with vigor.
---
This article is based on Alan Nevin's March and April 2020 monthly reports to the San Diego Association of Realtors (SDAR) and has been updated to reflect emerging trends and new data of COVID-19's impact. The original articles are available at SDAR.com.
This article was originally published by Xpera Group which is now part of The Vertex Companies, LLC.