OSHA Standard for Silica Exposure and Controls
Did you know that in March of 2016, the Occupational Safety and Health Administration (OSHA) published a final rule regulating occupational exposure to respirable crystalline silica? The previous OSHA standard for silica exposure and controls was published in 1971 and had not been updated or revised since.
What is Silica?
Silica is a hard, unreactive, colorless compound which occurs as the mineral quartz and as a main component of sandstone and other rocks. Silica is a naturally occurring mineral that is used in many industrial products and is prevalent in materials used in the construction industry, such as sand, concrete, stone, grouts, and mortars. Crystalline silica is also used to make products such as glass, pottery, drywall joint compound, ceramics, bricks, granite, and artificial stone, to name a few. Industrial sand used in operations such as foundry work and hydraulic fracturing ("fracking") is also a source of crystalline silica.
What are the Health Risks of Crystalline Silica?
Inhalation of crystalline silica particles can cause multiple respiratory ailments, including silicosis, an incurable lung disease that can lead to disability and death. Crystalline silica exposure can also lead to lung cancer, chronic obstructive pulmonary disease (COPD), and kidney disease. Without the proper personal protective equipment (PPE) or engineering controls, workers tasked with cutting, grinding, sawing, drilling, sanding, or damaging silica-containing products are at risk of acquiring potentially incurable respiratory ailments.
The size of silica particles in dust is an important factor when considering how silica can have adverse health effects on the human body. We are all exposed to dust in some form or another in our daily lives, not all of which is considered hazardous or dangerous. Our bodies have built-in defense mechanisms designed to protect us against inhalation hazards. Our nose hairs act as "filters" that can trap larger dust particles and we simply blow our noses to remove them. The cilia and phlegm in our respiratory tracts also trap certain-sized particles that we extract by coughing them out. It is the "respirable fraction" of dust that can become harmful, as this is defined as the fraction of inhaled airborne particles that can penetrate beyond the terminal bronchioles into the gas-exchange region of our lungs. So, it is the respirable fraction of dust that is the focus of most regulations and health and safety standards with regards to dust exposure and worker protection, and this is the case for silica as well.
OSHA Respirable Crystalline Silica Standard Revisions
To help protect workers, OSHA has revised the existing respirable crystalline silica standards for the Construction Industry (29 CFR 1926.1153) and for Maritime and General Industry (29 CFR 1910.153). It is important to note that the permissible exposure limit (PEL) for both standards for the concentration of airborne silica that workers can be exposed to over an eight-hour work shift is 50 micrograms per cubic meter of air (50 ug/M3). Reducing employee exposure under the OSHA standard can be done via several routes, but the main two controls are through engineering controls and the use of respirators. The 2016 revisions to the Construction Industry Standard for silica have had wide-ranging effects on the construction industry and associated sub-industries, such as tool and equipment manufacturers. Many tool and equipment companies have had to modify their products, such as hand-grinders, to equip them with dust capture controls (e.g. vacuum attachments).
While the previous version of OSHA's silica regulations defined permissible exposure limits for construction workers, there were no mandated controls for reducing silica exposure, such as dust suppression and wet methods. OSHA's revised silica standard for construction requires employers to limit worker exposures to respirable crystalline silica and to take steps to protect workers, including the use of engineering controls and respirators.
The current OSHA standard now mandates that all construction employers are required to:
Establish and implement a written exposure control plan (ECP) that identifies tasks that involve exposure and methods used to protect workers, including procedures to restrict access to work areas where high exposures may occur.
Designate a competent person to implement the written exposure control plan.
Restrict housekeeping practices that expose workers to silica where feasible alternatives are available.
Offer medical exams, including chest X-rays and lung function tests, every three years for workers who are required by the standard to wear a respirator for 30 or more days per year.
Train workers on work operations that result in silica exposure and ways to limit exposure.
Keep records of exposure measurements, objective data, and medical exams.
Table 1 contained in the revised OSHA standard lays out specific controls for specific work tasks, such as saw-cutting of concrete, core-drilling, jackhammering and grinding, and even heavy-equipment operations such as demolition, abrading, or fracturing silica-containing materials. The following is an excerpt from Table 1 that I have inserted here to illustrate how Table 1 is constructed:
Table 1—Specified Exposure Control Methods When Working with Materials Containing Crystalline Silica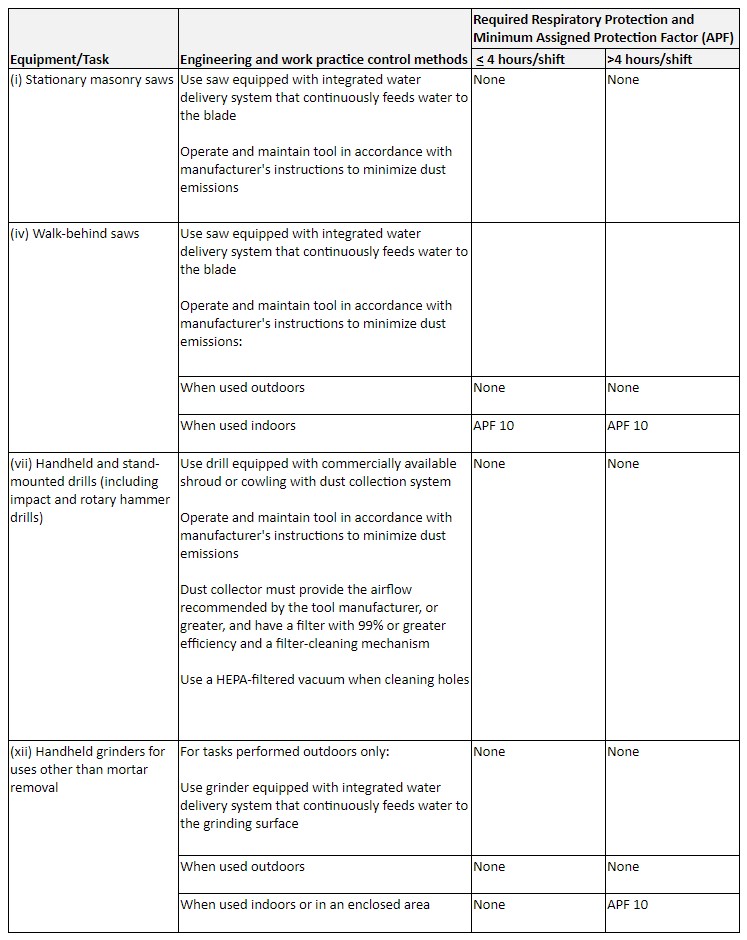 As you can see from the Table 1 excerpt above, the regulations now require that employers combine the use of engineering controls, water/dust control, AND respiratory protection, depending upon the work tasks, work area configuration, and duration of operations.
Engineering Controls
Using engineering controls to reduce the airborne levels of respirable silica has many advantages. Work environments are often kept cleaner, employees may not have a need to wear PPE, and if designed and utilized correctly, can be extremely effective. Like all things in life, there are some tradeoffs and therefore some things to consider with engineering controls such as costs associated with installation of new ventilation systems, maintenance associated with engineering controls, and introduction of water into a work environment to control dust, which can create additional hazards (e.g. slips, electrical shock, etc.).
Respiratory Protection
The use of respiratory protection is generally considered the last resort in the "hierarchy of controls" with regards to worker protection (preceded by Elimination, Substitution, Engineering Controls, and Administrative Controls in most hierarchy of control models.) However, with the unique work circumstances within the construction industry and specifically silica-producing operations, the revised OSHA standard specifically requires the use of respirators for some work tasks. In addition, the use of respirators also requires that employers comply with OSHA's respiratory protection standard, 29 CFR 1926.103, which requires that employers have a written respiratory protection plan and that all workers that may don a respirator undergo training, an annual physical, annual fit-testing, and medical surveillance. As you can see, the use of respirators introduces another added burden to construction employers.
Exposure Assessments
In addition to the engineering controls and use of respirators to reduce worker exposure to silica, the OSHA rule also requires that employers conduct exposure assessments of affected workers. Exposure assessments involve collecting personal exposure air samples for each job classification in each work area over the course of an 8-hour work shift. The exposure assessments are performed specifically to measure workers' actual exposure to silica dust.
How Can VERTEX Help?
While it may seem overwhelming to sift through all that is required with the silica regulations and standards, VERTEX's Industrial Hygiene and Building Sciences (IHBS) division is well-equipped to tackle whatever your particular needs are in order to comply with OSHA's silica rules. VERTEX has a team of Certified Industrial Hygienists (CIH), Certified Indoor Environmentalists, and Forensic Engineers that are equipped to assist in evaluating your silica program needs including developing exposure control plans, conducting training, and performing employee exposure assessments.
To learn more about VERTEX's Industrial Hygiene & Building Sciences and Environmental Claims Consulting services or to speak with an Environmental Expert, call 888.298.5162 or submit an inquiry.
Reference