At many petroleum storage Sites, such as gasoline stations and fuel storage depots, there is a long history of ownership that was responsible for maintaining the Site's storage tank systems and completing the daily activities. Over time, releases may have occurred as a result of failed storage tanks and/or their components, undocumented spill and overfill events, and or improper tank closures. If not fully remediated, the historical releases leave residual contamination in the soil and groundwater that require ongoing remediation to comply with local, state, and federal remedial requirements.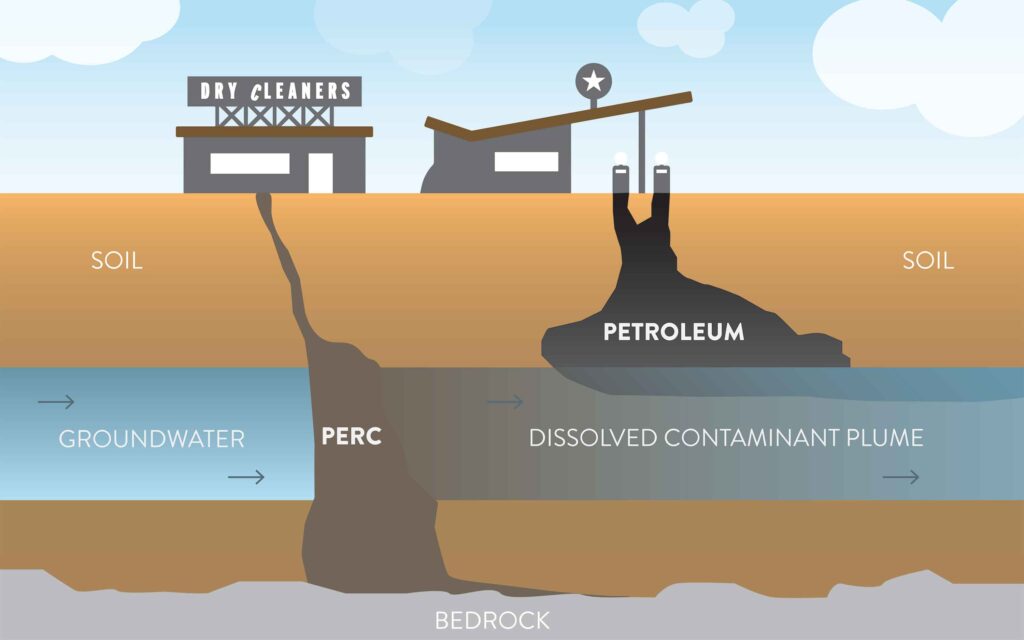 When a new release occurs at these sites with historical impacts, there can be questions and disputes regarding who is responsible for the remediation of the petroleum impacts as it can be difficult to tell whether a release has re-impacted/co-mingled with a previous historical release or even if the observed impacts at the Site are related to a suspected or alleged release that had not been confirmed or documented (i.e. discovery of a failed spill bucket, failure of a vapor line, etc.). These disputes have the potential to cost a responsible party significant resources to remediate impacts that were not caused by their actions. In cases like this, environmental forensic methods have proven successful in resolving disputes regarding the determination of liability associated with a release and for insurance-related coverage determinations.
However, a petroleum forensic investigation is a complex process that requires significant expertise and experience to complete effectively. The use of forensic sampling and analysis by inexperienced investigators can lead to the expenditure of significant resources that may not produce usable data. Therefore, the first step in any forensic investigation is to select the right person for the job. The investigator must be an experienced individual who has successfully implemented forensic investigations previously and is highly knowledgeable of petroleum characteristics and chemistry.
Forensic Investigations
After an experienced investigator is selected, the investigator will start the forensic investigation which is outlined below.
Site Characterization
The first step in the process is to characterize the Site. Site characterization includes the collection of historical information that identifies the Site conditions prior to the occurrence of a new release and a review of current data that documents what the current level of impacts are at the Site. If this information is not available (i.e. on Sites that were not previously investigated), the investigator can review the chemistry of the petroleum at the Site to evaluate if there is a pattern on impact at the Site that is indicative that a separate historical release was present at the time the new release occurred, or if there are chemical markers present that are indicative that a historical petroleum formulation had been previously released to the Site (i.e. lead, methyl tertiary butyl ether [MTBE], etc.). From this information, the investigator can evaluate if the data supports the theory that the new release had added to the impacts at the Site and identify what additional information is needed to make separate historical impacts from new impacts.
Sampling Programs
Once the historical information is properly assessed and the investigator had identified the data gaps, they can design a sampling program that is suitable for the site. These sampling programs can range from a simple forensic investigation, such as collecting fingerprint sampling to differentiate between two differing distillates (i.e. a diesel spill occurred over an existing gasoline release) to a more complex forensic investigation that would be required when there are multiple spills of similar distillates (i.e. one or more spills of gasoline within the same area), which may require a robust analytical suite and extensive data interpretation by an experienced forensic chemist. Since there are many forensic methods that can be used, it is up to a competent investigator to utilize the best analytical method to get the necessary data required to differentiate between releases.
Investigation Report
Once the forensic investigation is completed, the investigator needs to incorporate the data collected during the forensic investigation and present it in a report that compiles all of the lines of evidence utilized to assess the Site and the data collected as a result of the investigation to present findings to adversarial parties. When developed correctly, this report is a useful tool to resolve disputes, assist with obtaining an appropriate insurance determination, and development of allocations for co-mingled impacts. When done properly, the completion of a successful forensic investigation can lead to favorable outcomes for responsible parties.
How Can VERTEX Help?
VERTEX has a team of environmental professionals that have the appropriate training to assess if a Site is a suitable candidate to complete a forensic investigation, collect the necessary data, and perform the appropriate analysis to successfully complete a forensic investigation.
To learn more about VERTEX's Environmental Consulting and Environmental Claims Consulting services or to speak with an Environmental Expert, call 888.298.5162 or submit an inquiry.