Can someone give me a practical Energy Audit?
ESG, Carbon Footprint, Sustainability, Green Building and all other similar terminology can be overwhelming these days. However, there is one component that ties all of these together: Energy Auditing. While the term "audit" typically brings a negative image to mind, in the context of energy, it shouldn't. In this context, an audit of energy use provides the measurable component that can result in actual reductions in cost and carbon, and an increase in value while 'greening' your asset.
The problem is that so many consultants providing this service make unreasonable recommendations that are not grounded in the reality of property ownership. The ROI of a project has to make sense, needs to do so quickly, and the recommended actions at the end of the audit report need to be inclusive of 'next steps' to give an owner direction of how to move forward.
How can I help the process along?
Start with obtaining historical energy use data and make it a priority to get usable data that can be verified and manipulated. "Garbage in-Garbage Out" could never be more true! It is nearly impossible for an energy audit to fully simulate actual energy usage data due to the tremendous number of variables in play. While a data-less audit might still provide some valuable suggestions, an understanding of the current building performance is paramount to evaluating the most effective energy saving measures. You will want to collect historic utility data inclusive of both usage and cost information for a period of at least 13 months, preferably 24 months. This is required for:
All fuel related sources (natural gas, oil, propane);
Electricity (purchased or solar/wind derived);
District/purchased steam or chilled water; and,
Municipal water.
Give your auditor full access to the building with ample time to do a walk-though and gather information. Provide access to the maintenance staff as well as schedules, number of occupants, working hours, set point temperatures, and other critical operational information. If your consultant gives you a questionnaire, fill it out! It will only make the results more accurate and meaningful.
You may already be planning to implement findings, planning to evaluate available project incentives and financing, or planning to weigh energy related projects against other potential building improvements. In any case, let your consultant understand your end goal and work with you to focus on the areas of most interest.
What should my report include?
While there are formal guidelines for audits published by ASHRAE which provide various levels of scrutiny, any audit, regardless of the standard followed, should include the following in order to be of any practical use.
A comparison to peer buildings
As a building owner or occupant that pays for utility usage, your report should take a close look at how your building is performing in relation to other sites with similar use and characteristics. This may give key insight into just how much improvement can be made, and how much money could be saved. If you have a portfolio of buildings, individual site audits with matching scopes can give valuable insight into prioritization of improvements.
A review of required disclosures
As more and more states and local governments add requirements for energy use disclosure and carbon emissions, you need to know if your building is in compliance, has a looming deadline for reporting, or even requires imminent energy reducing improvements. Your report should look to describe all of these conditions and where the property stands now.
Low or No Cost Strategies for savings
Your audit should discuss potential simple equipment swap outs such as programmable thermostats, occupancy sensors, or behavioral changes such as altering set point temperatures or use of equipment/lighting timers. Even educational programs for energy use awareness for building occupants, maintenance teams and managers can be viable savings strategies for some properties.
A defined payback term for ROI and consideration of incremental payback
Work with your audit provider, and once an acceptable payback period is agreed upon, your energy consultant should be evaluating changes, alterations, upgrades, renovations and strategies not only for projects that meet that specified term, but also for items that may be at the end of their life and have an "incremental" payback term. In other words, if your building has an older system that is nearing its end of life, shouldn't you just consider the increased cost of a higher efficiency replacement and not the entire cost?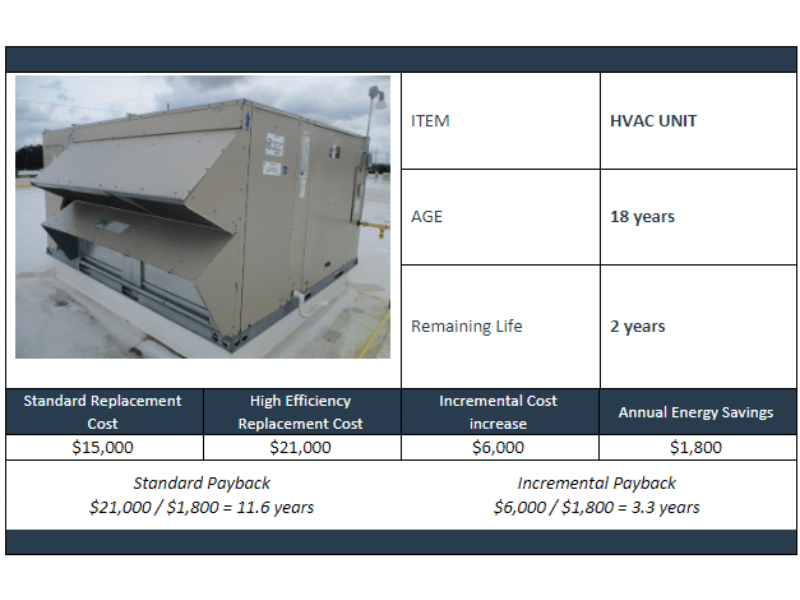 Incentives
Your consultant should research options that may be available to your building for upgrades and improvements. These can be potential financing benefits, rebates, tax incentives or other programs. Those that apply to the conservation measures that are being recommended should be summarized in the report.
Next Steps
As the end user, the report you receive shouldn't leave you wondering about what to do with it. All too often, audit reports are stowed on a shelf and opened once time has passed, technologies have changed, and the report value has diminished. Your report should let you know how to take action, what incentives should be explored and how to walk down the path to improvement.
What is my audit missing?
As with most evaluations, the end user will need to decide how much effort, time and money they are willing to spend for answers. As audits get more sophisticated, they begin to include reviews of additional historical data, detailed estimates to develop more exact implementation costs, and building modeling in an attempt to simulate synergistic effects (how one improvement may affect another part of the building and its related performance). Some investment grade level audit consultants will even share risks with the building owner by acting as a turn-key Energy Services Company (ESCOs) and pocketing a portion of the savings as part or all of their fee.
While these enhancements are valuable, they often do not fit within the commonly compressed schedules of due diligence, anticipated short property hold periods and even required reporting windows.
Your audit will fall into a category of either "planning" or "detailed" and while the cost and level of effort is up to you and your consultant, no matter what scope you land on it needs to provide value to your decision making and not sit on dusty shelf.
To learn more about VERTEX's Building and Energy Assessments or other ESG services, or to speak with one of our experts, call 888.298.5162 or submit an inquiry.