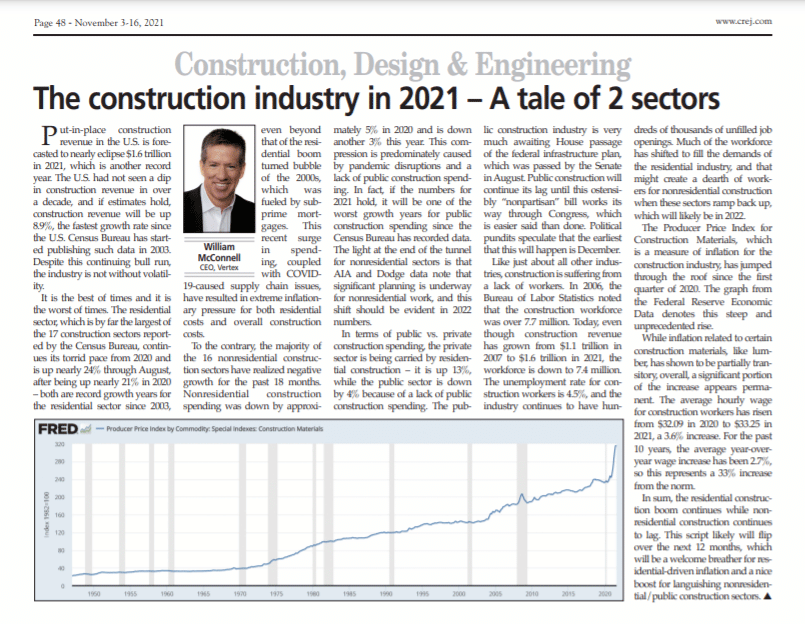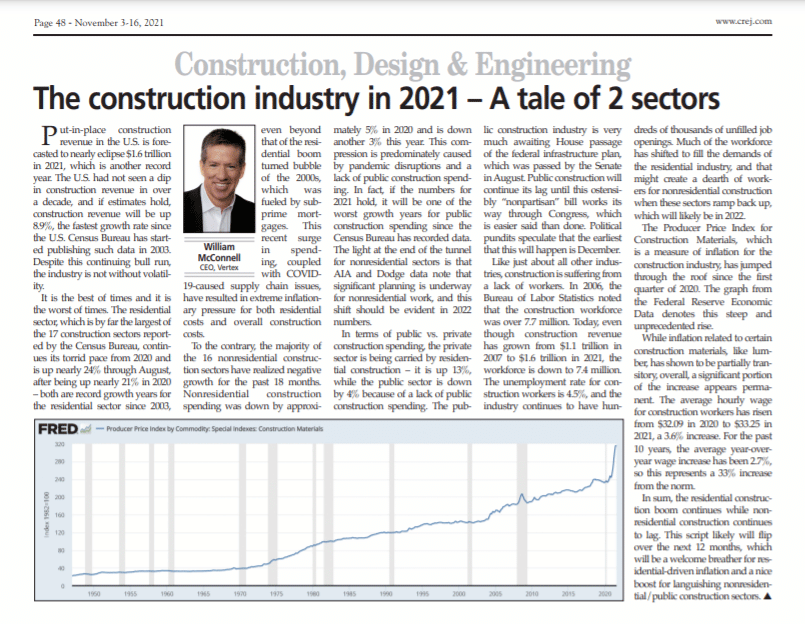 Since the start of the pandemic, COVID-19 has had its effects on the construction industry. So too has the supply chain challenges, inflation, and low unemployment.
VERTEX's CEO, Bill McConnell discusses the state of the construction industry in the November 2021 edition of the Colorado Real Estate Journal.
The Construction Industry in 2021
Put-in-place construction revenue in the U.S. is forecasted to nearly eclipse $1.6 trillion in 2021, which is another record year. The U.S. had not seen a dip in construction revenue in over a decade, and if estimates hold, construction revenue will be up 8.9%, the fastest growth rate since the U.S. Census Bureau has started publishing such data in 2003.
Despite this continuing bull run, the industry is not without volatility.
It is the best of times and it is the worst of times. The residential sector, which is by far the largest of the 17 construction sectors reported by the Census Bureau, continues its torrid pace from 2020 and is up nearly 24% through August, after being up nearly 21% in 2020 – both are record growth years for the residential sector since 2003, even beyond that of the residential boom turned bubble of the 2000s, which was fueled by subprime mortgages. This recent surge in spending, coupled with COVID- 19-caused supply chain issues, has resulted in extreme inflationary pressure for both residential costs and overall construction costs.
Read the full article in the Colorado Real Estate Journal
To learn more about VERTEX's Services to the AEC Industry or to speak with an Expert, call 888.298.5162 or submit an inquiry.